10 Extraordinary Reptiles
Our wonderful world hosts an astonishing array of life, such as these 10 Extraordinary Reptiles. These remarkable creatures come in all shapes, sizes, and colors. They also live in virtually all parts of the globe. Some find them fascinating, while others fear them. Regardless of what one may think of them, however, they, like all forms of life on this planet, have their role to play in its myriad ecosystems. Often, the reptiles play key roles in their local environments. Here we list our choices for 10 Extraordinary Reptiles. We hope you enjoy them and invite you to let us know what you think.
Olive Ridley Sea Turtle
Olive Ridley Sea Turtle Facts
Listing first among our choices of 10 Extraordinary Reptiles is the remarkable Olive Ridley Sea Turtle.
The distinctive, if somewhat lengthy, name presently serves as the common name for the rather amazing Lepidochelys olivacea.
While this fascinating creature forms the smallest of all known types of sea turtle, it also represents the most highly abundant of them.
Along with its relative, the Kemps Ridley Sea Turtle, this reptile remains best known for its trait of engaging in nesting in mass numbers on the same beach.
Despite its great numbers, the IUCN currently lists this animal as Vulnerable. This listing occurs due to the growing concerns of such factors as climate change, given the fragile nature of its nesting locations.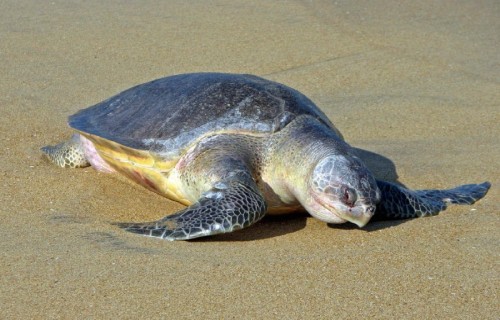 Olive Ridley Sea Turtle Physical Description
The comparatively small Olive Ridley Sea Turtle attains an average length of about 2 ft (61 cm). The species also displays a slight degree of sexual dimorphism.
While the overall weight and length of both genders remain roughly equal, the female typically develops a slightly more rounded carapace than that of the male.
Mature individuals average about 101 lb (46 kg) in weight. Even exceptional individuals rarely exceed a weight of 110 lb (50 kg). Yet the tiny hatchlings average a mere 0.05 lb (20 grams).
In color, adults of this rather remarkable species most commonly display a combination of various shades of olive green.
Kingdom: Animalia
Phylum: Chordata
Class: Reptilia
Order: Testudines
Family: Chelodiinae
Genus: Lepidochelys
Species: L. olivacea
Olive Ridley Sea Turtle Distribution, Habitat, and Ecology
The tiny yet impressive Olive Ridley Sea Turtle possesses a rather wide area of distribution. It inhabits the temperate and tropical waters of both the Pacific and Indian Oceans. It appears to be especially common near Australia.
While it also inhabits areas of open ocean, the majority of individuals prefer to inhabit comparatively shallow regions within 9.3 mi (15 km) of land. Specific habitats, however, change during its life cycle.
Although the animal will occasionally feed on algae when other food remains scarce, the species evolved as predominantly carnivorous.
Its typical prey consists of various invertebrates, such as sea urchins, shrimp. crabs, and jellyfish. Surprisingly, cannibalistic behavior sometimes occurs when other food becomes scarce.
Other than some sharks and orcas, adults have relatively few natural predators.
Golden Armadillo Lizard
Golden Armadillo Lizard Facts
Our next featured creature in this article about 10 Extraordinary Reptiles is the incredible Golden Armadillo Lizard.
First of all, the remarkable animal represents an incredible species of reptile. Further, this remarkable lizard evolved as endemic solely to certain desert regions.
It also remains a unique species of animal. That holds true partly due to its rather fascinating defense mechanism. This approach to defense constitutes rolling into a tight ball, which makes it appear larger to would-be

predators.

This surprising action, which some insects share, also presents would-be attackers with its thick, armored exterior. As a result, very few predators invest the time and effort to penetrate this defense.
Furthermore, the IUCN previously listed the surprising animal as Vulnerable. However, the organization recently downgraded that status to Least Concern. This action occurred due to a virtual cessation in the pet trade.
Golden Armadillo Lizard Physical Description
Most notably, the rather fascinating Golden Armadillo Lizard remains a moderately sized reptile. Yet that fact does not diminish its truly fascinating nature. What the creature lacks in size it more than makes up for in other ways.
In appearance, the creature displays striking patterns. That's because its colors range from a light brown to a dark brown on top. Yet the underbelly of the Golden Armadillo Lizard appears yellow, with a black pattern.
Additionally, individuals range in size from 6.5-8.5 in (16-21 cm) in length, with no discernible sexual dimorphism. Also, its bite measures so powerful for a creature of its size that it can literally break its own jaws when it bites.
Kingdom: Animalia
Phylum: Chordata
Class: Reptilia
Order: Squamata
Family: Cordlidae
Genus: Ouroboros
Species: O. cataphractus
Golden Armadillo Lizard Distribution, Habitat, and Ecology
The amazing Golden Armadillo Lizard also evolved as endemic to a highly specific portion of southern Africa. But, even more specifically, it only thrives in portions of the Northern and the Western Cape provinces of South Africa.
The Armadillo Lizard apparently prefers scrub brush and rocky areas for its habitat, as a general principle. However, despite the great heat of this habitat, it remains a diurnal creature, being active during the day and sleeping at night.
In addition, unlike most lizards, the fascinating reptile also typically lives in social groups. Furthermore, these groupings sometimes number as many as 60 individuals. However, more commonly these groups number around 30 individuals.
Although technically omnivorous, its diet consists primarily of small invertebrates such as insects and spiders. Yet termites appear to be its favorite prey. But, it occasionally supplements this with various plant species.
The rather remarkable animal also has an average lifespan of approximately 10 years. Individuals also typically make their home in cracks in boulders, or crevices. Finally, it represents one of the few lizards that gives birth to live young.
Gharial Facts
Our next selection among these 10 Extraordinary Reptiles is another one that many people do not about, the Gharial.
With the scientific name (Gavialis gangeticus), or the gavial or fish-eating crocodile, is a crocodilian of the family Gavialidae.
Sadly, the global population of this rather impressive animal is perhaps only less than 235 individuals.
Loss of riverine habitat, depletion of fish resources and also the use of fishing nets all threaten the crocodile.
Further, the numbers of Gharial have declined so drastically in the past 70 years that now the creature lists on IUCN's Critically Endangered list.
Gharial Physical Description
Typically, the adult Gharial has a dark olive color tone, while young ones are a rather pale olive with dark brown spots or cross-bands.
This amazing reptile also ranks as one of the longest of all living crocodiles. For example, adults may measure up to 20.5 ft (6.25 m) in length.
With 110 sharp interdigitated teeth in its long thin snout, the Gharial is well adapted to catching fish, its main diet.
Kingdom: Animalia
Phylum: Chordata
Class: Reptilia
Order: Crocodilia
Family: Gavialidae
Genus: Gavialis
Species: G. gangeticus
Gharial Distribution, Habitat, and Ecology
The incredible Gharial evolved as native to the subcontinent of India, in Asia. The reptile also once thrived in all the major river systems of the Indian Subcontinent.
Its territory also spanned the rivers of its northern part from the Indus River in Pakistan across the Gangetic floodplain to the Irrawaddy River in Myanmar. Unfortunately, the distribution of the Gharial is also now within only 2% of their former range. Today, it is extinct in the Indus River, in the Brahmaputra of Bhutan and Bangladesh, and in the Irrawaddy River.
In India, rather small populations are present and increasing. The Gharial is also limited to the rivers of the Katarniaghat Sanctuary, Son River Sanctuary and the rainforest biome of Mahanadi in Satkosia Gorge Sanctuary, Odisha. In Nepal, small populations are slowly recovering in tributaries of the Ganges. Those are places such as the Narayani-Rapti river system in Chitwan National Park and the Karnali-Babai river system in Bardia National Park.
Gharial Survival
In 1977, scientists found four nests in the Girwa River of Katarniaghat Wildlife Sanctuary. Before 2006, they released 909 Gharials there.
Consequently, twenty nests existed in 2006, and 16 nesting females resulted from 30 years of re-introductions. Unfortunately, this number is an insufficient achievement.
Several researchers have also suggested that perhaps carrying capacity is at maximum.
In 1978, experts discovered twelve nests in the Chambal River in the National Chambal Sanctuary. By 2006, nesting had increased to 68 nests. Yet, the recruited mature reproducing females constituted only about 2% of the total number scientists released.
Last, the annual monsoon flooding is always likely to flush downstream out of protected areas the newly hatched Gharial young.
Marine Iguana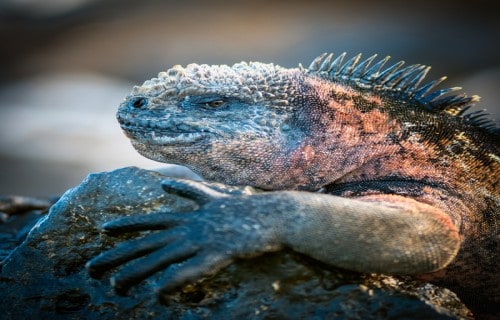 Marine Iguana Facts
Placing fourth among our selection for inclusion in this compendium of 10 Extraordinary Reptiles is the Marine Iguana.
Most notably, the truly remarkable species constitutes a very special type of reptile. This holds true because, to our knowledge, it remains the only lizard in the world able to live and forage in the ocean.
This, therefore, makes it presently the only known marine reptile on earth. Plus, look at this face. Does it remind you of Khaleesi's dragons in Game of Thrones? One might almost believe that the animal is a distant cousin.
Adding to its dragon resemblance, is yet another remarkable factor. This astonishing creature primarily dwells on the rugged shore. However, individuals will also sometimes visit marshes and mangrove beaches.
Finally, the Marine Iguana truly separates itself from other lizards in a remarkable way. That's because this magnificent reptile evolved as entirely herbivorous. Further, it feeds exclusively almost on underwater seaweed.
Marine Iguana Physical Description
First of all, in color, the Marine Iguana generally presents various shades of gray or black. But, the creature also displays yet another unusual trait. Adult males of this animal vary in color with the seasons. In fact, these males become brighter in color during breeding season, to attract females.
In addition, the unique animal actually varies in average size from island to island, within its range. Further, this trait remains unique. However, a general average size for adults measures roughly 5.6 ft (1.7 m) in length and 26 lbs (12 kg) in weight.
Furthermore, the fascinating animal has remarkably sharp teeth for a herbivore. It also evolved a rather flat snout. Finally, it even has a one-of-a-kind nasal gland. This serves to filter excess salt, which it expels through its nostrils.
Kingdom: Animalia
Phylum: Chordata
Class: Reptilia
Order: Squamata
Family: Varanidae
Genus: Varanus
Species: V. komodoensis
Marine Iguana Distribution, Habitat, and Ecology
Firstly, the bizarre seeming Marine Iguana exists in the wild only on the Galapagos Islands, themselves a marvel of Nature. While not physically connected, of course, these form part of the country of Ecuador, in South America.
As a herbivore, its flat snout and sharp teeth allow it to feed on algae growing on rocks when it so chooses. The fascinating animal also has the ability to dive to depths as great as 30 feet (10 m).
Additionally, after diving in the rather cold water to feed, it will bask in the sun on the rocky shoreline for long. But, at this time, it becomes extremely defensive. As a result, it frequently strikes at any approaching creature.
Finally, during breeding season the males assemble large herds of females. These the male aggressively guards from rivals. Violent encounters at this point are rare, however. Typically, such fights consist of no more than head-bobbing and head-butting.
Spider Tailed Viper
Spider Tailed Viper Facts
Next up out of these 10 Extraordinary Reptiles is one that has evolved a truly unique adaptation, the Spider Tailed Viper.
The distinctive, and descriptive, name serves as the common name for a truly astonishing species of reptile.
This fascinating creature also possesses one of the most remarkable and resourceful evolutionary adaptations ever seen in the entire animal kingdom.
That's because the tail of this snake grows tipped with an appendage that bears a remarkable resemblance to a spider.
The aptly named reptile also uses this appendage as a lure, to attract potential prey.
The extremely cunning and resourceful species also moves this evolutionary advantage in a manner resembling the motions of an arachnid.
While waiting for its prey, the snake also blends into the surrounding terrain. Its color patterns provide it with a perfect natural camouflage.
Spider Tailed Viper Physical Description
The physical size of the Spider Tailed Viper resembles other related species. Adults average between 16-28 in (40 – 70 cm) in length.
Sexual Dimorphism also appears to be present in this species, with females averaging slightly greater in length than the slightly smaller males.
The head grows rather broad and flat, with a short, rounded snout present.
Likewise, coloring varies between individuals, yet browns and greys predominate, to assist in blending in with the environment.
The most distinctive feature remains the spider-shaped growth on the end of its tail, used to attract its prey.
Kingdom: Animalia
Phylum: Chordata
Class: Reptilia
Order: Squamata
Family: Viperidae
Genus: Pseudocerastes
Species: P. urarachnoides
Spider Tailed Viper Distribution, Habitat, and Ecology
Being endemic to the rather rugged and remote mountain regions of western Iran, in Asia, the Spider Tailed Viper is rarely seen.
Also, within its native habitat, the species primarily spends its time in rock crevices.
There, its natural camouflage permits this ambush predator to wait for its prey. This remarkable snake feeds on a variety of small mammals, most of whom are themselves predators of spiders.
The majority of its prey also consists of various types of birds.
Though the Spider Tailed Viper kills its prey with venom, the relative potency of its venom has never been studied.
Green Sea Turtle
Green Sea Turtle Facts
This selection for listing in this article about 10 Extraordinary Reptiles, the Green Sea Turtle, fascinates and amazes many of us.
You would think that the remarkable turtle has a green shell and body, right? But that's not it. The real reason for its name is rather far more colorful.
Under the carapace of this gorgeous ocean-dwelling creature is a layer of body fat that is actually green in color.
The Green Sea Turtle also exists throughout the tropical and subtropical waters of the world. The species migrates enormous distances between where it lives and feed, and its breeding grounds.
Females may swim thousands of miles, struggle onto beaches, and dig nests to lay their eggs. Talk about maternal instincts.
Though it now constitutes a protected species, the species still remains endangered, primarily due to habitat loss.
Green Sea Turtle Physical Description
The color patterns of the carapace of the Green Sea Turtle actually change over time. Newborns are primarily dark in color. As they age, these slowly turn to olive and then mottled green in color (much like the hair of humans turning gray).
The Green Sea Turtle averages approximately 5 ft (1.5 m) in length and weighs an average of approximately 420 lb (190 kg). Exceptional individuals have reached weights of nearly twice this, however. That is a big turtle.
Its body is generally flattened in shape, the snout is short, and the beak is unhooked. The limbs are understandably paddle-shaped, and quite powerful, making it a strong swimmer.
Kingdom: Animalia
Phylum: Chordata
Class: Reptilia
Order: Testudines
Family: Cheloniidae
Genus: Chelonia
Species: C. mydas
Green Sea Turtle Habitat and Ecology
As juveniles, the Green Sea Turtle is primarily carnivorous. Yet, the adults are principally herbivorous, feeding on a variety of algae and kelp. Talk about mellowing with age.
The Green Sea Turtle actually inhabits different types of habitat during different stages of its life. For example, the young typically spend their first 5 years in pelagic waters, rarely being seen (their version of the awkward teenage years perhaps). Mature individuals prefer to inhabit lagoons, inshore bays, and shoals with seagrass meadows.
The only natural predators of adults are large sharks and humans (no surprise on that one). The young, however, are often easy prey for shorebirds, marine mammals, and even crabs.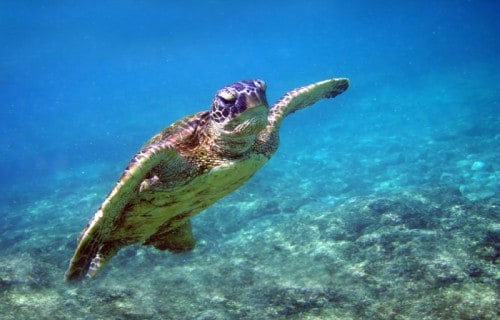 Green Sea Turtle Threats and Conservation
Despite its protected status, the Green Sea Turtle remains under threat in some parts of the world. These threats include illegal hunting and egg harvesting.
Additionally, it also faces unintentional threats, which present an even greater danger to their continued existence. These include strikes by boats, trawler nets, and habitat loss.
In recent years, chemical pollution of the ocean has also led to a significant increase in the presence of tumors among individuals studied in random monitoring.
The IUCN lists the Green Sea Turtle as Endangered and continues to stress that, while efforts to protect the species are in effect, the need for more extensive efforts grows greater every year.
Thorny Dragon
Thorny Dragon Facts
Coming in seventh out of these 10 Extraordinary Reptiles, though only due to random selection, is the awesome Thorny Dragon.
First of all, the amazing creature is a species of lizard endemic to a harsh, arid habitat. Furthermore, this animal remains so unique that it represents the only species currently classified within its genus. It is also distantly related to horned lizards in North America.
Additionally, noted biologist John Edward Gray became the first scientist to describe the animal, in 1841. The lizard also goes by several other common names, including the Thorny Devil. Each of these derives from the physical appearance of the remarkable creature.
For reasons as yet undetermined, the Thorny Dragon also evolved a thoroughly unique method of locomotion. That's because the reptile moves with a unique combination of slow, rocking motions. It specifically does this as it searches for mates, water, and food.
Fortunately, unlike many related species, it appears to have a stable population base. As a result of this, the IUCN currently lists it as a Species of Least Concern. However, this status could change in the near future, given such increasing threats as climate change.
Thorny Dragon Physical Description
Firstly, the fascinating Thorny Dragon remains a somewhat small type of lizard. It also displays a moderate degree of sexual dimorphism. As a result, in its case, the females typically attain a slightly larger size than the males.
The somewhat larger females usually reach a total length of about 8.3 in (21.1 cm). However, the males only reach an average length of roughly 8 in (20.3 cm). Furthermore, females most commonly have a slightly bulkier body shape.
Much like many varieties of lizard, the Thorny Dragon displays a range of colors. In addition, these change with the seasons, to provide the animal with camouflage. Yet, these predominantly include shades of brown, tan, and red. These typically appear lighter in summer and darker in winter.
Kingdom: Animalia
Phylum: Chordata
Class: Reptilia
Order: Squamata
Family: Agamidae
Genus: Moloch
Species: M. horridus
Thorny Dragon Distribution, Habitat, and Ecology
Most notably, the incredible Thorny Dragon evolved as endemic to specific portions of the continent of Australia. Those regions the reptile appears in include large portions of the central and western sections of the country.
Also, within that range, it appears to be rather adaptable to different habitats. As a result, it mostly inhabits either areas of plains, desert, scrubland. But, it also appears in the Roe Botanical District, in the central section. In the western section, it also inhabits areas of sandy loam.
It also feeds as a voracious predator. This reptile eats a variety of insects if the need arises but usually subsists entirely on ants. A single one of these lizards commonly consumes several thousand ants in a single day.
On the other hand, its own predators appear to be limited to wild birds and goannas. Its preferred method of self-defense consists of rolling into a ball. This presents the predator with only the hard, sharp spines on its body. The Thorny Dragon also possesses a typical lifespan of approximately 20 years.
Tuatara
Tuatara Facts
Coming next for your enjoyment and edification among these 10 Extraordinary Reptiles is the nearly unbelievable Tuatara.
First of all, the amazing animal represents a reptile endemic to the country of new Zealand, located near Australia. Physiologically, the remarkable animal remains the most primitive species of reptile known to man.
Furthermore, taxonomic studies also determined that it underwent numerous evolutionary adaptations over time. However, its basic physiology still remains the closest to its Mesozoic Era ancestors of any known species existing today.
Previously, most scientists believed that two species of Tuatara existed. But, subsequent data later determined that only one did. However, in 1885, researchers also determined that another species once existed, but died out.
Both extant species of this animal now list as functionally extinct on the New Zealand mainland. Finally, the only known population of this unique creature resides within the confines of the protected and monitored Karori Sanctuary.
Tuatara Physical Description
First of all, the incredible Tuatara display a moderate degree of sexual dimorphism. The males typically grow about one-third larger than the females. Males average roughly 24 in (61 cm) long and 2.2 lb (1 kg) in weight. Meanwhile, females average about 18 in (45 cm) in length, and 1.1 lb (0.5 kg) in weight.
In color, the remarkable and surprising creature also generally appears a greenish brown. But, this frequently alters over time, however. In fact, individuals do this to adapt to the specific surroundings in their range.
The Tuatara also possesses one extremely unique physical characteristic. That holds true because it actually possesses a third eye. This amazing organ remains known as the parietal eye and sits on top of the head.
However, the eye only appears visibly on the young. That's because after 4-6 months, it becomes covered in opaque, yet pigmented, scales. It actually retains its functionality, though its precise purpose remains unknown.
Kingdom: Animalia
Phylum: Chordata
Class: Reptilia
Order: Rhyncocephalia
Family: Sphenodontidae
Genus: Sphenodon
Tuatara Behavior and Status
The adult Tuatara remains a terrestrial animal. It also appears primarily nocturnal in nature, though it will frequently bask in the sun. Hatchlings typically seem diurnal and spend the majority of their time hiding under logs and rocks.
Researchers believe that this behavior remains principally due to the fact that the adult Tuatara often shows cannibalistic tendencies. Though not toxic, they also tend to be rather aggressive and possess a powerful bite for a creature of their size.
Aside from the Karori Preserve, it now appears to be extinct on the mainland. Its population now only inhabits 32 small islands which continue to be free of competing mammals.
However, it also still remains numerous on these islands. This is attributed to the fact that the islands are inhospitable and rarely visited by humans, aside from researchers.
Draco Volans
Draco Volans Facts
Now this next featured creature out of these 10 Extraordinary Reptiles, the Draco Volans, is one that will really make you take notice.
First of all, after seeing the animal, one might think that dragons are real. This particular tiny dragon, however, doesn't breathe fire just yet. Therefore, it's not quite as dramatic as the much larger dragons in Game of Thrones. Just like the Mrine Iguana, this little dragon must be a relative of Khaleesi's children.
Furthermore, the incredible creature constitutes a species of lizard native to specific portions of Southeast Asia. To be clear, it remains incapable of true flight. However, in an astounding ability for a reptile, it does have the ability to glide between the trees for distances of as much as 26 ft (8 m).
In addition, it feeds as an insectivorous creature, mainly consuming termites and ants. But it will, of course, also consume other insects opportunistically. Finally, although long known to the local inhabitants of its native range, the Draco Volans was not classified scientifically until 1758.
Draco Volans Physical Description
Despite its fearsome appearance, the Draco Volans remains a rather moderate-sized lizard. That's due to the fact that mature adults typically attain an average length of only about 12 in (30 cm). Yet, exceptional specimens do occasionally occur.
Furthermore, the fascinating reptile does display a slight degree of sexual dimorphism. However, that generally shows itself in two ways, both of them slight. First, a small color difference appears on the membranes which allow it to glide from tree to tree. Secondly, females attain a slightly larger size.
On the male, the underside of the wing-like membranes presents either a tan or bright orange color. Small black bands also appear. However, on the female, the same base color appears, but the black markings appear as irregular patterns, instead of in even bands.
Additionally, the wingspan typically measures about 3/4 the length of the body. When not in use, the flaps of skin it uses to glide are kept folded against the body. Meanwhile, the head usually develops comparatively blunt-shaped, in comparison with related animals.
Kingdom: Animalia
Phylum: Chordata
Class: Reptilia
Order: Squamata
Family: Agamidae
Genus: Draco
Species: D. volans
Draco Volans Habitat and Behavior
Most notably, the Draco Volans inhabits rather remote regions of Indonesia, Malaysia, and the Philippines. Even within that area, individuals inhabit specific areas, living almost exclusively in regions of the tropical forest.
The astonishing lizard also evolved as highly territorial by nature. As a result, males typically claim 2-3 trees as personal territory. Not only that, but usually 1-3 females inhabit each tree, creating, in effect, his own personal harem.
Also, after mating, the female almost always descends to the floor of the forest below. There, she proceeds to lay an average of 1-5 eggs. These she then buries in the loose soil, where they remain until time to hatch.
Though the eggs take 1-2 weeks to hatch, the female typically only guards them for a few days at most. During the following period the eggs remain vulnerable to predators. Even after hatching, the female attends to the young only occasionally
10 Extraordinary Reptiles
These represent our choices for 10 Extraordinary Reptiles. But countless others remain. They come in all sizes, shapes, and colors. Reptiles live in virtually all climates. They have been around for hundreds of millions of years, constantly evolving. These 10 Extraordinary Reptiles, and countless others, also fill numerous niches within their respective environments. What are some of your favorites?
Check out our other articles on Breathtaking Primates of the World, Earth's Many Mesmerizing Cephalopods, Spectacular Dolphins Throughout Our World