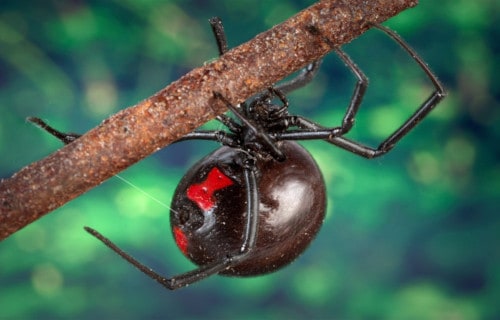 We hope that each of you, our readers, will enjoy and appreciate this article we've created about these 7 Terrific Species of Tennessee. It was certainly our great pleasure to compile the information for you. May it provide you with both education and increased awareness.
Certainly, however, these few species listed herein represent only a portion of the wonders found in this region. It's our belief, though, that they serve as excellent representations of the marvels that abound in the area. Check out our other articles for similar marvels.
Honeysuckle
Honeysuckle Facts
Starting off this article about these 7 Terrific Species of Tennessee we present the beautiful flora known throughout the region as Honeysuckle.
Perhaps surprisingly to some, the term applied here actually names an entire Family of stunningly beautiful plants placed in the Caprifoliaceae family. Due to this, each of these remarkable species develops as either arching shrubs or twining vines.
A remarkable total of roughly 180 recognized species of the plant further exist at this time. Several other species, however, remain under consideration for inclusion in the group at this time. Consideration of that status remains ongoing by researchers.
All of the acknowledged members of this truly impressive Family of plants additionally share yet another characteristic. This particular one, however, has nothing to do with biology. In this instance, though, it's a matter of general geography.
That's because all known varieties of this sweet-smelling and brilliantly colored plant evolved as native to the Northern Hemisphere. This geographical restriction also applies to those species presently being considered for inclusion in group.
As of now, roughly 100 of the recognized Honeysuckle forms remain endemic to the country of China, in Asia. The continents of Europe and North America, along with the country of India, each further serve as home to 20 of the member species.
Honeysuckle Physical Description

Impressively, the majority of the known types of Honeysuckle evolved as comparatively strong twining climbers. On all of these, the leaves grow opposite, and develop as simple ovals. This visually appealing foliage also averages about 4.5 in (10 cm) in length.
Although most evolved as deciduous, some develop as evergreens. Many of the individual species also produce strongly sweetly-scented flowers. These blooms also produce small quantities of sweet, edible nectar. Most of the flowers develop in clusters of two.
Both shrubby and vining sorts have strongly fibrous stems which are suitable for binding and textiles. Like many beautiful plants, however, Honeysuckle has a somewhat dark secret. That's because the fruit of the Angiosperms possess low level of poisonous compounds.
In appearance, these fruits possess either a spherical or somewhat elongated shape. The most commonly seen colors of the fruit include red, blue, and black. Nonetheless, on rare occasions, specimens produce this aspect of the plant in a wide range of hues.
Kingdom: Plantae
Phylum: Angiosperms
Class: Eudicots
Order: Dipsacales
Family: Caprifoliaceae
Genus: Lonicera
Honeysuckle Invasiveness

Amazingly, while the fruit of many varieties of Honeysuckle evolved to be toxic, this does have some uses. That holds true due to the fact that, in a few cases, the fruit of the Angiosperm, while quite tiny, can be consumed and even used for types of commerce.
This part of the stunning plants also has other natural uses, though. This remains true because the berries of most forms also remain attractive to numerous forms of local wildlife. For example, a wide variety of butterflies and hummingbirds love them.
Quite unfortunately, however, several species within this remarkable Family have now become invasive. This occurred when they were introduced outside their native range. This remains particularly true in both New Zealand and the United States.
Honeysuckle Popularity

Due to its many qualities, the Honeysuckle has now become popular in many regions of the world. This most commonly manifests itself in using it as a garden decoration. Many people use it both because it smells beautiful, and covers unsightly walls and outbuildings.
This gorgeous and colorful plant has also become quite popular for its sheer pleasure to the different senses. In fact, a great number of people find it pleasant to use for the numerous blooms it produces in the summer. These form as quite beautiful and highly aromatic.
The hardy climbing types of Honeysuckle do have certain specific needs. That's because most forms need the roots in shade, but the tops prefer sunlight or very light shade. Finally, the varieties one uses also need to be chosen with care because most grow prolifically.
Northern Flying Squirrel
Northern Flying Squirrel Facts
The next subject chosen for inclusion in this compendium of 7 Terrific Species of Tennessee bears the applicable name of the Northern Flying Squirrel.
This small mammal most frequently goes by this somewhat informative common name, for good reasons. It also represents one of only three members of its genus, Glaucomys, to make its home in what's now known as the New World.
The intriguing creature does have another name by which it's known, though. That's because, like all species, it also holds a technical name. Fortunately, this one's relatively simple to pronounce, as such things go. It's formally named the Glaucomys sabrinus.
It received that unique moniker due to the efforts of the respected English zoologist and botanist, George Kearsley Shaw. He accomplished the first official recognition of it as a separate and distinct species. This scientifically noteworthy action occured in 1801.
The surprising animal also remains noteworthy for another, astonishing fact. That's due to the fact that researchers presently recognize a total of 24 subspecies of this small marvel of Nature! This fact alone distinguishes it from the other members of its Order.
For the moment, the Northern Flying Squirrel appears to be maintaining a population base that's both sizable and stable. This fact also seems to hold true throughout the entirety of its range. The IUCN, therefore, now lists it as Least Concern on its Red List.
The remarkable animal nevertheless does face some potential threats to its existence. These, however, consist of the same one's that most species presently face. These include habitat degradation and outright loss, and, of course, climate change.
Northern Flying Squirrel Physical Description

The remarkable Northern Flying Squirrel easily impresses those fortunate to encounter one. It does so, however, for reasons other than sheer size. Although it's certainly a lovely animal, it's not just its appearance that distinguishes it. That's due to other characteristics.
Unlike many animals, yet in keeping with the pattern established by other squirrels, this creature displays no noticeable degree of sexual dimorphism. Distinguishing the genders of specific individuals encountered therefore remains quite difficult for the casual observor.
In terms of physical size, though, it's somewhat smaller than many of its genetic cousins. Individuals attain an average overall length of 9.8 – 14.6 in (25 – 37 cm). That, however, includes the tail as well. This part of the body often comprises roughly half its length.
The body of the rodent develops as slim and elongated. Most specimens reach an average body weight of only 2.6 – 4.9 oz (75 – 140 gms). Exceptional specimens occur, of course. Even these, though, rarely exceed these measurements by more than a small fraction.
It also displays several adaptations useful for its lifestyle. This includes comparatively large, black eyes. It also has the ability to rotate its hind feet, allowing it to climb down trees head first. Its fleshy membrane, however, remains its most noticeable physical feature.
In coloring, the Northern Flying Squirrel presents a pattern of shades of light brown on the upper body. Yet, it also presents as gray on the flanks of its body. The underside, though, typically manifests a whitish shade. Its tail develops as fluffy, yet somewhat flattened.
Kingdom: Animalia
Phylum: Chordata
Class: Mammalia
Order: Rodentia
Family: Sciuridae
Genus: Glaucomys
Species: G. sabrinus
Northern Flying Squirrel Distribution, Habitat, and Ecology

The fabulous Northern Flying Squirrel evolved as native to a part of the globe well known for its abundance of wildlife. That's due to the fact that the amazing rodent lives on the continent of North America. There, though, its population remains somewhat disjointed.
As its name implies, the majority of its numbers appear in the northern part of the continent. More specifically, most of its population lives in Canada. It also appears as far north as the state of Alaska, though. The small wonder of Nature also appears in the United States.
In that country, it's scattered, though. To the west, it's seen in California and Colorado. From there, it's also seen to the northeast in Wisconsin and Michigan. In the east, the animal also lives in regions of Tennessee and North Carolina, in the Appalachian Mountains.
In each of these regions, however, it displays identical habitat preferences. Populations most often appear in areas dominated by conifers. Some do, though, make their homes in regions of deciduous or mixed forests. It also prefers dense concentrations of trees, as well.
The Northern Flying Squirrel evolved as a nocturnal animal. It's also primarily arboreal in nature. On the ground, it's relatively clumsy. Among the trees, though, it glides from limb to limb gracefully. Its main predators include hawks, owls, martens, and coyotes, among others.
Its diet remains typical of its kind. As a herbivore, it consumes a wide variety of locally available food. This typically includes such staples as nuts, fungi, acorns, lichens, fruits, buds, and tree sap. It does, however, occasionally supplement this with insects and bird eggs.
Black Widow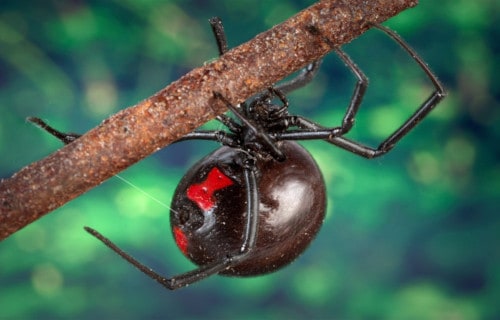 Black Widow Facts
The infamous Black Widow holds down the third position in this listing of 7 Terrific Species of Tennessee, only due to random selection.
Perhaps most notably for most individuals, the amazing invertebrate represents a very dangerous variety of spider. Placed in the Latrodectus genus, many of these reclusive arachnids are also known to some people simply as widow spiders.
Experts also currently list 32 known species in this genus, spread throughout much of the world. The three species endemic to North America remain the most commonly known, though. Each of these arachnids shares many physical traits.
The common name for these dangerous invertebrates derives from the high prevalence of sexual cannibalism in the Black Widow. After mating the larger female commonly, though not always, kills and then feeds on the smaller male.
The toxin of its bite further remains considered by most experts to be especially dangerous. The invertebrate earns this distinction due to the presence of the neurotoxin latrotoxin. This represents an especially dangerous type of venom.
Only the bite of the female typically presents any danger to humans, however. That's because she generally has far larger venom glands than her much smaller male counterpart. Despite its reputation, though, few bites actually result in fatalities.
Presently, the majority of species grouped under this common name continue to have stable populations. The IUCN, therefore, does not list them on its Red List. These amazing spiders nevertheless face the same threat from climate change as we all do.
Black Widow Physical Description

Not surprisingly, the various species of Black Widow attain similar physical sizes. However, this remarkable arachnid typically displays a significant amount of sexual dimorphism. This physiological characteristic manifests itself in terms of both color patterns and size.
That's partly because the female attains an average length of about 1.4 in (3.5 cm), whereas the male stays much smaller. He most commonly only reaches an average length of roughly 0.7 in (1.75 cm). The males also do not display the characteristic red hourglass.
Color patterns also vary relatively significantly between the various forms. All members of this genus, however, appear predominantly black in color. The females of each species, though, all display a very prominent red hourglass shape on their abdomens.
Kingdom: Animalia
Phylum: Arthropoda
Class: Arachnida
Order: Araneae
Family: Theridiidae
Genus: Latrodectus
Black Widow Distribution, Habitat, and Ecology

The three species of Black Widow that evolved as native to North America remain the best known of the varieties. The incredible genus also thrives in many other areas of the world, though. In fact, the various species inhabit every continent of the world, except Antarctica.
Quite understandably, given its nearly global distribution, habitat types vary widely. Nevertheless, members of the genus most commonly live in temperate and tropical climates. A few of them, though, even live in extremely arid regions of the world.
Individuals usually build their webs in locations such as around rubble, small trees and bushes, in the wild. But, when found inside of human habitations, webs usually appear in isolated areas, such as attics and garages. This fortunately makes encounters rare.
When a human gets bitten, the venom of a Black Widow commonly causes a condition known as latrodectism. Experiences include profuse sweating, vomiting, muscle rigidity, and extreme pain. These symptoms typically persist for 3-6 days, but can last longer.
All currently known members of this genus hunt as ambush predators, laying in wait in the web. It feeds opportunistically, making a meal of any small creature caught in its web. Its diet, however, typically consists of mosquitoes, grasshoppers, beetles, and such.
Wood Frog
Wood Frog Facts
The species selected to make its appearance here in this article about these 7 Terrific Species of Tennessee is the under appreciated Wood Frog.
This unassuming seeming creature most often holds the simple common name. Its scientific name, however, remains the complicated term of Lithobates sylvaticus. By either name, though, it's a much more complicated animal than it seems.
In point of fact, this fascinating amphibian serves as the focus of great attention among many researchers. This degree of attention occurs due to the nature of a truly astonishing evolutionary adaptation displayed by this natural wonder.
To the complete astonishment of those who first realized it, this frog somehow evolved a method of surviving being partially frozen in winter. This marvel of Nature has, entirely naturally, developed special chemical reactions in its body that allow this.
This process prevents complete freezing of the water in the cells and bloodstream of the Wood Frog from occurring. As long as no more than 65% of the water in the body freezes, the creature survives. This remains a unique adaptation among its kind.
Quite fortunately, its population base appears to be stable, at least for the moment. As a result, the IUCN presently lists it as Least Concern on its Red List. The species does, however, remain at risk due to the ongoing and escalating effects of climate change.
Wood Frog Physical Description

Though sincerely incredible in some ways, the Wood Frog nevertheless represents an average-sized variety of frog. This example of the resourcefulness of Nature also, like related species, displays a slight degree of the physiological characteristic of sexual dimorphism.
In its case, this trait manifests itself in terms of physical size, not appearance. As a result of this natural tendency, females of the species attain a slightly greater length than males. Overall, however, this length averages between 2.0 – 2.8 in (0.8 – 1.1 cm).
The natural coloring of the Wood Frog further serves to make one mistakenly believe it to be a simple form of amphibian. That's because this aspect of its nature presents a pattern roughly shared by a great many other frogs throughout the world.
The adult individual typically appears dark brown or varying shades of tan on the upper body. The underside generally shows a pale green or yellow. This animal further, though, possesses the ability to alter its coloring at will as well, within this range of colors.
Kingdom: Animalia
Phylum: Chordata
Class: Amphibia
Order: Anura
Family: Ranidae
Genus: Lithobates
Species: L. sylvaticus
Wood Frog Distribution, Habitat, and Ecology

Fortunately for it, the impressive Wood Frog inhabits a relatively large area of the globe. More precisely, this natural habitat range consists of a broad range of North America. In fact, this extends from the southern Appalachian Mountains, near the east coast, to Alaska.
The unique amphibian is almost exclusively forest-dwelling by nature, however. It also primarily breeds in woodland vernal pools and freshwater wetlands. When not breeding, though, it may be in or near moist ravines, upland habitats, or freshwater swamps.
Most commonly, adult individuals of the Wood Frog spend the summer and spring in these and various other similar habitats. But, during the fall the animals migrate to neighboring uplands. This is where the majority of this species lives out the winter season.
It also primarily inhabits the upper layer of soil, just beneath layers of leaves. The amphibian further evolved as principally diurnal in nature. Consequently, it rarely emerges at night unless disturbed. At that time, it feeds opportunistically on small invertebrates.
Cougar
Cougar Facts
The fourth remarkable species making its presence felt among these 7 Terrific Species of Tennessee is the breathtaking feline known as the Cougar.
The short term applied serves as but one of the common names assigned to this magnificent wild feline. It other common names include the mountain lion, puma, painter, panther, and catamount. The variety of names occur due to its wide range.
Scientists, meanwhile, know the stunning feline by the term Puma concolor. Regardless of the name one uses for it, the animal remains one of the most recognizable of the smaller wild felines. It's also the most widespread of any in its Hemisphere.
The renowned Swedish zoologist, Carl Linnaeus, holds the credit for the first acknowledged scientific recognition and naming of the species. This achievement he accomplished in 1771. The name he chose, however, later changed several times.
This breathtaking feline obviously evolved as a slender and agile member of the cat family. It also holds a unique distinction. That's because, though not technically one of the so-called big cats, it's the fourth largest of all known wild felines.
Even though its population doesn't compare to past numbers, this appears stable throughout its range. The IUCN, therefore, currently lists it as Least Concern. It does face several threats, including the ever-increasing danger posed by climate change.
Cougar Physical Description

Unlike some species, the breathtaking Cougar actually impresses us with its size, in addition to other factors. The animal also, however, displays the physiological characteristic of sexual dimorphism. In this, in fact, it mirrors virtually all know types of feline, wild and domestic.
In its specific case, though, this trait manifests in terms of size, with males of the species attaining slightly greater lengths and weights. Mature adults of both genders, however, vary greatly in height, averaging between 24 -35 in (60 – 90 cm) tall at the shoulders.
In terms of length, meanwhile, is where the size differences appear the most obvious. The males of this feline attain an average nose-to-tail length equaling roughly 7.9 ft (2.4 m). Females, however, generally reach an overall length of about 6.7 ft (2.05 m).
It bears pointing out, though, that of this total measurement, the tail itself comprises 25 – 37 in (63 – 95 cm) of this. The males, meanwhile, typically reach a weight of between 115 – 220 lb (53 – 100 kg). Females, on the other hand, average 64 – 141 lb (29 – 64 kg).
The Cougar also boasts other impressive statistics. Its rounded head displays erect ears. The feline has a jaw and forequarters powerful enough to grasp large prey. It also has five retractable claws on the forepaws, and proportionately the largest hindlegs in the cat family.
Kingdom: Animalia
Phylum: Chordata
Class: Mammalia
Order: Carnivora
Family: Felidae
Genus: Puma
Species: P. concolor
Cougar Distribution, Habitat, and Ecology

Pleasantly surprisingly, the gorgeous Cougar inhabits a comparatively large section of the globe. More precisely, it appears in a range that extends from parts of Canada to the Andes in South America. Its greatest concentration, however, remains concentrated in North America.
Aiding in its continued existence as a species is the fact that it evolved as a highly adaptable creature. This flexibility allows it to inhabit a wide variety of habitat types within its native range. Most notably, though, these include forests, lowlands, mountains, and arid climates.
Its incredible physique allows the impressive feline some of the greatest leaping and short-sprint ability of any animal. Individuals have the ability to jump as high as 18 ft (5.5 m) in one bound. These also evolved the capacity to leap as far as 40-45 ft (12-14 m) horizontally.
But Nature did not stop there. This animal also boasts some extremely impressive speeds. The top running velocity of the animal also ranges between 40-50 mph (64-80 kph). They remain, however, best capable of short, powerful sprints as opposed to long chases.
The remarkable Cougar also feeds entirely as a carnivore. As a supremely successful generalist predator, the mammal further feeds opportunistically. Specimens therefore eat any animal they can catch, from insects to large ungulates in excess of 1,100 lbs (500 kg).
Investigations in Yellowstone National Park showed that elk, followed by mule deer, were the animal's primary targets. The mammal further evolved as adept at climbing, allowing it to evade canine competitors. Although not strongly associated with water, it does swim.
Luna Moth
Luna Moth Facts
This stunning insect, the only Lepidoptera among our collection of 7 Terrific Species of Tennessee, goes by the name of the Luna Moth.
This gorgeous variety of invertebrate most frequently bears this common name. It also holds the comparatively short and simple scientific name, however, of the Actias luna. By either term, though, it represents a fabulous and fascinating creature.
Like many of its kindred, it owes its scientific name to one of the best known of early researchers. In this case, that's the renowned Swedish botanist and zoologist, Carl Linnaeus. He made the first official recognition of it as a separate species in 1758.
That wasn't its first discovery, however. In point of fact, it holds a place of moderate historical importance in the annals of science. That's because of its earliest recognition. While Carl Linnaeus gave it its first formal recognition, it was first noted in 1700.
That fact made it the first insect of its kind to be described in any way in scientific literature. It also holds yet another distinction, though. The invertebrate, in point of fact, easily ranks as one of the largest moths found anywhere in its native range.
This magnificent Lepidoptera also holds yet another status in the local popular culture of a specific portion of its range. This occurs due to the fact that the arthropod appeared on a first-class postage stamp in the United States, issued in June 1987.
For the moment, the Luna Moth appears to be maintaining a stable and sufficient population base. The IUCN, therefore, presently lists it as Least Concern. It nonetheless does face some threats. These include habitat loss and climate change.
Luna Moth Physical Description

Though not its only distinctive feature, the magnificent Luna Moth nonetheless does impress one due to its sheer size. In point of fact, it ranks as one of the largest of all Lepidoptera, in terms of wingspan. That size varies greatly among individuals, however.
The invertebrate further displays a slight degree the the physiological trait of sexual dimorphism. In its specific case, though, this has nothing to do with physical size. Instead, this manifests itself in the fact that the antennae of the male grow longer and wider.
Otherwise, the genders remain remarkably similar in appearance. Both sexes attain an average wingspan measuring roughly 4.5 in (11.4 cm). Some exceptional individuals, however, reach a span of as much as 7 in (17.8 cm). These giants truly distinguish themselves.
Regardless of their span, though, the wings of the breathtaking Luna Moth deserve appreciation for their mere appearance. That's because of their striking and unique coloring. This consists of a bright lime-green background, offsetting the mainly white body.
The wings also display yet another distinctive characteristic. More precisely, the hindwings stand out. These features develop as highly elongated in shape. This remarkable evolutionary trait only serves to separate and distinguish the species from its brethren even more.
Kingdom: Animalia
Phylum: Euarthropoda
Class: Insecta
Order: Lepidoptera
Family: Saturniidae
Genus: Actias
Species: A. luna
Luna Moth Distribution, Habitat, and Ecology

The visually unique and stunning Luna Moth, quite fortunately, has an advantage over many related creatures. That's due to the fact that it inhabits a comparatively extensive range of the world. Yet at the same time, that habitat range qualifies as very specific.
In point of fact, it makes it evolved as native a very specific portion of the continent of North America. More precisely, it inhabits a large portion of the eastern half of the United States. This extends from Florida to Maine and a small portion of extreme northeast Canada.
Within this range, though, the magnificent Lepidoptera exhibits a relatively great degree of flexibility and adaptability in terms of habitat. As a result of this versatility, it inhabits various types of habitats, providing a sufficient number of certain types of plants are present.
Like most of its kind, the Luna Moth evolved as nocturnal in nature. Flying at night, females release powerful pheromones, to attract the males. These the males detect with their sensitive antennae. They can further do so from as great a distance as several miles.
Although adults do not feed for the duration of the life cycle, the larvae feed voraciously, typically on the same tree their cocoon was place on. It also feeds primarily on several varieties of broadleaf trees and is itself mainly preyed upon by bats and various birds.
American Wintergreen
American Wintergreen Facts
To close out this article about these 7 Terrific Species of Tennessee we selected the magnificent Angiosperm fittingly named the American Wintergreen.
This botanical beauty most frequently goes by the informative common name throughout the entirety of its range. It does have other names, though. These include such distinctive terms as checkerberry, boxberry, and the eastern teaberry.
Many scientific professionals often refer to it by yet another term, however. These individuals, such as researchers, commonly use its technical name when speaking of it. But that's the somewhat difficult to pronounce moniker of Gaultheria procumbens.
The remarkable Angiosperm received that official name due to the work of the renowned Swedish botanist, Carl Linnaeus. He recorded the first formal acknowledgement of it as a separate and distinct species, as he did with many others.
Fortunately, this stunning product of Nature and evolution appears to be maintaining a population base that's both stable and sufficient. This pleasantly surprising state further seems to hold true throughout the entirety of its known native range.
The IUCN, therefore, does not currently have a listing for the American Winterberry. Any such listing would appear on the organization's published Red List of Threatened Species. That status remains open to change, however. It's future isn't fully secure.
As most, if not all, species, it faces potential threats to its continued existence. These include such factors as habitat degradation or outright loss. Human expansion serves as the chief cause of these. Its greatest danger, though, likely comes from climate change.
American Wintergreen Physical Description

The stunning flora known as the American Wintergreen likely qualifies as one of the most easily recognized plants in its habitat range. It also possesses a distinctive visual appeal. It easily catches the eye of those who encounter it for reasons wholly other than size.
That's because this marvelous work of evolution also ranks as a small variety of low-growing, ground hugging shrub. It's so small, in fact, that most mature specimens only average 4 – 6 in (10 – 15 cm) in height. Nature, however, packs a lot of beauty into its small form.
It's leaves additionally develop as evergreen in nature. This foliage also typically develops as either ovoid or elliptical in shape. Each typically ranges in length from 0.75 – 2 in (2 – 5 cm). They remain relatively narrow, though, ranging in width from 0.5 – 0.75 in (1 – 2 cm).
Distinctively, these also change color with the seasons. The color begins as a deep, forest-green shade for much of the year. In the Autumn, though, this slowly changes. As this season approaches, the leaves transform their coloring to a startlingly deep purple hue.
The deep green of the early leaves augments the beauty of the flowers it also develops. These form in early summer, remaining small. These hang in groups, in a pendulous manner. Their coloring typically presents as bright white, but a light pink sometimes appears.
The fruit of the American Wintergreen also draws attention. That's due to the fact that this aspect of the plant develops as a bright red in color. Each remains small, though. Its dazzling berries, their color standing out from the foliage, averages 0.25 – 0.35 in (6 – 9 mm) across.
Kingdom: Plantae
Phylum: Tracheophytes
Class: Angiosperms
Order: Ericales
Family: Ericaceae
Genus: Gaultheria
American Wintergreen Distribution, Habitat, and Ecology

The stunning American Wintergreen evolved as native to a region of the globe well known for its abundance of natural beauty. More precisely, as its most popular common name hints at, it developed, and remains solely native to, parts of the continent of North America.
Even there, though, it only appears in portions of the continent. The plant makes its natural home in the northeastern sections of Canada and the United States. It's seen as far north as Newfoundland, westerly to Manitoba and as far to the south as the state of Alabama.
The very nature of the flora also restricts its own natural expansion. That's true since it evolved to strongly prefer soils with a high acidity level. Most frequently, these regions occur in deciduous, hardwood or pine forests. Specimens rarely appear anywhere else, in fact.
These regions provide it with its optimal habitat requirements. The plant prefers shaded or semi-shaed areas, which such areas provide, along with the soil needs. Intriguingly, however, the amazing Angiosperm usually only produces fruit when it grows in sunny areas.
The beautiful American Wintergreen develops from rhizomes, rather than seeds. These rarely survive forest fires, leaving it vulnerable. Pollination, meanwhile, takes place due to the actions of a wide variety of insects, including beetles, flies, and various species of bee.
It also serves a vital role in its ecosystem. Many animals consume the edible fruits, though rarely in large quantities. The fruits and berries alike remain throughout the winter, providing food for numerous species. This includes deer, turkey, grouse, bear, moose, and fox.
7 Terrific Species of Tennessee
We sincerely hope that you completely enjoyed reading, and hopefully learning from, this article we've penned about these 7 Terrific Species of Tennessee. It's also our fervent hope that doing so has left you with either a new or renewed appreciation for such wonders of Nature.
Unfortunately, however, many of their kindred around the world now find themselves facing strong threats to their continued existence as a species. Many of those dangers, in fact, stem from the actions of mankind. We must do all we can to protect and preserve them all.
Check out our other articles on 4 Majestic Mantises of Asia, 3 Singularly Scintillating Seals, 5 Tantalizing Island Trees, 3 Choice Features of Chile, 5 Stunning Insects of India