We certainly hope that you enjoy and appreciate this article about Astounding Lizards of the World. Obviously, we cannot include all known species of lizard in this one compendium. That's because science currently recognizes a total of 4,675 separate species of lizard.
Herein we have included a scant handful, but we feel them to be representational of the group. However, numerous differences obviously and naturally exist., both among these Astounding Lizards of the World, and the others not listed here.
Draco Volans
Draco Volans Facts
Leading off our listing of Astounding Lizards of the World is one that never fails to grab one's attention, the remarkable Draco Volans.
First of all, after seeing the Draco Volans, one might think that dragons are real. This particular tiny dragon, however, doesn't breathe fire just yet. Therefore, it's not quite as dramatic as the much larger dragons in Game of Thrones. Just like the Marine Iguana, this little dragon must be a relative of Khaleesi's children.
Furthermore, the incredible creature constitutes a species of lizard native to specific portions of Southeast Asia. To be clear, it remains incapable of true flight. However, in an astounding ability for a reptile, it does have the ability to glide between the trees for distances of as much as 26 ft (8 m).
In addition, it feeds as an insectivorous creature, mainly consuming termites and ants. But it will, of course, also consume other insects opportunistically. Finally, although long known to the local inhabitants of its native range, the Draco Volans was not classified scientifically until 1758.
Draco Volans Physical Description
Despite its fearsome appearance, the Draco Volans remains a rather moderate-sized lizard. That's due to the fact that mature adults typically attain an average length of only about 12 in (30 cm). Yet, exceptional specimens do occasionally occur.
Furthermore, the fascinating reptile does display a slight degree of sexual dimorphism. However, that generally shows itself in two ways, both of them slight. First, a small color difference appears on the membranes which allow it to glide from tree to tree. Secondly, females attain a slightly larger size.
On the male, the underside of the wing-like membranes presents either a tan or bright orange color. Small black bands also appear. However, on the female, the same base color appears, but the black markings appear as irregular patterns, instead of in even bands.
Additionally, the wingspan typically measures about 3/4 the length of the body. When not in use, the flaps of skin it uses to glide are kept folded against the body. Meanwhile, the head usually develops comparatively blunt-shaped, in comparison with related animals.
Kingdom: Animalia
Phylum: Chordata
Class: Reptilia
Order: Squamata
Family: Agamidae
Genus: Draco
Species: D. volans
Draco Volans Distribution, Habitat, and Ecology
Most notably, the Draco Volans inhabits rather remote regions of Indonesia, Malaysia, and the Philippines. Even within that area, individuals inhabit specific areas, living almost exclusively in regions of the tropical forest.
The astonishing lizard also evolved as highly territorial by nature. As a result, males typically claim 2-3 trees as personal territory. Not only that, but usually 1-3 females inhabit each tree, creating, in effect, his own personal harem.
Also, after mating, the female almost always descends to the floor of the forest below. There, she proceeds to lay an average of 1-5 eggs. These she then buries in the loose soil, where they remain until time to hatch.
Though the eggs take 1-2 weeks to hatch, the female typically only guards them for a few days at most. During the following period the eggs remain vulnerable to predators. Even after hatching, the female attends to the young only occasionally.
Mexican Mole Lizard
Mexican Mole Lizard Facts
Listing next out of these choices of Astounding Lizards of the World is the fascinating species known as the Mexican Mole Lizard.
Most notably, despite its common name, the creature represents neither a mole nor a lizard. However, this extremely unique and rare animal does actually constitute a type of reptile.
Furthermore, this unique creature also represents one of only 180 known species in its genus. In addition, each and every one of them have one thing in common, none classify as either lizard or snake.
Yet it sets itself apart from even the great majority of its fellow members of the genus. That holds true because it remains one of only four known species in this small genus that possesses any legs at all.
This particular one of our Astounding Lizards of the World also qualifies as what scientists call an amphisbaenian. Being exclusively a subterranean dweller, it is rarely seen. Finally, the average lifespan measures only about two years.
Mexican Mole Lizard Physical Description
First of all, the Mexican Mole Lizard remains a rather diminutive variety of reptile. That's because individuals attain a maximum known length of roughly 9.5 in (24 cm). In addition, the width of the small bodies typically measures only about 0.25 in (6 mm).
Additionally, its coloring represents yet another remarkable physical trait. The fascinating creature typically develops predominantly varied shades of pink. This distinctive appearance occurs due to a complete lack of skin pigmentation.
Further, the amazing Mexican Mole Lizard possesses only two legs. However, Nature placed these appendages directly behind the small head. Five toes with sharp, comparatively long claws appear on each of the feet. Its skin also grows rather closely segmented, like an earthworm.
In addition to its other traits, the remarkable little lizard also evolved as oviparous, with the female laying between 1-4 eggs. Finally, the reptile exhibits no recognizable degree of sexual dimorphism.
Kingdom: Animalia
Phylum: Chordata
Class: Reptilia
Order: Squamata
Family: Bipedidae
Genus: Bipes
Species: B. biporous
Mexican Mole Lizard Distribution, Habitat, and Ecology
The Mexican Mole Lizard appears to only be endemic to portions of the Baja Peninsula, Mexico, in southern North America. Unconfirmed sightings also place its range from the extreme southwestern portions, through Big Sur, to the Western Cape Region, however.
The habitat of this remarkable reptile remains predominantly dry to desert regions, with plentiful shrub vegetation. To date, this incredible animal has not shown itself to be particularly adaptable to other habitat types.
Therefore, members of the species typically prefer to remain below ground. There, it lives under the many layers of vegetation, for a specific reason. This location provides it with at least a measure of protection from predators.
Additionally, the Mexican Mole Lizard constructs lengthy and elaborate systems of tunnels beneath the ground. It is carnivorous in nature and will prey on virtually anything small and soft enough to swallow. It usually remains close to its burrows, however.
Golden Armadillo Lizard
Golden Armadillo Lizard Facts
The third of our selection of Astounding Lizards of the World is the incredible species known commonly as the Golden Armadillo Lizard.
First of all, the remarkable Golden Armadillo Lizard represents an incredible species of reptile. Further, this remarkable lizard evolved as endemic solely to certain desert regions.
It also remains a unique species of animal. That holds true partly due to its rather fascinating defense mechanism. This approach to defense constitutes rolling into a tight ball, which makes it appear larger to would-be predators.
This surprising action, which some insects share, also presents would-be attackers with its thick, armored exterior. As a result, very few predators invest the time and effort to penetrate this defense. Truly, it certainly qualifies as one of the Astounding Lizards of the World.
Furthermore, the IUCN previously listed the surprising animal as Vulnerable. However, the organization recently downgraded that status to Least Concern. This action occurred due to a virtual cessation in the pet trade.
Golden Armadillo Lizard Physical Description
Most notably, the rather fascinating Golden Armadillo Lizard remains a moderately sized reptile. Yet that fact does not diminish its truly fascinating nature. What the creature lacks in size it more than makes up for in other ways.
In appearance, the creature displays striking patterns. That's because its colors range from a light brown to a dark brown on top. Yet the underbelly of the Golden Armadillo Lizard appears yellow, with a black pattern.
Additionally, individuals range in size from 6.5-8.5 in (16-21 cm) in length, with no discernible sexual dimorphism. Also, its bite measures so powerful for a creature of its size that it can literally break its own jaws when it bites.
Kingdom: Animalia
Phylum: Chordata
Class: Reptilia
Order: Squamata
Family: Cordlidae
Genus: Ouroboros
Species: O. cataphractus
Golden Armadillo Lizard Distribution, Habitat, and Ecology
The amazing Golden Armadillo Lizard also evolved as endemic to a highly specific portion of southern Africa. But, even more specifically, it only thrives in portions of the Northern and the Western Cape provinces of South Africa.
The Armadillo Lizard apparently prefers scrub brush and rocky areas for its habitat, as a general principle. However, despite the great heat of this habitat, it remains a diurnal creature, being active during the day and sleeping at night.
In addition, unlike most lizards, the fascinating reptile also typically lives in social groups. Furthermore, these groupings sometimes number as many as 60 individuals. However, more commonly these groups number around 30 individuals.
Although technically omnivorous, its diet consists primarily of small invertebrates such as insects and spiders. Yet termites appear to be its favorite prey. But, it occasionally supplements this with various plant species.
The rather remarkable animal also has an average lifespan of approximately 10 years. Individuals also typically make their home in cracks in boulders, or crevices. Finally, it represents one of the few lizards that gives birth to live young.
Thorny Dragon
Thorny Dragon Facts
Placing fourth in this listing of Astounding Lizards of the World is the absolutely amazing species known simply as the Thorny Dragon.
First of all, the amazing Thorny Dragon is a species of lizard endemic to a harsh, arid habitat. Furthermore, this animal remains so unique that it represents the only species currently classified within its genus. It is also distantly related to horned lizards in North America.
Additionally, noted biologist John Edward Gray became the first scientist to describe the animal, in 1841. The lizard also goes by several other common names, including the Thorny Devil. Each of these derives from the physical appearance of the remarkable creature.
For reasons as yet undetermined, the Thorny Dragon also evolved a thoroughly unique method of locomotion. That's because the reptile moves with a unique combination of slow, rocking motions. It specifically does this as it searches for mates, water, and food.
Fortunately, unlike many related species, it appears to have a stable population base. As a result of this, the IUCN currently lists it as a Species of Least Concern. However, this status could change in the near future, given such increasing threats as climate change.
Thorny Dragon Physical Description
Firstly, the fascinating Thorny Dragon remains a somewhat small type of lizard. It also displays a moderate degree of sexual dimorphism. As a result, in its case, the females typically attain a slightly larger size than the males.
The somewhat larger females usually reach a total length of about 8.3 in (21.1 cm). However, the males only reach an average length of roughly 8 in (20.3 cm). Furthermore, females most commonly have a slightly bulkier body shape.
Much like many varieties of lizard, the Thorny Dragon displays a range of colors. In addition, these change with the seasons, to provide the animal with camouflage. Yet, these predominantly include shades of brown, tan, and red. These typically appear lighter in summer and darker in winter.
Kingdom: Animalia
Phylum: Chordata
Class: Reptilia
Order: Squamata
Family: Agamidae
Genus: Moloch
Species: M. horridus
Thorny Dragon Distribution, Habitat, and Ecology
Most notably, the incredible Thorny Dragon evolved as endemic to specific portions of the continent of Australia. Those regions the reptile appears in include large portions of the central and western sections of the country.
Also, within that range, it appears to be rather adaptable to different habitats. As a result, it mostly inhabits either areas of plains, desert, scrubland. But, it also appears in the Roe Botanical District, in the central section. In the western section, it also inhabits areas of sandy loam.
It also feeds as a voracious predator. This reptile eats a variety of insects if the need arises but usually subsists entirely on ants. A single one of these lizards commonly consumes several thousand ants in a single day.
On the other hand, its own predators appear to be limited to wild birds and goannas. Its preferred method of self-defense consists of rolling into a ball. This presents the predator with only the hard, sharp spines on its body. The Thorny Dragon also possesses a typical lifespan of approximately 20 years.
Marine Iguana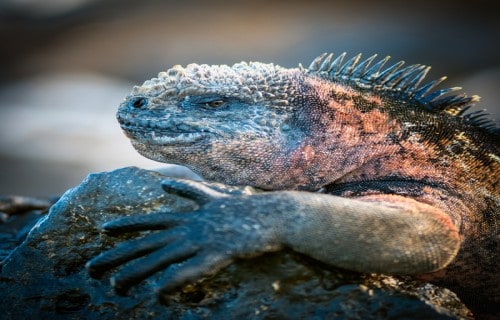 Marine Iguana Facts
Our next selection for inclusion in this article on Astounding Lizards of the World is the truly unique species known as the Marine Iguana.
Most notably, the truly remarkable Marine Iguana constitutes a very special type of reptile. This holds true because, to our knowledge, it remains the only lizard in the world able to live and forage in the ocean.
This, therefore, makes it presently the only known marine reptile on earth. Plus, look at this face. Does it remind you of Khaleesi's dragons in Game of Thrones? One might almost believe that the animal is a distant cousin.
Adding to its dragon resemblance, is yet another remarkable factor. This astonishing creature primarily dwells on the rugged shore. However, individuals will also sometimes visit marshes and mangrove beaches.
Finally, the Marine Iguana truly separates itself from other lizards in a remarkable way. That's because this magnificent reptile evolved as entirely herbivorous. Further, it feeds exclusively almost on underwater seaweed. It remains a perfect example of our Astounding Lizards of the World.
Marine Iguana Physical Description
First of all, in color, the Marine Iguana generally presents various shades of gray or black. But, the creature also displays yet another unusual trait. Adult males of this animal vary in color with the seasons. In fact, these males become brighter in color during breeding season, to attract females.
In addition, the unique animal actually varies in average size from island to island, within its range. Further, this remarkable trait truly remains unique. However, a general average size for mature adults measures roughly 5.6 ft (1.7 m) in length and 26 lbs (12 kg) in total weight.
Furthermore, the fascinating animal has remarkably sharp teeth for a herbivore. It also evolved a rather flat snout. Finally, it even has a one-of-a-kind nasal gland. This serves to filter excess salt, which it expels through its nostrils.
Kingdom: Animalia
Phylum: Chordata
Class: Reptilia
Order: Squamata
Family: Varanidae
Genus: Varanus
Species: V. komodoensis
Marine Iguana Distribution, Habitat, and Ecology
Firstly, the truly bizarre seeming Marine Iguana actually exists in the wild only on the Galapagos Islands, themselves a marvel of Nature. While not physically connected, of course, these sites form part of the country of Ecuador, in South America.
Also, as a herbivore, its flat snout and sharp teeth allow it to feed on algae growing on rocks when it so chooses. The fascinating animal also has the ability to dive to depths as great as 30 feet (10 m).
Additionally, after diving in the rather cold water to feed, it will bask in the sun on the rocky shoreline for long. But, at this time, it becomes extremely defensive. As a result, it frequently strikes at any approaching creature.
Finally, during breeding season the males assemble large herds of females. These the male aggressively guards from rivals. Violent encounters at this point are rare, however. Typically, such fights consist of no more than head-bobbing and head-butting.
Texas Horned Lizard
Texas Horned Lizard Facts
The sixth of our choices for listing in this articles about Astounding Lizards of the World is the incredible Texas Horned Lizard.
First of all, the Texas Horned Lizard truly remains a remarkably astonishing creature. The reptile also forms one of the 14 known species of spike-bodied reptiles in its native range of habitation.
Collectively, many people also know the different species within this group by several other common names. These include horned toad and horned frog. However, the group itself remains known as horned lizards.
Furthermore, this amazing animal historically played a key social role among some groups. That's because some Native American peoples traditionally considered this animal to be sacred and included it in much of their art.
Finally, some humans previously kept this species lizard as pets. Quite fortunately, the practice became illegal. Very sadly, for various reasons, the distinctive species now holds a Threatened status with the IUCN.
Texas Horned Lizard Physical Description
Though all species of horned lizard remain rather diminutive in size, the Texas Horned Lizard stands out. That's due to the fact that, in addition to its other unique attributes, it ranks as the largest of the species in its area.
The lizard also displays a moderate degree of sexual dimorphism in regards to size. The females attain a length of as much as 4.5 in (11.4 cm). Meanwhile, the smaller male reaches up to 3.7 in (9.4 cm) in length. The bodies also develop far more round in shape than most lizards.
Furthermore, its coloring displays a mottling of various shades of brown, gray, and black. The protruding horns of the Texas Horned Devil also form legitimate extensions of its skull and have a composition of solid bone.
Kingdom: Animalia
Phylum: Chordata
Class: Reptilia
Order: Squamata
Family: Phrynosomatidae
Genus: Phrynosoma
Species: P. cornutum
Texas Horned Lizard Distribution, Habitat, and Ecology
Most notably, the Texas Horned Lizard evolved as native to a specific area of North America. That area includes Kansas, Colorado, Arizona, Texas, and northern Mexico, in the United States. Humans have also introduced it into Georgia, Florida, and the Carolinas.
Further, despite its rather fearsome appearance, the creature remains remarkably docile. Wild individuals will sit calmly in one's hand, though this obviously presents dangers for the lizard. Individuals rarely bite, unless directly threatened.
The animal evolved a diet rather similar to many related species. As a result, it remains entirely insectivorous and feeds primarily on harvester ants. However, it will also feed opportunistically on a variety of other insects.
The lizard also developed an unusual defense mechanism. Individuals can project an aimed stream of blood from the corners of the eyes, and from the mouth as well. This blood is also mixed with a chemical to make it extremely foul-tasting.
Knysna Dwarf Chameleon
Knysna Dwarf Chameleon Facts
This fascinating entry in our listing of Astounding Lizards of the World goes by the difficult to pronounce Knysna Dwarf Chameleon.
Most notably, the remarkable Knysna Dwarf Chameleon remains one of the smallest known chameleon species. Many also consider it to be one of the most colorful of all its related species. Admittedly, however, all its relatives rank as distant.
Furthermore, it also stands apart from other lizards for another reason. That's because the diminutive lizard appears to be an entirely separate basal offshoot of the common ancestors of all members of the Bradypodion genus.
In addition, for the moment, its numbers also appear to be relatively stable within its habitat range. However, that area remains, sadly, also highly restricted. Due to that fact, this animal currently lists as Endangered, with the IUCN.
Finally, it does face certain ongoing threats to its existence as a species. Not surprisingly, the greatest threats to its continued existence appear to be climate change and habitat loss, much like many other creatures.
Knysna Dwarf Chameleon Physical Description
Firstly, as the common name implies, the Knysna Dwarf Chameleon constitutes a tiny species. That remains true due to the simple fact that its overall length only averages about 5 in (12.5 cm), including the tail.
Yet another physical characteristic also distinguishes it from related species. That's because, relative to body length, it has the longest tail of any member of its genus. Further, its tongue can also extend twice the length of its body.
The species displays sexual dimorphism in the form of color variations between the genders. Firstly, the females typically appear either gray or brown in color. Meanwhile, the males generally present a bright green with streaks of pink, red, or yellow.
Also, like all chameleons, it possesses the rather amazing ability to change its colors at will. But, it does remain unlike other lizards in one more manner. Unlike others of its kind, individuals give birth to live young, instead of laying eggs.
Kingdom: Animalia
Phylum: Chordata
Class: Reptilia
Order: Squamata
Family: Chamaeleonidae
Genus: Bradypodion
Species: B. damaranum
Knysna Dwarf Chameleon Distribution, Habitat, and Ecology
First of all, the awesome Knysna Dwarf Chameleon only lives in one specific area. That region consists of in and around the Knysna region of South Africa, on the continent of Africa. It still remains unclear whether its range ever extended further or not.
Furthermore, within that zone, it only inhabits the Afromontane forests of the region. However, the onset of human encroachment on its habitat forced it to adapt. As a result, it often adapts to living in gardens.
The species has an insectivorous diet that consists of various local invertebrates. In its native habitat, the principal predators include snakes and birds. When individuals inhabit gardens they face the threats of pesticides and human activities.
Fortunately, the 42 acre (17 hectares) Steenbok Nature Reserve lies within its endemic territory. Thankfully for the small marvel, this provides the creature with at least a small measure of protection.
Leaping Lesbian Lizard
Leaping Lesbian Lizard Facts
Coming in next among our picks for Astounding Lizards of the World, with the attention-grabbing name, is the Leaping Lesbian Lizard.
Firstly, the unusual term serves as the popular name for a particular New Mexico Whiptail Lizard. But what sets it apart is the fact that it was produced through the inter-breeding of two distinct native species of lizard.
This astonishing lizard resulted from the mixing of the Little Striped Whiptail and the Western Whiptail. The hybridization of these species produces sterile males, however. But, nature did not stop there.
Therefore, parthenogenesis (a type of asexual reproduction) allows the resulting all-female population to reproduce. Therefore, the unusual lizard actually evolved into a separate species capable of reproduction.
In fact, this combination of inter-species hybridization and parthenogenesis isn't unique. In fact, the process exists as a reproductive strategy in several species of whiptail lizard.
Finally, the Leaping Lesbian Lizard also holds another distinction. That's because this phenomenal reptile currently represents the official state reptile of the state of New Mexico.
Leaping Lesbian Lizard Physical Description
Most notably, the amazing Leaping Lesbian Lizard remains a small-to-moderate sized lizard. The majority of individuals attain a total length of between 6.5 – 9.1 in (16.5 – 23 cm). Quite obviously, sexual dimorphism does not appear in this species.
In addition, its coloring remains typically overall brown or black with seven pale yellow stripes from head to tail. Light spots often occur between the stripes. Individuals have a white or pale blue underside, with a blue or blue-green colored throat.
Additionally, the body develops as distinctly slender, while the tail of awesome reptile grows comparatively long. In fact, this coloring pattern represents an evolutionary adaptation for camouflage in its native habitat.
Kingdom: Animalia
Phylum: Chordata
Class: Reptilia
Order: Squamata
Family: Telidae
Genus: Cnemidophorus
Species: C. neomexicanus
Leaping Lesbian Lizard Behavior
Furthermore, like most other whiptail lizards, the Leaping Lesbian Lizard evolved as diurnal (active mainly in the daylight) and insectivorous. It also remains wary, energetic, and fast moving, darting for cover if approached.
When it reproduces, the mother-to-be lays up to four unfertilized eggs, usually in mid-summer. These eggs then typically hatch approximately eight weeks later.
Despite reproducing asexually, and being an all-female species, the lizard still engages in mating behavior with other females of its own species. Interestingly, a common theory is that this behavior stimulates ovulation, as those who do not mate do not lay eggs. This animal absolutely qualifies for this list of Astounding Lizards of the World.
Leaping Lesbian Lizard Distribution and Habitat
Not surprisingly, the fascinating Leaping Lesbian Lizard evolved as native to a particularly arid environment. That specific range includes the southern United States and northern Mexico, in North America.
However, even within these two regions, the species has specific areas it inhabits. As a result, in the United States it only appears in New Mexico and Arizona. Meanwhile, in Mexico, the species only lives in Chihuahua.
The New Mexico Whiptail Lizard (as it is also known) also lives in a rather wide variety of semi-arid habitats. These include grassland, rocky areas, shrubland, or mountainside woodlands, proving its adaptability.
Tuatara
Tuatara Facts
The ninth creature within this compilation of Astounding Lizards of the World, the Tuatara, is one to really keep your eye on.
First of all, the amazing Tuatara represents a reptile endemic to the country of New Zealand, located near Australia. Physiologically, the remarkable animal remains the most primitive species of reptile known to man.
Furthermore, taxonomic studies also determined that it underwent numerous evolutionary adaptations over time. However, its basic physiology still remains the closest to its Mesozoic Era ancestors of any known species existing today.
Previously, most scientists believed that two species of Tuatara existed. But, subsequent data later determined that only one did. However, in 1885, researchers also determined that another species once existed, but died out.
Both extant species of this animal now list as functionally extinct on the New Zealand mainland. Finally, the only known population of this unique creature resides within the confines of the protected and monitored Karori Sanctuary.
Tuatara Physical Description
First of all, the incredible Tuatara display a moderate degree of sexual dimorphosm. The males typically grow about one-third larger than the females. Males average roughly 24 in (61 cm) long and 2.2 lb (1 kg) in weight. Meanwhile, females average about 18 in (45 cm) in length, and 1.1 lb (0.5 kg) in weight.
In color, the remarkable and surprising creature also generally appears a greenish brown. But, this frequently alters over time, however. In fact, individuals do this to adapt to the specific surroundings in their range.
The Tuatara also possesses one extremely unique physical characteristic. That holds true because it actually possesses a third eye. This amazing organ remains known as the parietal eye and sits on top of the head.
However, the eye only appears visibly on the young. That's because after 4-6 months, it becomes covered in opaque, yet pigmented, scales. It actually retains its functionality, though its precise purpose remains unknown.
Kingdom: Animalia
Phylum: Chordata
Class: Reptilia
Order: Rhyncocephalia
Family: Sphenodontidae
Genus: Sphenodon
Tuatara Behavior and Status
The adult Tuatara remains a terrestrial animal. It also appears primarily nocturnal in nature, though it will frequently bask in the sun. Hatchlings typically seem diurnal and spend the majority of their time hiding under logs and rocks.
Researchers believe that this behavior remains principally due to the fact that adult Tuatara often shows cannibalistic tendencies. Though not toxic, individuals also tend to be rather aggressive and it possesses a powerful bite for a creature of its size.
Aside from the Karori Preserve, it now appears to be extinct on the mainland, however. Its known population now only inhabits 32 small islands which continue to be free of competing mammals.
However, for the moment, it still remains numerous on these islands. This surprising fact is attributed to the fact that the islands are quite inhospitable. Therefore, humans rarely venture to them, aside from researchers.
Komodo Dragon
Komodo Dragon Facts
The tenth of these picks for this list of Astounding Lizards of the World, the incredible Komodo Dragon, never fails to get one's attention.
Most notably, the astounding Komodo Dragon remains the largest known living species of lizard on earth. This fact comes as no great surprise, however. That holds true because it is a member of the Family of monitor lizard.
Due to the remoteness of its habitat range, it remained unknown to western researchers until 1910. Following that discovery, it quickly became apparent that it constituted an apex predator in its environment.
In fact, the amazing reptile demonstrates enormous power, especially with its long tail. On several occasions, researchers have witnessed it knocking down grown deer with a swipe of the tail, often breaking their legs in the process.
Despite its great size and power, however, it faces many threats to its continued existence. Climate change habitat loss serve as the two greatest dangers it faces. Due to its precarious situation, the IUCN currently lists it as Vulnerable.
Komodo Dragon Physical Description
First of all, the sheer size of the awesome Komodo Dragon serves as its most distinguishing feature. Yet, sexual dimorphism does create slight variations if physical size. But in its case, these physical differences are less than in some related species.
Firstly, some individuals grow to a maximum length of 10 ft (3 m) and weigh as much as 200 lbs (91 kg). Secondly, however, an average adult male weighs roughly 150 lbs (68.2 kg) and measures 8.5 ft (2.6 m) in length. But thirdly, an average female weighs 143 lbs (65 kg), and measures 7.5 ft (2.3 m) in length.
Furthermore, the creature remains a rather a unique animal, for several reasons. It has a tail as long as its body, as well as about 60 frequently replaced, serrated teeth that can measure up to 1 in (2.5 cm) in length. It also possesses a long, yellow, deeply forked tongue.
Additionally, the saliva of the creature frequently tends to be blood-tinged. This occurs because its teeth are almost completely covered by gingival tissue that becomes naturally lacerated during the feeding process.
Kingdom: Animalia
Phylum: Chordata
Class: Reptilia
Order: Squamata
Family: Varanidae
Genus: Varanus
Species: V. komodoensis
Komodo Dragon Distribution, Habitat, and Ecology
The phenomenal Komodo Dragon inhabits an extremely limited habitat range. That's due to the fact that it only lives natively on the Indonesian islands of Komodo, Rinca, Flores, Gili Motang, and Padar, in Asia.
In addition, even there it has certain preferences for the types of area it lives in. The powerful reptile prefers hot and dry places and typically lives in dry, open grassland, savanna, and tropical forest at low elevations.
Additionally, as an ectotherm, it remains most active in the day, although it does exhibit some occasional nocturnal activity. Komodo Dragons also evolved as solitary, usually coming together only to breed and eat.
The Komodo Dragon is a powerful carnivore. Although it eats mostly carrion, individuals will also ambush live prey with a stealthy approach. When suitable prey arrives near a dragon's ambush site, it will suddenly charge at the animal and go for the underside or the throat.
Komodo Dragon Offensive and Defensive Adaptations
Despite all its other fascinating traits, the incredible Komodo Dragon fascinates researchers for still more reasons. It also further distinguishes itself as one of the most amazing reptiles on the earth, because of it several remarkable evolutionary adaptations for its defense.
For one, the fascinating animal evolved extraordinarily tough skin that has a naturally occurring reinforcement of armored scales. This natural armor contains tiny bones called osteoderms that function as a sort of natural chain-mail.
In another distinctive adaptation, the technically non-venomous Komodo Dragon actually possesses a toxic bite. In an amazing twist of natural processes, this occurs due to the extreme amount of bacteria present in its saliva.
Further the reptile remains able to locate its prey using its extraordinarily keen sense of smell. In fact, due to this keen sense, the massively powerful animal can actually locate a dead or dying animal from a range of up to 6 miles (9.5 km).
Finally, it evolved the ability to consume prodigious quantities of food in a single feeding, as many snakes do. As a result, these large lizards often consume as much as 80% of their pre-meal body weight in one feeding.
Plumed Basilisk
Plumed Basilisk Facts
The eleventh species selected for inclusion in this article about Astounding Lizards of the World is the amazing Plumed Basilisk.
Firstly, the term serves as one of the common names for the amazing Basilicus plumifrons. Secondly, the animal also goes by such other names as the double crested basilisk and the green basilisk. For a truly startling reason, some people also call the fabulous reptile by the term the Jesus Christ Lizard.
Furthermore, the Swedish zoologist Carl Linnaeus became the first person to officially recognize the incredible species. This occurred in 1759, when he included the lizard in the 10th edition of his Systema Naturae. Several of the terms by which most individuals know the creature derive directly from its breathtaking and unique appearance.
However, the nickname of the Jesus Christ lizard derives from an astounding ability. That's because this reptile evolved the ability to walk of water, or at least to run across it. It does this when threatened. As it moves into the water, special sections of skin on its toes expand.
Fortunately, its population appears to be stable, at least for the moment. Therefore, the IUCN presently lists this fabulous animal as Least Concern. But, it nevertheless may face potential threats to its existence in the future. Habitat loss ranks as one, but it also faces the growing threat of climate change.
Plumed Basilisk Physical Description
The physical characteristics of the Plumed Basilisk may not be its most astonishing attribute. But these particular qualities nonetheless do merit attention. It must also be pointed out that, like many related animals, this reptile displays a moderate degree of the trait of sexual dimorphism.
Furthermore, in the case of this particular variety of reptile, that trait appears in the crests that develop on the body of the animal. That fact holds true in regards to the number of these displayed. The male develops a total of three of these. Meanwhile, only one such feature appears on the female.
Otherwise, both sexes of the remarkable creature closely resemble each other. Males and females attain an average body length measuring around 10 in (25 cm). But the tail greatly elongates the total length of the animal. That's because the appendage adds an average of another 26 in (66 cm).
In addition, mature adults display the characteristic brilliant green coloring. In sharp contrast, though, several small, bluish-colored spots appear along the dorsal ridge. Additionally, its bright yellow eyes add yet another strong contrast to its extremely distinctive appearance.
Kingdom: Animalia
Phylum: Chordata
Class: Reptilia
Order: Squamata
Family: Corytophanidae
Genus: Basilicus
Species: B. plumifrons
Plumed Basilisk Distribution, Habitat, and Ecology
Quite unfortunately for Nature enthusiasts, the mesmerizing Plumed Basilisk inhabits a somewhat restricted range. That's because the unique animal only lives in a small portion of Central America. More specifically, it lives in a territory that extends from western Panama, through Nicaragua, to eastern Honduras. Sadly, it appears to exist nowhere else on the planet.
Given the region of the world in which it evolved, its natural habitat comes as no great surprise. This fascinating species lives in the widespread regions of tropical rainforest natural to the region. However, even there it has even more specialized habitat requirements. This occurs due to the fact that it spends the vast majority of its time in trees that grow close to a body of water.
In addition, much like many other lizards, the Plumed Basilisk evolved as an omnivore. Since it lives in the rainforest, it typically finds an abundance of food. The flora the reptile consumes principally consists of a variety of fruits and flowers. On the other hand, its hunted prey primarily consists of a mixture of small mammals, numerous insects, and even other small lizards.
But it itself has its own share of predators in the environment in which it lives. These mainly include such species as coati, opossums, and various types of snakes and birds. After mating, the female typically lays between 5 – 15 eggs. Meanwhile, the male tends to be quite territorial. But the young immediately become independent once hatched.
Satanic Leaf-Tailed Gecko
Satanic Leaf-Tailed-Gecko Facts
Next up in this article about Astounding Lizards of the World is the fabulous creature known as the Satanic Leaf-Tailed-Gecko.
Quite amazingly, the distinctive term for this work of evolution serves as one of the common names for a truly unique reptile. Understandably, its truly attention-grabbing name directly derives from its remarkable appearance.
This incredible living marvel of the resourcefulness of Nature, however, also goes by several other terms. These other terms include such highly unusual names as the eyelash leaf-tailed gecko and the phantastic leaf-tailed gecko.
Its scientific name, meanwhile, remains that of the comparatively difficult to pronounce Uroplatus phantasticus. But, regardless of what name one chooses to use to refer to it, this unique creature truly stands out from related species.
The respected Belgian naturalist, George Albert Boulenger became the first person to officially recognize it as a separate species. This recognition occurred in 1888. In addition to its appearance, it's also one of the smallest members of its genus.
Fortunately, although its range isn't large, its population appears to be significant, and stable. This apparently holds true throughout the entirety of it. The IUCN, therefore, currently lists the incredible Satanic Leaf-Tailed Gecko as Least Concern.
This fortunate status presently appears on the organization's Red List of Threatened Species. Nevertheless, the magnificent reptile does face some potential threats to its existence. In this, at least, it remains like a great many other species around the world.
Satanic Leaf-Tailed Gecko Physical Description
The Satanic Leaf-Tailed Gecko deserves appreciation. This fact does not, however, occur due to its physical size. That holds true due to the simple fact that this particular species remains a very small form of reptile.
Even among other geckos, it ranks as small. Amazingly, this species attains a size of less than half the average length of a gecko. Firstly, an average length for a gecko measures roughly 7 – 8 in (17.8 – 20.3 cm).
Secondly, though by no means the smallest of its kind, this species only grows to about 3.5 in (9 cm) in length. Thirdly, it displays a slight degree of sexual dimorphism. In its case this has nothing to do with size.
Like many geckos, the stunning Satanic Leaf-Tailed Gecko appears in a wide range of colors. This great range of colors most commonly includes several shades of brown, with small black dots on the underside.
This reptile nevertheless also develops patterns of differing hues of orange, tan, yellow, and even purple. The gender-based difference has nothing to do with its patterns of color. This appears in regards to the tail of the animal.
This develops flattened in nature, like a leaf, thus the common name. The tail also has notches in it, further emulating a leaf. The gender differences present in the fact that males display more notches than females.
Kingdom: Animalia
Phylum: Chordata
Class: Reptilia
Order: Squamata
Family: Gekkonidae
Genus: Uroplastus
Species: U. phantasticus
Satanic leaf-Tailed-Gecko Distribution, Habitat, and Ecology
The mesmerizing Satanic Leaf-Tailed Gecko evolved as endemic to an area of the world renowned for its incredible flora and fauna. Quite unfortunately, however, that same region also represents one of its great limiting factors.
In fact, this area constitutes an extremely small region of the globe. More specifically, this holds true due to the fact that this true marvel of Nature evolved as native solely to the astounding island of Madagascar, near the continent of Africa.
Even there the animal only inhabits a very specific portion of the island. In point of fact, it only appears in the southern two-thirds of the eastern section of the island. This region consists almost exclusively of mountainous rainforests.
Nature apparently took all of these factors into consideration, though. The nature of its environment serves as the reason for the bizarre evolution of its unique tail. This further assists the awesome lizard in blending in with fallen foliage.
The fascinating Satanic Leaf-Tailed Gecko spends the majority of its time practicing patience. This time it spends waiting near the base of the trunks of various trees. But it sometimes climbs them as well, up to a height of about 6 ft (1.83 m).
Here, the natural camouflage evolution devised for it allows the small carnivore to feed on a variety of prey. As a result, its diet consists of a relatively wide variety of local insects. Meanwhile, it in turn mainly falls prey to snakes and birds of prey.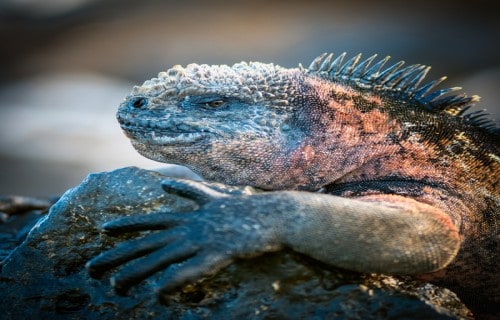 Astounding Lizards of the World
We sincerely hope that you have thoroughly enjoyed this article about Astounding Lizards of the World. However, many of them find themselves facing serious threats to their continued existence. Unfortunately, this situation appears to be escalating.
It therefore remains up to us to do all that we can to preserve them, both for the enjoyment of our posterity, and, more importantly, to maintain the delicate balance that Nature created. This balance affects not only the other creatures of the world, but us as well.
Check out our other articles on Distinctive North American Woody Shrubs, 8 South American Geological Marvels, 6 Fabulous European Lepidoptera, 7 Amazing Australian Species