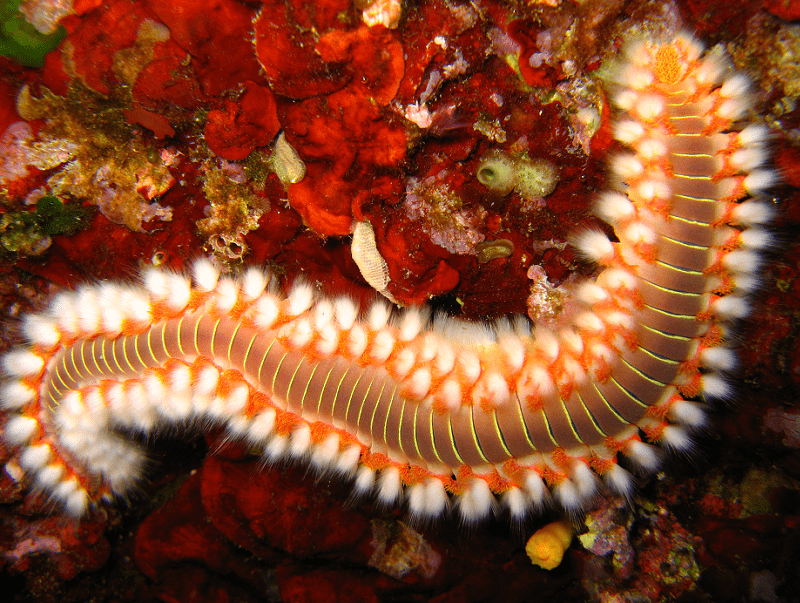 Bearded Fireworm Facts
The absolutely amazing bearded Fireworm remains one of the most distinctive types of marine bristleworm known to man. More than 10,000 known species of marine bristleworms currently exist.
Although not overtly aggressive against humans, if accidentally encountered, the venom-filled bristles inflict an intense burning sensation, hence the common name.
Though not considered directly dangerous to humans, the effects of this powerful neurotoxin include nausea and dizziness in addition to the burning sensation.
Bearded Fireworm Physical Characteristics
The Bearded Fireworm typically attains a maximum length of roughly 4 in (10 cm). However, exceptional individuals have been known to reach lengths of as much as 13.8 in (35 cm).
The body also develops highly elongated and flattened. In their appearance, these animals often present a wide variety of bright colors that vary widely between individuals.
Their bodies also display a covering of bristles which flare when threatened. The bristles inject a powerful neurotoxin which is quite painful, but not life-threatening.
Fortunately, the Bearded Fireworm remains rather slow moving and generally does not pose a threat to humans unless touched by a careless swimmer.
Kingdom: Animalia
Phylum: Annelida
Class: Polychaeta
Order: Amphinomida
Family: Amphinomidae
Genus: Hermodice
Species: H. carunculata
Bearded Fireworm Distribution, Habitat, and Ecology
The Bearded Fireworm represents a species of marine bristleworm endemic to the tropical western Atlantic Ocean, and the Mediterranean Sea. It also seems to inhabit the coastal waters around Cyprus and the Maltese Archipelago.
They most commonly live on reefs, on some mud bottoms, and under stones in rocky areas of the ocean floor, at depths of up to 492 ft (150 m). The majority of its population occurs along the coasts of Central America and South America, as well as Europe.
Within their native habitat, they also remain voracious predators. The Bearded Fireworm primarily preys on coral, small crustaceans, and anemones.
Check out our articles on California Blue Dorid, Sea Butterfly, Basket Star, Cone Sea Snail