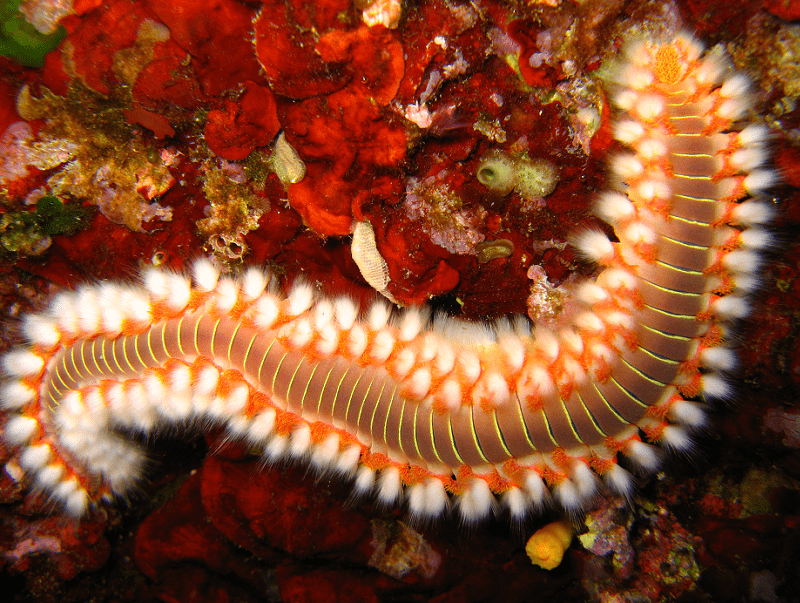 Bearded Fireworm Facts
Most notably, the absolutely amazing creature known as the Bearded Fireworm remains one of the most distinctive types of marine bristleworm known to man. That one single statement actually says quite a lot, to those with a knowledge of marine life. That's because of the fact that more than 10,000 species currently remain known to researchers.
But, regardless of its threatening reputation, this fascinating animal does not generally appear to be overtly aggressive to humans. However, if accidentally encountered, the venom-filled bristles do often inflict an intense burning sensation in its unfortunate victims. This feeling, quite naturally, serves as the source of the unique common name.
Finally, even when encountered, its venom does not rank as directly dangerous to humans, in itself. Typically, the effects of this powerful neurotoxin merely include nausea and dizziness, in addition to the burning sensation. But, the possibility of an allergic reaction remains, as always, as well as potential interaction with certain medications.
Related Articles
Leaf Slug Orange-Peel Doris Sea Pens
Bearded Fireworm Physical Description
Firstly, the Bearded Fireworm, despite its fearsome appearance, typically only attains a maximum length of roughly 4 in (10 cm). However, exceptional individuals do occasionally reach significantly greater lengths. In fact, some specimens even reach lengths of as much as 13.8 in (35 cm).
Secondly, the body of this amazing creature also develops as quite highly elongated and flattened in general shape. Additionally, in appearance, these fabulous animals often present a wide variety of bright colors. Furthermore, these colors often vary widely between individuals, but with no sign of sexual dimorphism.
In addition, the bodies also usually display a covering of comparatively stiff bristles. These typically flare when the animal feels threatened. The bristles inject the powerful neurotoxin. While it remains relatively harmless to humans, it nevertheless appears quite effective against predators.
Kingdom: Animalia
Phylum: Annelida
Class: Polychaeta
Order: Amphinomida
Family: Amphinomidae
Genus: Hermodice
Species: H. carunculata
Bearded Fireworm Distribution, Habitat, and Ecology
The Bearded Fireworm represents a variety of marine bristleworm endemic to the tropical western Atlantic Ocean, and the Mediterranean Sea. The species also seems to inhabit the coastal waters around Cyprus and the Maltese Archipelago.
Individuals most commonly live on reefs, on some mud bottoms, and under stones in rocky areas of the ocean floor. In addition, it also prefers depths of up to 492 ft (150 m). The majority of its population occurs along the coasts of Central America and South America, as well as Europe.
Within its native habitat, individuals also represent extremely voracious predators. The Bearded Fireworm primarily preys on coral, small crustaceans, and anemones. However, it does supplement its diet with small amounts of plant material at times.
Species Sharing Its Region
Blue Shark Mediterranean Monk Seal Sea Spider
Check out our other articles on Earth's Extremely Threatened Flowers, McMurdo Dry Valleys, Bleeding Tooth Fungus, Queen Alexandra Birdwing, Hyacinth Macaw