Florida Panther Facts
The magnificent feline that is the Florida Panther ranks as a severely threatened subspecies of cougar.
It evolved as native to a highly restricted area of habitation that human activities have (as with so many other creatures) reduced even further. It now occupies less than 5% of its original range.
The IUCN had previously listed this magnificent animal as Critically Endangered. As of 1970, there were only 20 living individuals remaining.
Fortunately (and deservedly so) the Florida Panther was made a protected animal at that time. Due to conservation efforts, its numbers have increased somewhat.
It has helped somewhat that part of its territory lies within protected areas, such as the Everglades National Park.
Currently, there are roughly 160 of these beautiful felines in the wild. Its status has now been downgraded to Endangered.
Related Articles
Iberian Lynx Snow Leopard Cheetah
Florida Panther Physical Description
The Florida Panther is a unique and beautiful wild feline. Sexual Dimorphism is markedly present, with males most commonly being larger than females.
Males usually average 159 lb (72 kg) in weight, while females only reach about 100 lb (45.5 kg) in total. The males grow both longer and heavier in body shape.
Among adults, the fur is primarily a deep tan in color. The underbelly is generally a creamy white in color. There are also distinctive black markings on the tips of the tail and ears.
The eyes are blue at birth, but change to yellow in adulthood, while infants are actually spotted at birth.
Rather interestingly, this species is actually incapable of roaring. Instead, they utilize a combination of growls, chirps, hisses, and whistling noises.
Kingdom: Animalia
Phylum: Chordata
Class: Mammalia
Order: Carnivora
Family: Felidae
Genus: Puma
Species: P. concolor
Subspecies: P. c. couguar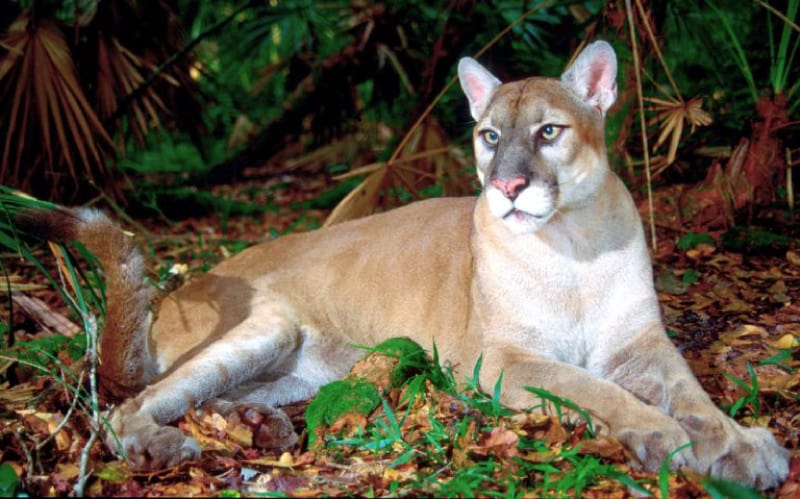 Florida Panther Distribution, Habitat, and Ecology
The Florida Panther lives exclusively in the southeast portion of the state of Florida, United States, in North America. Within that range, it typically inhabits swamps, forests, and pinelands.
Each individual migrates through its territory during the day. Individuals prefer to spend their days in the wetlands, then move to grassland in the evening. This species is primarily nocturnal in nature.
It evolved as entirely carnivorous in nature (no surprise there). Its prey typically consists of a variety of small animals. However, it will occasionally attack larger animals, such as deer or wild boar. Its only natural predators are large alligators.
Due to human expansion in the region, the greatest threat it now faces remains that of collision with automobiles.
Species Sharing Its Range
Lovebug Eastern Tent Caterpillar American Crocodile
Check out our other articles on Borneo Bay Cat, Iberian Lynx, Snow Leopard, Kodkod, Scottish Wildcat