The war between genetically modified food supporters, or rather – bribed entities and enslaved farmers without voice, and anti-GM activists, has been long and painful. That war is not a cultural issue but a common sense issue.
How much meddling in our food is permissible and is it right one company holds potentially 90 per cent of all genetically modified seeds in the world? It is ok that employers of that same company keep switching between serving government posts and serving their company? Any guesses already what company we are talking about?
That's right, Monsanto.
Millions of stories exist about that company, hundreds of thousands of farmers have felt what it is like to deal with Monsanto – either as its ally or its enemy. Whatever your personal stand is, check out Kaitlyn Moore post on Monsanto trying to take over world seed supply, nation by nation.
He who controls the seed controls the food supply.
He who controls the food supply controls the world.
There is no question that Monsanto is on a mission to monopolize the conventional seed market. In fact, the company are steadfastly working towards the goal of creating a different world. One where 100% of all commercial seeds are genetically modified and patented. So, basically a world where natural seeds are extinct.
Unfortunately for the global community Monsanto is accomplishing their purpose. They currently own potentially 90% of the world's patents for genetically modified food seeds including cotton, soybeans, corn, sugar beets and canola.
Do we as humans really want companies such as BASF, Bayer, DuPont, Syngenta, and Dow meddling with our food? Well, to a large extent they already are. Monsanto, for example, is infamous for taking advantage of small farmers, and with the advent of MoU's they are doing so with governmental license.
Countries like India, Pakistan, Australia, and New Zealand have signed MoUs and issued permits to Monsanto to use publicly owned lands to create so called demonstration farms. Those are genetically modified food breeding camps which in turn – at least in the case of the state of Rajasthan – the government subsidizes.
Monsanto literally takes farmer seeds, creates genetically engineered copycat versions, and then retains all intellectual property rights.
Dr. Vandana Shiva is Executive Director of the Navdanya Trust, an Indian organization committed to organic biodiversity. She states that "the MoUs in effect, facilitate bio-piracy of Rajasthan's rich biodiversity of draught-resilient crops. That happens by failing to have any clauses that respect the Biodiversity Act and the Farmers' Rights Act. The MoUs promote bio-piracy and legalize the great seed robbery."
As with all of their agreements, Monsanto shields itself from any liability. They press on with no worries when:
their promises of higher yields with less work ring hollow,
when farmers crops fail, or
when mass suicides occur because of crop failure and spirit crushing debt.
Farmers that sign up for Monsanto's seeds of destruction find themselves metaphorically in jail. Year after year, no matter what the prices are, the farmers depend on genetically modified food seeds for new crops. That is because GMO seeds – the bastardized versions they are – do not regenerate.
Monsanto has little qualms about robbing farmers that do not play poker with it. Conventional and organic farmers in both Canada and the U.S., who have the misfortune of having lands that border genetically modified food farms, often end up with trace contamination in their crops, making them (if organic), unsuitable for sale.
Monsanto actually uses this situation against farmers and files patent infringement claims that it often wins. Farm owners then face exorbitant legal bills and fines often forcing them to shut down. What a good way to clear away Monsanto competition.
Monsanto's product has changed from poison to food. Yet, it has held true to its history of violating the rights and health of people around the globe.
The company is 100% committed to the sale of their seeds of destruction no matter what it takes. Bullying, infiltration of high government offices with company friendly individuals, or intimidation – anything goes.
Genetically Modified Foods: What Can You do
First, be an alert consumer and know how to avoid GM foods! Most foods we eat may contain ingredients coming from genetically modified organisms. That is everything from baby formula and food to our dairy to even our meat.
If you live in Europe, avoiding GM foods is easier since laws require labeling. In the US and Canada, however, food manufacturers do not have to label if their food is genetically modified or not. In 2016, Senate passed a bill but that is still rather vague. Read more here: Genetically Modified Salmon?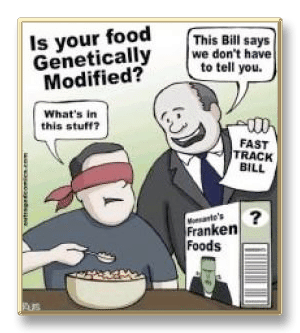 Second, watch these fantastic documentaries and spread the word, share them also with any farmer you know:
Credit: Excerpts from NaturalNews, Monsanto trying to take over world seed supply, nation by nation
Check out our article on Genetically Modified Salmon?, Organic Food, or Local, or?