Jewel Wasp Facts
Firstly, the Jewel Wasp serves as the common name for an extremely unusual species of insect. However, it also goes by another name, even more distinctive. This other name is the Emerald cockroach wasp.
In addition, this invertebrate represents a rather solitary wasp in the family Ampilicidae. But, unlike many related species, its numbers seem to be stable. Therefore, the IUCN presently has no listing for it.
Furthermore, this remarkable wasp possesses a unique reproductive behavior, being entomophagous parasites. The female Jewel Wasp actually has a venom with mind-controlling properties.
The Jewel Wasp is a unique insect with the female actually possessing a venom with mind-controlling properties.
Click To Tweet
Related Articles
Cuckoo Wasp Bald-Faced Hornet Fig Wasp
Jewel Wasp Physical Description
Most notably, while remarkable in some ways, the Jewel Wasp remains a physically small species. Additionally, this small wasp most commonly displays a slight degree of sexual dimorphism.
As a result, the female of the species generally attains a significantly larger size than the males. She averages roughly 0.85 in (22 mm) in length. Meanwhile, the male commonly grows slightly smaller.
In yet another gender-based difference, the male does not possess a stinger. Yet the female does develop one, however. The reason for this is that the stinger actually plays a role in its reproductive behavior.
Kingdom: Animalia
Phylum: Arthropoda
Class: Insecta
Order: Hymenoptera
Family: Ampulicidae
Genus: Ampulex
Species: A. compressa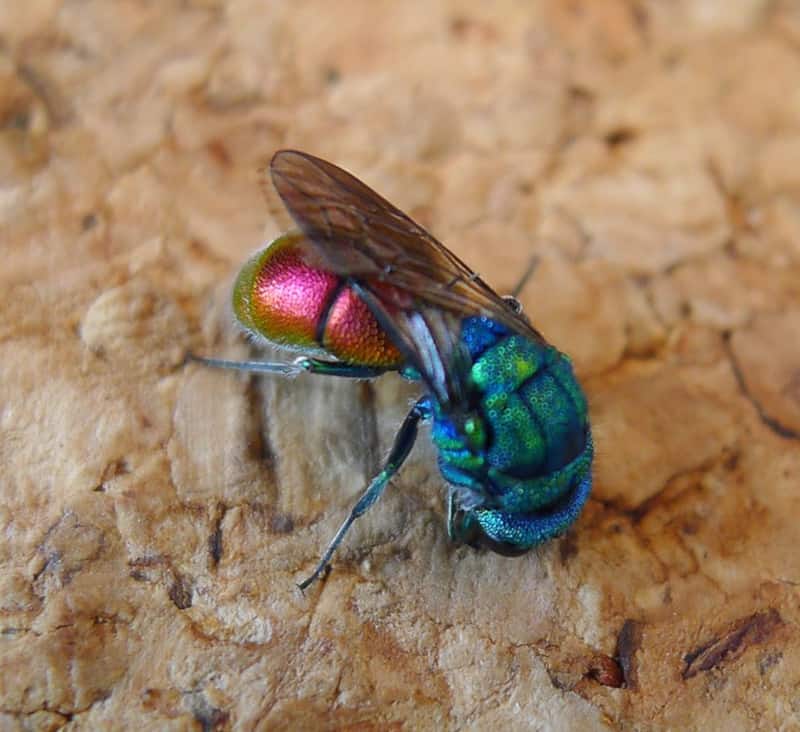 Jewel Wasp Distribution, Habitat, and Ecology
First of all, the amazing Jewel Wasp evolved as endemic to a comparatively wide swathe of the world. This range includes Africa, southern and southeastern sections of Asia, and also the Pacific Islands.
Furthermore, the species only thrives in the tropical regions of several areas in its range. In addition, the amazing arthropod also appears in abundant numbers during the warmest portions of the year.
However, its reproductive processes remain the thing for which it is the best known. That's because of an incredible evolutionary development. To date, its origins remain a complete mystery.
The female stings a victim, which almost always consists of a cockroach. The special venom impairs various motor functions, rendering it helpless. Afterward, the wasp literally leads it around, as if on a leash.
Finally, the wasp leads the victim back to her burrow, where its grisly end awaits. Once there, she lays 1-2 eggs on the immobilized victim. Once the eggs hatch, the larva feed on the cockroach.
Species Sharing Its Range
African Penguin Jade Vine Javan Rusa
Check out our other articles on 6 Amazing South American Species, Cougar, Coudersport Ice Mine, Christmas Cactus, Kemps Ridley Sea Turtle, Coral Pink Sand Dune Beetle