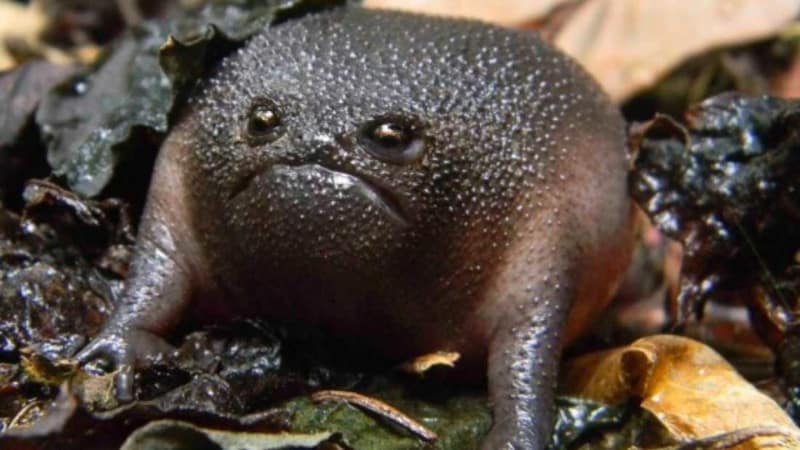 Black Rain Frog Facts
Firstly, the Black Rain Frog or Breviceps fuscus looks rather grumpy. But, it is actually quite a harmless little frog. extremely dark brown and the skin is highly granular in nature.
Secondly, this interesting animal has evolved several unique adaptations. A good example of this fact is its development of a cleft tongue.
Further, the Black Rain Frog has the capability of folding its legs under its body. Both of these make it a truly unique and highly fascinating species.
If threatened, it will also puff its body up to several times its normal size. This serves to both deter many potential predators, as well as to prevent capture in some cases.
Related Articles
Indian Bullfrog Vietnamese Mossy Frog Wood Frog
Black Rain Frog Physical Description
Regardless of appearance, the Black Rain Frog is a relatively small amphibian. Because of this, it only averages about 2 in (5 cm) in body length, excluding the legs.
Furthermore, the body develops comparatively squat and compact in shape. In addition to this, the legs stay rather short, much like the majority of related species.
Also, in color, the interesting amphibian is typically a dark brown, almost to the point of appearing black. Finally, the skin lacks warts, but presents many small tubercles.
Kingdom: Animalia
Phylum: Chordata
Class: Amphibia
Order: Anura
Family: Brevicipitidae
Genus: Breviceps
Species: B. fuscus
Black Rain Frog Range, Habitat, and Ecology
Most notably, the Black Rain Frog appears to only be native to the Cape Fold Mountains, in southern South Africa. Also, within that range, it typically inhabits regions of both forests and heathlands on slopes and mountain plateaus.
Further, the Breviceps fuscus resides at altitudes between sea level and 3,280 ft (1,000 m). The remarkable animal also appears to be primarily nocturnal.
This unique species also evolved as a burrower. In addition, it commonly creates tunnels that are typically shallow (about 15 cm).
Quite uniquely, during intercourse, the female excretes a sticky substance to prevent the male from slipping away. After the female lays eggs, the male will typically remain to guard them until hatching occurs.
Though the endemic range is highly restricted, the IUCN has listed it as a species of Least Concern. This is because its numbers appear to be plentiful and stable within its endemic range, at least for now.
Species Sharing Its Range
Boomslang African Bush Pig African Blackwood
Check out our other articles on Earth's Many Stunning Waterfalls, Whale Shark, Century Plant, Kemps Ridley Sea Turtle, Bloody Hell Pond, Emperor of India Butterfly