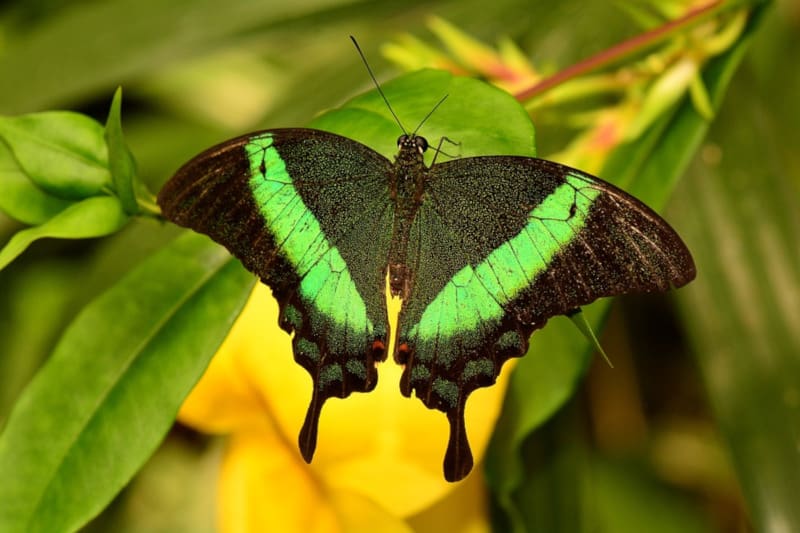 Emerald Swallowtail Facts
This dazzling natural marvel bears several common names, the most frequently used being Emerald Swallowtail. The other terms often applied to it, though, include those of the emerald peacock and the deceptive term of green-banded peacock.
Its official scientific name, however, remains much more difficult to pronounce. That because professionals use the term Papilio palinurus to formally refer to it. By either of these names, however, it easily ranks as one of the most beautiful of Lepidoptera.
A total of 6 recognized subspecies also exist of this insect. Perhaps somewhat miraculously, for the moment, each of these subspecies, as well as the Emerald Swallowtail, appears on the IUCN Red List of Threatened Species, as Least Concern.
That fact owes its existence to several factors. The first of these is the fact that it evolved as native to a relatively large area. The second reason may be less laudable, but nonetheless does play a role in protecting and helping to insure its continued survival.
That's because this marvelous butterfly consistently ranks as one of the most popular in butterfly houses around the world. Though certainly pleasing, the fortunate fact of its relative safety from extinction could easily change in the near future, however.
Within its native habitat range, the marvelous work of Nature faces several threats. The actions of collectors remains one of these, of course. Its greatest peril, though, no doubt consists of the ongoing and ever-increasing effects of climate change.
Related Articles
Emerald Swallowtail Physical Description
The magnificent Emerald Swallowtail impresses those who see it many ways. Unlike some beautiful Lepidoptera, however, it does so not only with its visual splendor, but in terms of sheer size, as well. In point of fact, it's a larger than average variety of butterfly.
Also distinguishing itself from many other butterflies, this breathtaking beauty does not display any noticeable sexual dimorphism. Distinguishing males from females, therefore, can be quite difficult for the untrained observer. Both sexes are gorgeous, though.
Individuals of both genders attain an average wingspan of between 3.1 – 3.9 in (8 – 10 cm). Astonishingly, though, the top and bottom of the two wings display radically different patterns. While that's not uncommon, this species takes the principle to a high level.
The top side serves as the origin of the various common names, including that of Emerald Swallowtail. That's due to the amazing green color displayed. This ranges from dark green, to a shade that's almost black. It also shows dark green bands in a V shape.
The underside, meanwhile, shows a completely different pattern. This primarily consists of shades of back. Numerous blue, white, and orange spots further appear here. These typically manifest themselves along the edges of the hindwings of the insect, though.
Astonishingly, these colors do not form due to natural pigments, as in the vast majority on insects. These in fact appear due to the presence of countless tiny naturally occurring prisms. Light refracting through these creates the magnificent colors perceived.
Kingdom: Animalia
Phylum: Arthropoda
Class: Insecta
Order: Lepidoptera
Family: Papilionidae
Genus: Papilio
Species: P. palinurus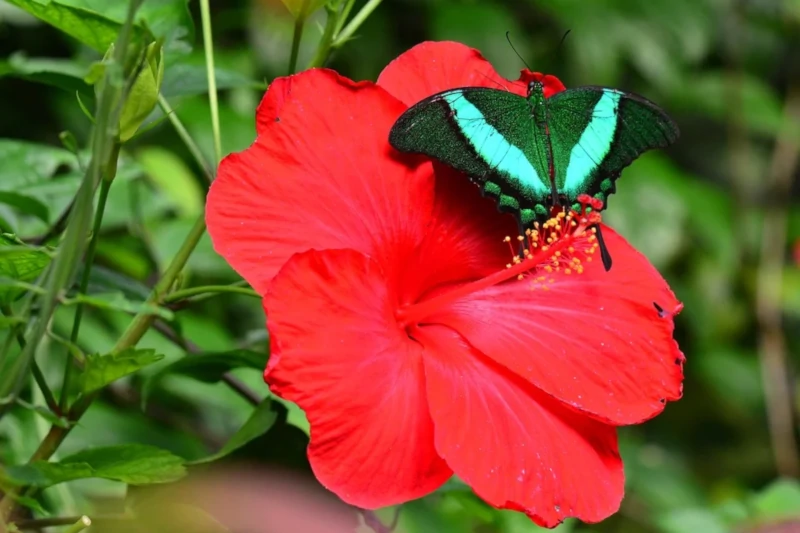 Emerald Swallowtail Distribution, Habitat, and Ecology
The Emerald Swallowtail has a comparatively wide range. This is fortunate for both it and those who appreciate its beauty. That's due to the fact that the incredible arthropod evolved as native to a broad portion of what now constitutes the continent of Asia.
More specifically, though, it appears naturally in a range that extends from the Philippines to southern portions of India. The wonderful insect even, for the moment, at least, holds small yet stable populations on some of the islands included in that impressive range.
Like most species, it also has specific preferences for its choice of habitat. It nonetheless proves itself adaptable when the need presents itself. In Nature, the creature generally lives in various open areas. These principally include forest clearings and along river banks.
It does, however, also often appear in and around empty lots, city parks, and even human habitations. In each of these habitats, it nevertheless displays specific dietary patterns. The caterpillar form feeds almost exclusively on plants in the citrus and rue families.
The adults, meanwhile, solely feed on nectar. This typically, though not exclusively, comes from the same plants as the younger form. The Emerald Swallowtail also serves as an important pollinator for many local species. Males even establish firm territorial boundaries.
Species Sharing Its Range
Check out our other articles on 5 Remarkable Canadian Mammals, Guinan cock-of-the-rock, Isle of Skye, Mandrinette, Swift Fox, Epaulette Shark, Conehead Mantis, Mata mata