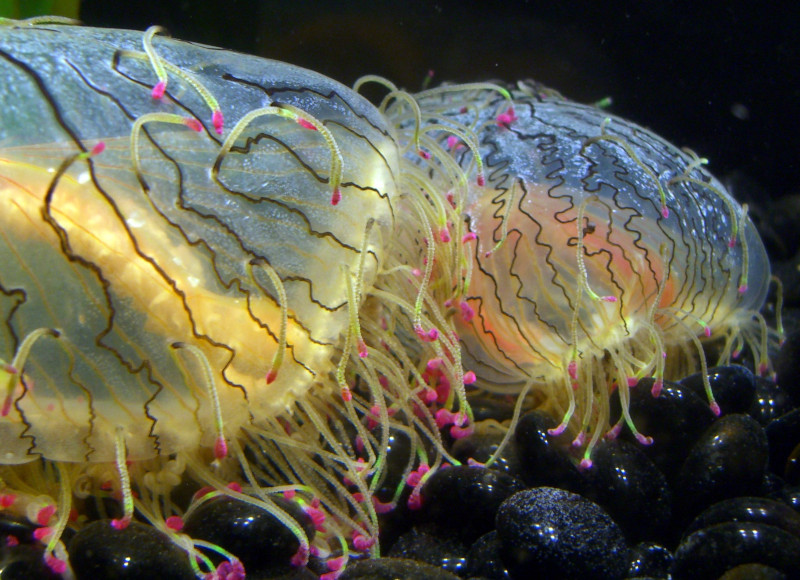 Flower Hat Jellyfish Facts
First of all, the highly descriptive term of Flower Hat Jellyfish serves as the common name for the visually stunning Olindias formosus. However, despite its name and incredible appearance, this creature does not qualify as a true variety of jellyfish. That's due to the fact that this truly stunning creature actually represents a particularly colorful species of hydrozoan. Further, true jellyfish in fact belong to the family Scyphozoa.
Quite fortunately, this small but remarkably impressive animal rarely has any interaction with mankind. Furthermore, on the rare occasion when the extremely reclusive creature does interact with humans, this usually occurs when many individuals have grouped together. When such groupings do occasionally occur, the term science applies to them is blooms. Generally, its sting poses no direct threat to human beings.
Also quite fortunately, for the moment its population numbers appear to be comparatively abundant and relatively stable. Therefore, the IUCN does not presently list the Flower Hat Jellyfish on its Red List of Threatened Species. Nevertheless, this sincerely fascinating ocean invertebrate doubtless faces the same threat that now faces many species throughout the world. That peril, of course, would be that of ongoing climate change.
Related Articles
Tiburonia granrojo Pacific Sea Nettle Fried Egg Jellyfish
Flower Hat Jellyfish Physical Description
Most notably, the gorgeous Flower Hat Jellyfish perfectly proves the point that size has no relation to beauty. That's true because this visually magnificent hydrozoan remains a physically small example of its Class. In fact, its bell only attains a maximum width measuring about 6 in (15 cm).
Further, that same bell is what earns the fabulous sea creature its common name. That's because some people feel it resembles a hat made from a flower. This outer structure remains primarily translucent in appearance. But, numerous opaque bands also appear on the bell, extending vertically .
However, the many tentacles of the Flower Hat Jellyfish themselves garner much-deserved attention themselves. That's due to their highly distinctive appearance. Firstly, these evolved as somewhat fluorescent in nature. Further, each of them displays a complex pattern of brilliant colors. But, the exact pattern varies between individuals.
Kingdom: Animalia
Phylum: Cnidaria
Class: Hydrozoa
Order: Limnomedusae
Family: Olindiidae
Genus: Oilindias
Species: O. formosus
Flower Hat Jellyfish Distribution, Habitat, and Ecology
The Flower Hat Jellyfish remains a highly colorful species of jellyfish principally native to a small area in the Western Pacific Ocean. More precisely, this area lies off the coast of Japan, in Asia. In point of fact only a small handful of scattered individuals have been found in other locations.
However, a minor mystery surrounds this aspect of the life of the amazing species. That's because, other than around Japan, sightings of a few individuals occurred near Argentina and Brazil, in South America. Current theory supposes that human activities accidentally transplanted these few individuals.
The magnificent animals also appear to prefer a highly specific habitat, as well. That's because the majority of those observed lived either on or near the ocean floor. It also prefers moderate depths and warmer temperatures. Furthermore, the species typically stays in or near ares of seagrass and kelp beds.
The Flower Hat Jellyfish primarily feeds upon a variety of species of small fish. Most also occasionally consume small marine invertebrates which it typically scoops from the ocean floor. Its remarkable tentacles also serve a dual function for feeding. Finally, its lifespan only averages about 4 – 6 months.
Species Sharing Its Range
Sea Spider Japanese Angelshark Japanese Spider Crab
Check out our other articles on Incredible Sharks of the World, Bee Hummingbird, Nyiragongo Volcano, Strangler Fig, Bornean Flat Headed Frog, Pink Fairy Armadillo