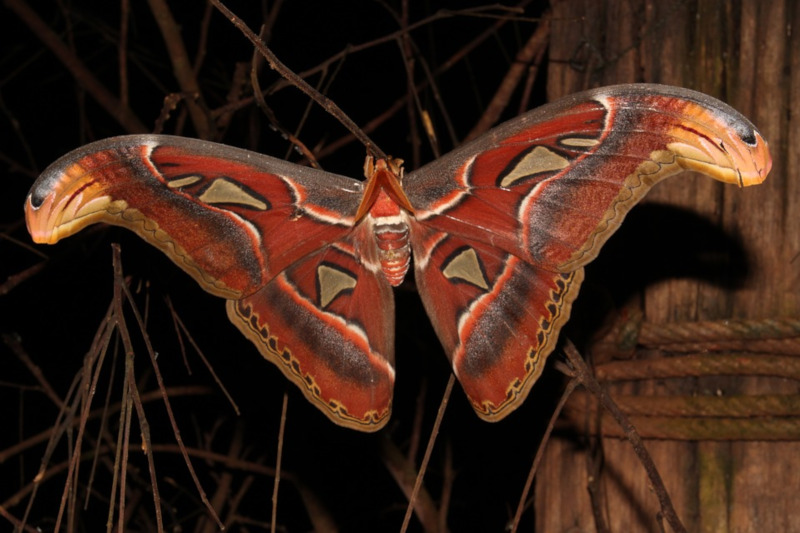 Giant Atlas Moth Facts
Perhaps most notably, the aptly named Giant Atlas Moth ranks as one of the largest species of Lepidoptera in the world. In point of fact, only one known species possesses a greater wingspan. Meanwhile, another species has a slightly greater surface area. Quite understandably, its common name derives from the famous Titan Atlas, from Greek mythology.
For the moment, the population numbers of this gorgeous arthropod across its native range appear to be reasonably stable. For that reason, the IUCN does not presently list the insect on its Red List of Threatened Species. However, that status could easily change in the future, depending on various ongoing factors currently being seen around the world.
While this particular species inhabits a sufficiently large area of the world, it nevertheless now faces several threats to its continued existence. One of these dangers consists of habitat loss, as humans encroach on more and more of its habitat. However, it also faces the threat posed by climate change, much like other species presently do.
Related Articles
Rosy Maple Moth Southern Flannel Moth Elephant Hawk Moth
Giant Atlas Moth Physical Description
The most readily noticeable physical trait of the stunning Giant Atlas Moth, not surprisingly, given its common name, remains its great size. That's because mature individuals of the species attain an average wingspan totaling roughly 9.4 in (24 cm). Furthermore, these remarkably large and powerful wings develop an overall surface area that totals roughly 25 sq in (160 sq cm).
However, the amazing arthropod also displays a moderate degree of sexual dimorphism, like most related species. In its case, though, this physical trait presents itself in a total of three different ways. The females of this marvelous Lepidoptera typically have a greater wingspan and girth than males. Meanwhile, males develop significantly broader antennae.
But the body remains extremely small in relation to the large wings. The upper portion of the wings present a reddish-brown color. Yet, these also display a pattern of white, pink, black, and purple lines. Furthermore, light colored, triangular-shaped patches also appear, bordered in black. Meanwhile, the underside remains much paler. Finally, an extension on the tip of each wing closely resembles the head of a snake.
Kingdom: Animalia
Phylum: Arthropoda
Class: Insecta
Order: Lepidoptera
Family: Saturniidae
Genus: Attacus
Species: A. atlas
Giant Atlas Moth Distribution, Habitat, and Ecology
Firstly, the truly magnificent Giant Atlas Moth inhabits an expansive territorial range that covers much of the southeast portions of Asia. But, the fabulous invertebrate also appears to be especially prevalent on the island of Borneo. However, this truly fascinating species of moth also inhabits large sections of China, India, and the Malay Peninsula. Scattered groups also appear in other areas.
Within this region, it primarily inhabits areas of lush, tropical forests. However, smaller populations also thrive in secondary forests, and shrublands. The choice of habitat plays a key role in its survival, due to the fact that its caterpillar form relies entirely on the local plants for food. The larvae feed voraciously, and primarily on the foliage of citrus and evergreen trees.
Unfortunately, the adult lifespan of the moth lasts for only 1-2 weeks once the individual opens its wings. During this time the individual subsists entirely on fat reserves which it accumulated during its larval stage. This holds true due to the fact that adults do not possess functioning proboscis. Therefore, it flies as little as possible after leaving its cocoon. In point of fact, most females rarely move at all. These wait for males, mate, then die, averaging an adult life stag of only 1-2 weeks.
Species Sharing Its Range
Binturong Borneo Bay Cat Indian Bullfrog
Check out our other articles on 7 Spectacular Herbaceous Plants of the World, Japanese Angelshark, Hot Water Beach, Monkey Puzzle Tree, Seychelles Sheath-Tailed Bat