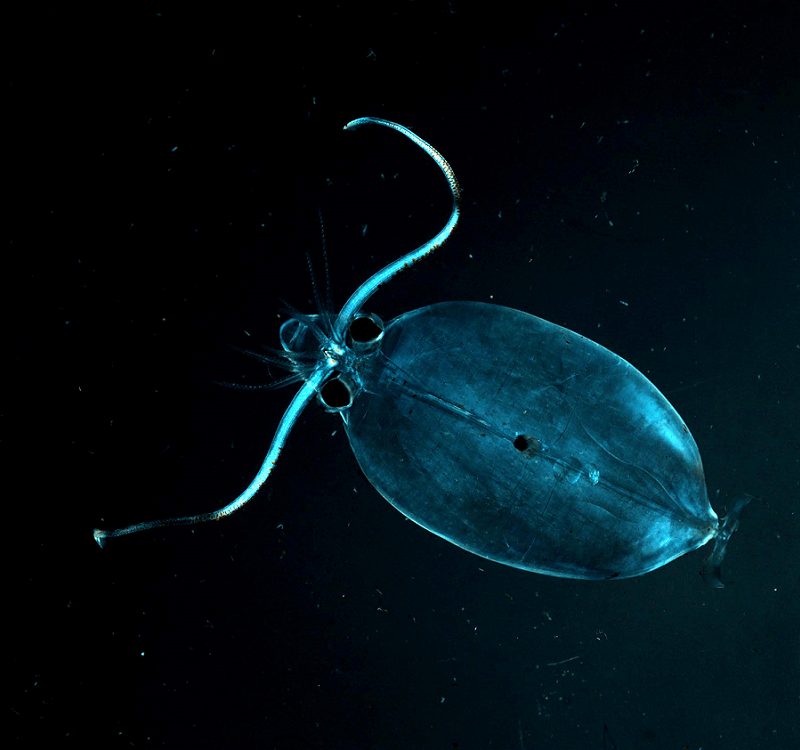 Glass Squid Facts
Glass Squid serves as the collective name for any species of squid in the Cranchiidae family. Scientists currently recognize 60 known species within this rather unique family.
Some varieties also possess ammonia-filled sacs to aid in providing buoyancy.
As with most types of squid, individuals spend their youth near the surface and slowly migrate to greater depths as they mature.
Glass Squid Physical Characteristics
The various species of Glass Squid vary greatly in size. Some species possess a mantle length of as little as 3.9 in (4 cm), yet others measure as large as 9.8 ft (3 m).
This cephalopod derives its common name from the transparent nature of the majority of the species in its family. This transparency also serves as excellent camouflage in the water.
The body generally appears quite puffy in shape. Also, of the eight arms, six stay comparatively short, while one pair grows longer.
Also, many species of Glass Squid evolved to be bioluminescent, with the light-generating organs located beneath the eyes.
Another characteristic unique to this family remains the presence of a large chamber filled with a naturally generated ammonia solution which provides the creature with buoyancy.
Kingdom: Animalia
Phylum: Mollusca
Class: Cephalopoda
Order: Oegopsida
Family: Cranchiidae
Glass Squid Distribution, Habitat, and Diet
The various Glass Squid live in every ocean on earth. The majority of these creatures prefer a habitat region either near the surface or in mid-range depths.
However, there seem to be a few varieties of this incredible cephalopod that reside at extreme depths of as much as 1.6 mi (2 km) below the surface.
Like most related species, this carnivore primarily feeds on a variety of small fish, crabs, and similar-sized creatures.
Check out our articles on Giant Squid, Armhook Squid, Dumbo Octopus, Phyllodesmium Acanthorhinum, Feather Starfish, Deep Sea Hatchetfish, Promachoteuthis Sulcus