Lily of the Valley Facts
Firstly, the gorgeous Lily of The Valley represents a distinctly sweetly scented flowering plant, with an unusual habitat range.
In addition, the majority of researchers also believe that this stunning beauty forms the only extant species within its genus.
This remarkable species has also become a popular garden plant, in those regions of the world with the appropriate climate.
The plant also generally flowers in late Spring. However, in mild winters in the greater part of its range, this takes place in early March.
Related Articles
Amazon Lily Wolfsbane Nightshade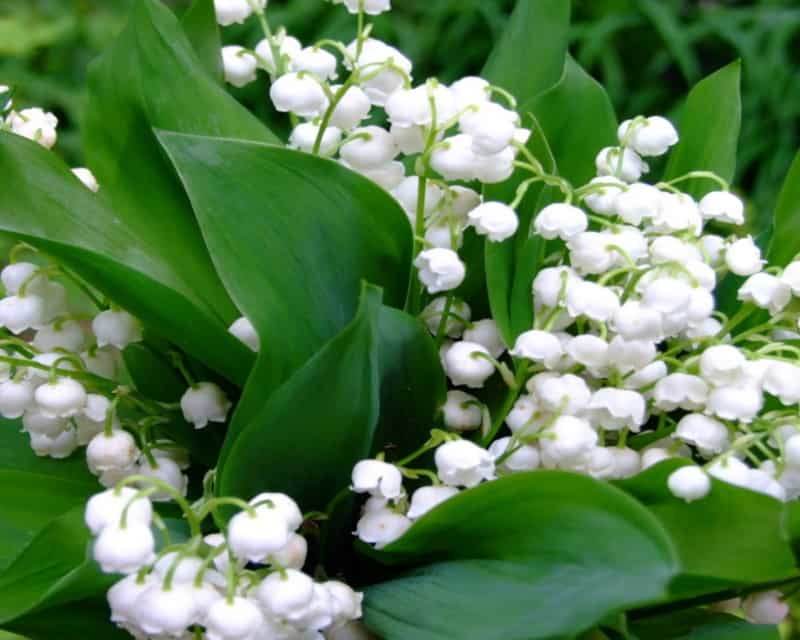 Lily of The Valley Physical Description
The Lily of The Valley is a rather amazing species of herbaceous perennial plant. It also forms extensive colonies by extending underground stems.
New upright shoots generally form in the Summer, and these grow in the spring into new leafy shoots. Yet these shoots still remain connected to the other shoots underground. In this way, the Lily of The Valley often forms extensive colonies.
The delicate flowers also have six white sepals. On rare occasions, these sometimes develop as pink in color. In addition, these form a bell-shape, averaging 0.4 in (10 mm) in diameter.
Finally, the fruit appears as a small orange-red berry.
Kingdom: Plantae
Phylum: Angiosperms
Class: Monocots
Order: Asparagales
Family: Asparagaceae
Genus: Convallaria
Species: C. majalis
Lily Of The Valley Distribution, Habitat, and Ecology
Most notably, the Lily of the Valley seems to have evolved as endemic to regions throughout the cool temperate Northern Hemisphere.
This region includes Asia, Europe, and, rather mysteriously, certain portions of the southern Appalachian Mountains in the United States.
The population in the Appalachian Mountains appears to be rather sparse. There also remains some debate among botanists as to whether this population evolved as endemic or occurs as the result of transplantation.
The Lily of The Valley is a plant that prefers partial shade. The species also prefers warm Summers. Yet it thrives in soils that are silty or sandy, and acidic to moderate basic. It is a sub-oceanic and Eroasiatic species which does best in mountainous regions at altitudes of up to 4921 ft (1,500 m).
Despite its delicate beauty, the marvelous plant also remains extremely toxic. All parts of the plant contain toxins, including the berries. Even small amounts become dangerous in ingested.
Species Sharing Its Range
Check out our other articles on Honeysuckle, Elderflower, Green Sea Turtle, Shark Bay, 8 Swoon-Worthy Caves, Rainbow Grasshopper