Lion Tailed Macaque Facts
Firstly, the Lion Tailed Macaque ranks as a rather small species of macaque. Quite unfortunately, the remarkable animal also ranks among the rarest and most highly endangered of all primates.
Secondly, a recent investigation by the IUCN discovered a truly depressing fact. That research placed its estimated population numbers at no more than 3,000 still remaining in the wild.
In addition, its areas of habitation continue to shrink, endangering the creature even further. This is happening due to the spread of agriculture, and the construction of reservoirs.
Further, the fascinating primate, regrettably, has a comparatively short average lifespan. That of the Lion Tailed Macaque measures only about 20 years in the wild, much less than many related species.
Related Articles
Vervet Monkey Capuchin Silvery Lutung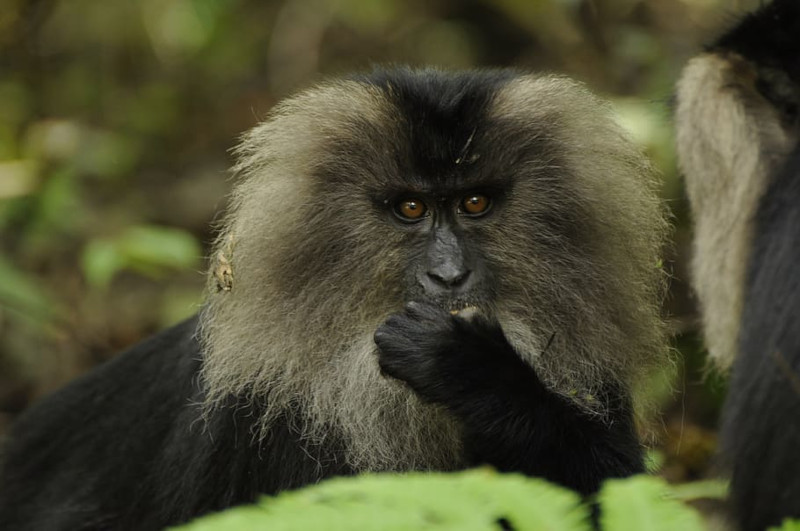 Lion Tailed Macaque Physical Description
First of all, the fur of the Lion Tailed Macaque primarily shows black in color. The exception, however, is the large, silvery-white mane surrounding the head. This natural feature also extends from the cheeks to the chin.
In fact, along with the tuft on the end of its tail, this forms the characteristic trait from which its name derives. Yet, the face remains completely hairless. The skin of the animal, however, appears dark black.
Both genders reach about the same size, and adults average roughly 24 in (60 cm) in head and body length. Therefore, sexual dimorphism plays no role in this species. However, the over-sized tail averages about 10 in (25 cm) in length. Adults also average around 22 lb (10 kg) in weight.
Kingdom: Animalia
Phylum: Chordata
Class: Mammalia
Order: Primates
Family: Cercopithecodae
Genus: Macaca
Species: M. silenus
Lion Tailed Macaque Distribution, Habitat, and Ecology
The fascinating Lion Tailed Macaque also lives only within a small mountain range on the coast of southern India. Sadly, its only remaining completely undisturbed habitat exists in the Silent Valley National Park, in Kerala, in Asia.
Within its range, the Lion Tailed Macaque almost exclusively inhabits the upper canopy of tropical evergreen forests. Individuals also spend the majority of their lives in the trees, and rarely descend to the ground.
But, unlike other types of macaque, it avoids contact with humans. In addition, it remains a territorial animal and lives in small groups. These typically average between 10-20 individuals. Most commonly these groups consist of only a few males and numerous females.
Finally, this animal also has an omnivorous diet, much like the majority of similar creatures. Therefore, it primarily consumes a random combination of fruit, buds, leaves, insects, and small vertebrates.
Species Sharing Its Range
Indian Bullfrog Lotus Corniculatus Golden Tabby Tiger
Check out our other articles on 5 Phenomenal Sea Turtles, Tiger Rattlesnake, Ometepe Island, Cattleya Orchid, Clouded Sulphur Butterfly, Yangtze River Dolphin