Sliding Rock Facts
The aptly named Sliding Rock remains a small yet marvelous slide-type waterfall. This geological formation is in western North Carolina, United States.
Although slide-type waterfalls do not rank as rare, few exist that have the length and breadth of this one. This makes it stand out from the others.
The popular name for this rather locally well-known waterfall originated due to the fact that people can slide the gently sloped length of the waterfall with little or no risk of injury.
However, certain weather conditions can understandably make the site temporarily unsafe, especially to younger children.
During the summer, when tourists most commonly appear, the US Forest Service periodically provides a lifeguard.
Sliding Rock Geological Characteristics
Sliding Rock measures roughly 60 ft (18.3 m) in length. The width also varies between roughly 20-40 ft (6.1-12.2 m) over the length of the waterfall.
Originating from mountain springs high in the beautiful Appalachian Mountains, which form Looking Glass Creek, the water temperature rarely rises above 50-60F (10-15.6C) even during the summer.
At the base of the waterfall lies a small plunge pool. This measures roughly 30 ft (9.1 m) in width, and averages between 6-8 ft (1.8-2.4 m) in depth depending on the time of year.
Approximately 11,000 gallons (41,640 liters) of water flows over Sliding Rock per minute.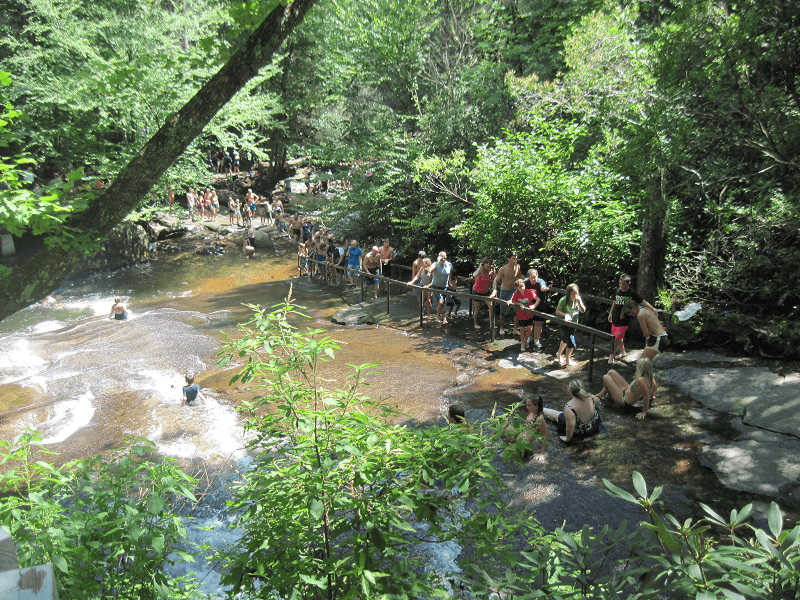 Sliding Rock Popularity and History
Sliding Rock also constitutes part of Looking Glass Creek, located in the Pisgah National Forest. The area serves as a popular regional tourist site that the US Forest Service monitors and maintains.
Parking areas, changing facilities, and a restroom have been provided for the influx of tourists.
A small fee is charged for access to the site between Memorial Day and Labor Day weekends. This small fee pays for the lifeguards, who are only on duty during this peak period.
Long before European settlers arrived in the area, the waterfall was a popular location for cooling off on hot summer days for the indigenous Native American tribes.
Check out our articles on Shoshone Falls, Yosemite Falls, Linville Falls.