6 Startling Evolutionary Adaptations
Nature takes paths beyond our ability to count in its never ceasing efforts at evolution. Some succeed…while some do not. However, from time to time we encounter the results of one of these paths that differs significantly from the majority. When we do, they sometimes terrify us, occasionally enthrall us, but most commonly they fascinate us. Here, in this article, we present to you our choice of 6 Startling Evolutionary Adaptations.
The list is by means all-inclusive, as any such list is by its very nature entirely subjective. Furthermore, these selections account for only a tiny fraction of species that would qualify for inclusion on the list, in the minds of many. If you have thoughts about a given species that you think would qualify, please let us know.
Turritopsis Nutricula
Turritopsis Nutricula Facts
We are extremely happy to be able to present the first of our 6 Startling Evolutionary Adaptations. This utterly unique creature is named the Turritopsis Nutricula.
We will clarify why we find ourselves so excited to do so shortly.
It also lives throughout most of the world's oceans. However, scientists believe that it most likely evolved as endemic to the Caribbean region.
Due to its remarkably tiny size quality photos remain rare. Turritopsis Nutricula represents a hydrozoan related to the jellyfish.
Turritopsis Nutricula Physical Description
Despite its incredible nature, the Turritopsis Nutricula stays small in size, averaging only 0.18 inches (4.5 mm) across its bell-shaped body.
The adult of the species has between 80-90 short tentacles. These the individual will typically use both for hunting and protection.
This species is what science calls a colonial life-form. The bodies actually consist of numerous tiny, highly specialized individual creatures.
These individual creatures have bonded together to form a composite entity. These individual component forms are literally incapable of living apart from the whole.
Kingdom: Animalia
Phylum: Cnidaria
Class: Hydrozoa
Order: Anthoathecata
Family: Oceaniidae
Genus: Turritopsis
Species: T. nutricula
Turritopsis Nutricula Immortality
The utterly unique in human experience Turritopsis Nutricula possesses within its tiny body one absolutely incredible characteristic.
It is the only known living creature that remains essentially immortal, in terms of lifespan. Of course, most get eaten eventually.
After the individual lives as an adult for an (apparently random) period of time, the (heretofore thought to be impossible) transformation occurs. This process is known as transdifferentiation. Initiated by a still unknown internally generated trigger, an incredible transformation takes place within the body of the Turritopsis Nutricula.
Every one of the composite creatures physically reverts back to their polyp stage. In essence; each physically reverts to infancy once again.
At this point, the Turritopsis Nutricula begins its life cycle again, essentially as a newborn. Studies of this remarkable creature are still in their early stages.
However, all indications are that this process can continue indefinitely. This effectively renders the creature essentially immortal.
Pangolin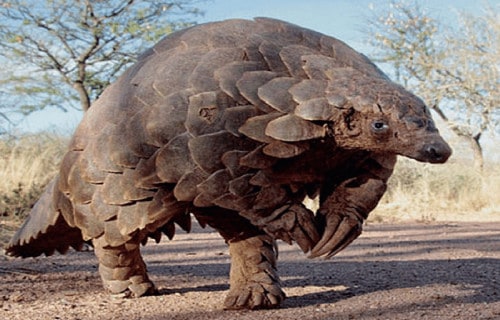 Pangolin Facts
The Pangolin remains the only known mammal to have evolved protective scales. Due to these, people sometimes call it the scaly anteater.
The animal constitutes the only surviving member of a family. Also, only four known species of this unique creature exist.
Sadly, this impressive species now lists as Critically Endangered by the IUCN. The Pangolin remains the most heavily hunted mammal in the world.
It now enjoys protection by law, yet illegal hunting continues. It still gets hunted both as a source of bushmeat and for their scales (for clothing). The animal also gets hunted for use in making traditional medicines.
Pangolin Physical Description
Due to its distinctive appearance, the Pangolin remains easily recognizable.
The scales covering its body grow large, and composed of keratin. Each scale also possesses a sharp edge, further increasing the protection they provide. These protect the Pangolin from would-be predators since the animal curls into a tight ball when threatened.
The various species range in length from 12-39 in (30-100 cm). An average weight is approximately 4.4 lb (2 kg). Sexual dimorphism is present, with males averaging 50% larger than females. The legs grow short, giving it a low-slung form. It also possesses a thin tongue which they can extend as much as 16 in (40 cm).
The claws are relatively long and quite powerful. In addition to its armor, it has a second defense mechanism. When threatened, it can release a noxious-smelling chemical from glands near the base of its tail.
Kingdom: Animalia
Phylum: Chordata
Class: Mammalia
Order: Pholid0ta
Family: Manidae
Pangolin Distribution, Habitat, and Ecology
The Pangolin evolved as endemic to parts of both Asia and Africa. It inhabits either grasslands or forests within that range.
The majority of the different species live as nocturnal, yet one appears active by day. It typically makes its homes in either hollow trees or deep burrows. These burrows may be as much as 11 ft (3.5 m) deep.
Its diet consists mainly of termites and ants, which it locates with its keen sense of smell. These it extracts with its specially adapted tongues.
This extraordinary creature typically walks on all four legs, yet remains capable of walking on its rear legs only for a short time. It also seems to be an excellent swimmer.
This animal lives a primarily solitary life, usually meeting only to mate. A typical litter contains 1-3 offspring.
Doll's Eye
Doll's Eye Facts
The Doll's Eye represents yet another of our 6 Startling Evolutionary Adaptations. It is a highly unique and rather distinctive species.
It evolved as a highly reclusive flowering plant, endemic to a few of the eastern regions of North America.
This incredibly fascinating plant evolved as closely related to the baneberry and typically blooms from early May to mid-June.
The herbaceous species also generally grows in remote areas and rugged terrain, which usually makes it rather difficult to locate.
The name derives directly from the highly distinctive, and to many, unforgettable, physical appearance of the multiple small fruits.
Doll's Eye Physical Characteristics and Habitat
The Doll's Eye developed as a herbaceous perennial species generally growing in coarse soil or even clay. It also thrives in the densest sections of forests.
Typical individuals of this remarkable small species also measure 24 in (61 cm) in height and the width averages around 36 in (91 cm).
The leaves generally appear rather broad, being almost as wide as they are long. The flowers develop small and white in color. These rarely grow to more than 0.2 in (5 m) in length.
It is the berries that give the plant its uniquely distinctive appearance.
Kingdom: Plantae
Phylum: Angiosperms
Class: Eudicots
Order: Ranunculales
Family: Ranunculaceae
Genus: Actaea
Species: A. pachypoda
Doll's Eye Distribution, Habitat, and Ecology
The Doll's Eye appears mainly in the southern portions of the United States, usually in rather dense forests. It also seems to prefer the indirect light typical of such settings.
It is also a moderately toxic plant. The entire plant is poisonous to humans. Birds, however, appear to be immune to the toxins. Many species of native birds actually thrive on the plant.
The greatest concentration of toxin is contained within the unique looking berries. These slowly ripen during the summer, growing steadily more toxic.
The toxins of the Doll's Eye are cardiogenic in nature. The chemicals they contain have an almost immediate sedating effect upon the muscles of the human heart. If consumed in sufficient quantity, the effect can be fatal.
Somersaulting Spider
Somersaulting Spider Facts
Somersaulting Spider serves as the common name of the Cebrennus rechenbergi. This unique creature represents a recently discovered species of desert-dwelling spider.
The first known sighting of this species by a researcher occurred in 2006. Scientists first recognized it as a new species in 2014.
This spider derives its common name from its remarkable locomotive adaptation. When threatened by a predator, the arachnid actually moves across the sand via somersaults.
This method of escape allows it to more than double its speed and thus enhancing its chance of escaping threats.
Somersaulting Spider Physical Description
The fascinating, and agile, Somersaulting Spider represents a medium-sized species of a huntsman spider. Though mildly venomous, it poses no known threat to humans.
The species does not display any noticeable degree of sexual dimorphism.
Both genders average about 2 in (5 cm) in total leg span. In coloring, the Somersaulting Spider displays white with black markings.
Kingdom: Animalia
Phylum: Arthropoda
Class: Arachnida
Order: Araneae
Family: Sparassidae
Genus: Cebrennus
Species: C. rechenbergi
Somersaulting Spider Distribution, Habitat, and Ecology
The Somersaulting Spider only seems to exist in the southeastern regions of Morocco, close to the border with Algeria.
Due to its rather reclusive nature, it remains possible that individuals also exist elsewhere in the region. The arachnid inhabits the sand dunes of the Erg Chebbi Desert.
The Somersaulting Spider evolved as a nocturnal species. It appears to feed primarily on moths, which it catches prior to sunrise.
During the day, it resides in vertical towers individuals construct with a combination of sand and silk. The spider is thus protected from the heat of the desert during the day.
When it employs its rather unique method of locomotion to escape threats such as predators, it is capable of moving as rapidly as 6.5 ft (2 m) per second.
However, this activity uses so much of its energy that if it is forced to use it too many times per day the individual does not survive.
Spider Tailed Viper
Spider Tailed Viper Facts
Spider Tailed Viper serves as the common name for a truly astonishing species of reptile.
This fascinating creature also possesses one of the most remarkable and resourceful evolutionary adaptations ever seen in the entire animal kingdom.
That's because the tail of this snake grows tipped with an appendage that bears a remarkable resemblance to a spider.
The aptly named reptile also uses this appendage as a lure, to attract potential prey.
The extremely cunning and resourceful species also moves this evolutionary advantage in a manner resembling the motions of an arachnid.
While waiting for its prey, the snake also blends into the surrounding terrain. Its color patterns provide it with a perfect natural camouflage.
Spider Tailed Viper Physical Description
The physical size of the Spider Tailed Viper resembles other related species. Adults average between 16-28 in (40 – 70 cm) in length.
Sexual Dimorphism also appears to be present in this species, with females averaging slightly greater in length than the slightly smaller males.
The head grows rather broad and flat, with a short, rounded snout present.
Likewise, coloring varies between individuals, yet browns and greys predominate, to assist in blending in with the environment.
The most distinctive feature remains the spider-shaped growth on the end of its tail, used to attract its prey.
Kingdom: Animalia
Phylum: Chordata
Class: Reptilia
Order: Squamata
Family: Viperidae
Genus: Pseudocerastes
Species: P. urarachnoides
Spider Tailed Viper Distribution, Habitat, and Ecology
Being endemic to the rather rugged and remote mountain regions of western Iran, in Asia, the Spider Tailed Viper is rarely seen.
Also, within its native habitat, the species primarily spends its time in rock crevices.
There, its natural camouflage permits this ambush predator to wait for its prey. This remarkable snake feeds on a variety of small mammals, most of whom are themselves predators of spiders.
The majority of its prey also consists of various types of birds.
Though the Spider Tailed Viper kills its prey with venom, the relative potency of its venom has never been studied.
Leaping Lesbian Lizard
Leaping Lesbian Lizard Facts
The Leaping Lesbian Lizard is the popular name for the New Mexico Whiptail Lizard produced through inter-breeding of two distinct native species of lizard.
Further, the Leaping Lesbian Lizard is the official state reptile of New Mexico.
This lizard is a hybrid between the Little Striped Whiptail and the Western Whiptail. The hybridization of these species produces sterile males, however.
Therefore, parthenogenesis (a type of asexual reproduction) allows the resulting all-female population to reproduce. The lizard has thus evolved into a unique species capable of reproduction.
In fact, this combination of inter-species hybridization and parthenogenesis exists as a reproductive strategy in several species of whiptail lizard.
Leaping Lesbian Lizard Physical Description
This lizard grows to a length of as much as 9 in (23 cm). Its coloring is typically overall brown or black with seven pale yellow stripes from head to tail.
Light spots often occur between the stripes. In fact, the coloring is an evolutionary adaptation to its habitat.
Individuals have a white or pale blue underside, with a blue or blue-green colored throat. The body is slender and has a long tail.
Kingdom: Animalia
Phylum: Chordata
Class: Reptilia
Order: Squamata
Family: Telidae
Genus: Cnemidophorus
Species: C. neomexicanus
Leaping Lesbian Lizard Behavior
Like most other whiptail lizards, the New Mexico whiptail lizard is diurnal (active mainly in the daylight) and insectivorous. It also remains wary, energetic, and fast moving, darting for cover if approached.
When it reproduces, up to four unfertilized eggs get laid in mid-summer. The eggs will hatch approximately eight weeks later.
Despite reproducing asexually, and being an all-female species, the lizard still engages in mating behavior with other females of its own species. Interestingly, a common theory is that this behavior stimulates ovulation, as those who do not mate do not lay eggs.
Leaping Lesbian Lizard Distribution and Habitat
This is a lizard native to the southern United States and northern Mexico, in North America. In the U.S., it lives in New Mexico and Arizona. In Mexico – it inhabits Chihuahua.
The New Mexico Whiptail Lizard lives in a rather wide variety of semi-arid habitats that may include grassland, rocky areas, shrubland, or mountainside woodlands.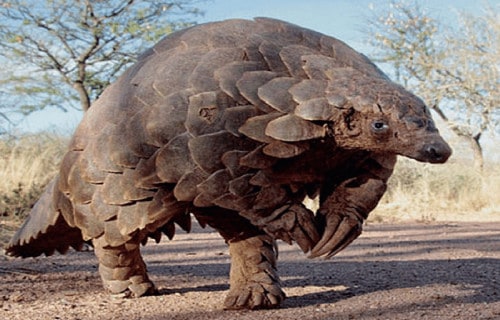 6 Startling Evolutionary Adaptations
These particular 6 Startling Evolutionary Adaptations represent just the tip of the iceberg, of course. Nature is ceaseless in its efforts to adapt. Countless others could have been included in this list, naturally. We invite you to send us your thoughts pertaining to other species you think worthy of inclusion in such a list. Sadly many species throughout our beautiful world now find themselves facing the threat of extinction. Let us all be aware of the precarious nature of existence, and do all we can to preserve these amazing species, wherever they are.
Check out our other articles on Wonderful Wild Cats of the World, 10 Extraordinary Reptiles, 10 Dazzling Denizens of the Depths, 7 Stunning North American Lepidoptera