Source: http://bit.ly/2Asel16
Venus Flytrap Facts
The beautiful Venus Flytrap remains one of the most famous, and yet misunderstood, plants on earth.
An aura of mystery and exoticness also continues to surround it even today.
The wonder and variety of Nature also extend to the incredible exceptions as well, it seems.
Out of roughly 375,000 known plant species, only 660 (0.16%) evolved to be carnivorous plants.
Likely the best known of these we call the beautiful Venus Flytrap. In 1875, Charles Darwin himself called it one of the most wonderful plants in the world.
Related Articles
Sundew Attenborough's Pitcher Plant Waterwheel Plant
Source: http://bit.ly/2s3uSEm
Venus Flytrap Physical Description
The Venus Flytrap typically attains an overall diameter of about 5 in (12.7 cm). Each individual plant generally produces 5-6 separate stems. These usually have a covering of hinged leaves.
The edges of these leaves also display a row of teeth-like filaments that fit together like the bars of a cell when the leaf closes. When activated, these close in roughly 1 second, and trap the unwary prey.
Each individual trap commonly measures about 1 inch (2.5 cm) across. The species also accomplishes its reproduction either by the spreading of seeds or through means of shoots.
Kingdom: Plantae
Phylum: Angiosperms
Class: Eudicots
Order: Caryophyllales
Family: Droseraceae
Genus: Dioaea
Species: D. muscipula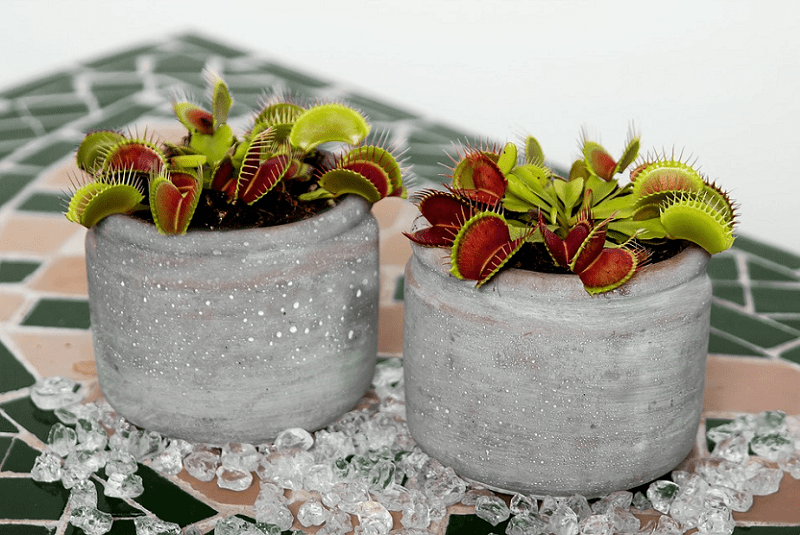 Source: http://bit.ly/2F4RZGX
Venus Flytrap Distribution, Habitat, and Ecology
The incredible Venus Flytrap supplements the nourishment it derives from its environment with nutrients and moisture from small insects it consumes.
These most commonly include ants and flies but may include other invertebrates, and even tiny frogs.
While many people believe it originates in a tropical environment, it actually developed natively in parts of North Carolina, in the United States.
Yet it has, however, been introduced to various other regions of the country as well.
In its natural habitat in North America, it also tends to prefer areas of moist, acidic soil. This typically includes the understory of various forest regions.
It also requires lots of sunlight and moisture to flourish.
Species Sharing Its Range
Carolina Silverbell Cougar Carolina Wolf Spider
Check out our other articles on 10 Extraordinary Reptiles, Waterwheel Plant, Butterwort, Parrot Flower