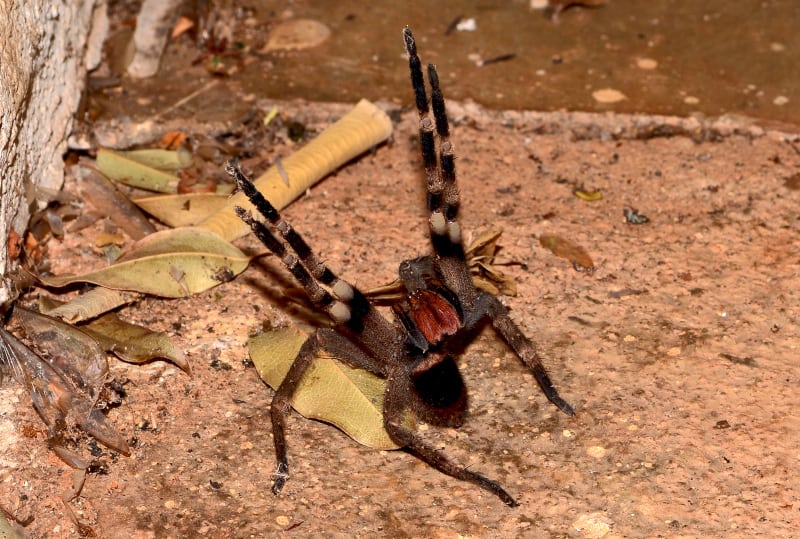 Brazilian Wandering Spider Facts
Most notably, the common name of Brazilian Wandering Spider actually applies to a total of eight species within one genus.
While all of the varieties in the genus inhabit the country of Brazil, hence the name, many also inhabit other parts of the region as well.
Each species varies from the others in some ways, of course. However, all of them remain extremely poisonous and highly aggressive.
Due to this combination of powerful venom and extremely aggressive behavior, most experts consider this genus to comprise the deadliest spiders.
However, its aggressiveness remains a defensive technique, and the arachnid typically only bites if the individual feels directly threatened.
Related Articles
Brazilian Wandering Spider Physical Description
Most notably, given the fact that the term Brazilian Wandering Spider applies to a total of eight species, physical characteristics naturally vary.
However, certain factors remain true for all varieties. Firstly, sexual dimorphism occurs in all members of the genus, just like most arachnids.
In addition, while coloring does vary, the majority of species remain primarily brown, with a black spot or spots on the underside of the body.
Also, most members of this genus grow large, with bodies reaching a length of 2 in (5 cm), and a leg span totaling as much as 6 in (15 cm).
Kingdom: Animalia
Phylum: Arthropoda
Class: Arachnida
Order: Araneae
Family: Ctenidae
Genus: Phoneutria
Brazilian Wandering Spider Distribution, Habitat, and Ecology
Most notably, most species known as the Brazilian Wandering Spider occur in South America. However, one species does inhabit Central America.
Also, and not surprisingly at all, given the name, the habitats of seven of the eight species comprising the genus include the country of Brazil.
The native habitats of the various members of the genus include temperate forests, tropical jungle, and, for some, regions of savanna.
The distinct name occurs due to the tendency of these invertebrates, unlike most spiders, to roam around at night in search of prey, rather than spin webs or lay in wait.
Furthermore, individuals tend to spend the majority of the daytime hiding in crevices, or under fallen trees, then emerging at night to hunt.
Finally, the typical prey varies by region and species, but most commonly ranges from various insects to small animals, such as frogs and lizards.
Species Sharing Its Range
Check out our other articles on 5 Marvels of New Zealand and Australia, Tassled Scorpionfish, Colorado Columbine, Ringed Seal