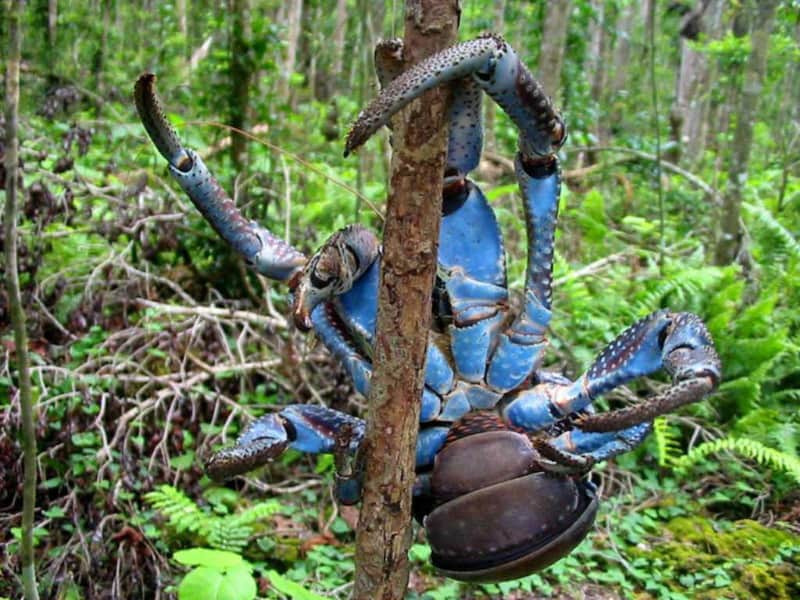 Coconut Crab Facts
The Coconut Crab is an extremely large species of terrestrial hermit crab. In fact, this animal remains the largest known land-dwelling arthropod on Earth.
Further, the Coconut Crab has evolved a number of adaptations for a land-based life. The young use the discarded shells of gastropods for shelter.
The adults develop a sturdy exoskeleton and possess primitive lungs, instead of gills. These cannot swim, and quickly drown if submerged.
In addition to all these facts, this amazing creature has actually learned how to use its powerful claws to climb trees.
Related Articles
Yeti Crab Japanese Spider Crab American Lobster
Coconut Crab Physical Description
The Coconut Crab attains a body length of as much as 16 in (40 cm). In addition, its leg span reaches as much as 3 ft (0.91 cm) while large specimens may weigh as much as 9 lb (41. kg). On average, the females grow slightly smaller than the males.
The animal also possesses 10 legs, with each pair of legs evolved to serve a specific purpose. The first pair is the large, powerful pincers which serve for combat and acquiring food.
The next two pairs are for climbing and walking, while the fourth pair is smaller and the young use them to retain the protective shell they acquire. In adults, these assist in walking.
The last pair is commonly kept inside the shell. Males utilize them in mating, while females use them to care for their eggs.
Kingdom: Animalia
Phylum: Arthropoda
Class: Malacostraca
Order: Decapoda
Family: Coenobitidae
Genus: Birgus
Species: B. latro
Coconut Crab Distribution, Habitat, and Ecology
The rather incredible Coconut Crab evolved as native to bodies of land in the Indian Ocean and portions of the Pacific Ocean.
Its range of habitation extends from Zanzibar to the Tropic of Cancer and the Tropic of Capricorn. The Coconut Crab has also inhabited the mainlands of Madagascar and Australia.
In addition, the largest known concentration of this species is on Christmas Island, in the Indian Ocean. In the Pacific Ocean, it lives in multiple locations which include the Cook Islands, the Line Islands, and the Gambier Islands.
The crabs have also evolved an extremely keen sense of smell. Individuals feed primarily on nuts, seeds, and fruit. It will, however, feed on carrion when it is available.
Species Sharing Its Range
Fossa Seychelles Sheath-Tailed Bat Rosy Periwinkle
Check out our other articles on Harlequin Shrimp, Marine Iguana, Lumpfish, 7 Spellbinding African Marvels