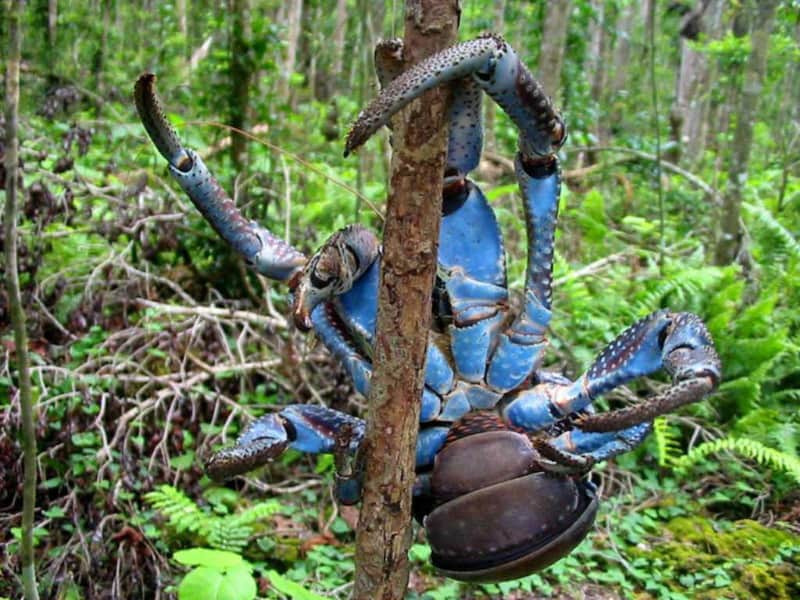 Coconut Crab Facts
This astounding marvel of Nature and evolution most frequently goes by the informative common name of the Coconut Crab. It does have a few other, less often used titles, though. These include such intrigung terms as palm thief and robber crab.
Within the scientific community, however, many individuals know it better by its technical moniker. Thankfully, that's an extremely simple term for the layperson to pronounce, at least relatively speaking. It holds the official appellation of Birgus latro.
It received that name due to the efforts of Carl Linnaeus himself. The highly esteemed Swedish zoologist accomplished the first recorded recognition of it as a separate and distinct species Tha scientifically noteworthy deed occurred in the year 1767.
Regardless of which of these titles one chooses to use, it remains an extraordinary example of its kind. In fact, it represents the largest extant land crustacean known to science. That alone serves to distinguish it from other related species around the globe.
Sadly, though, the population numbers of the amazing Coconut Crab seem to be dropping. That unfortunate trend further appears to hold true througout the entirety of its native range. The IUCN therefore currently lists it as Vulnerable on its Red List.
It faces multiple threats to its continued existence. Like most creatures, many of these stem from the actions of man. These dangers include such perils as habitat loss and human predation. It's also now threatened by the effects of climate change, like us all.
Related Articles
Yeti Crab Japanese Spider Crab American Lobster
Coconut Crab Physical Description
The astounding Coconut Crab undeniably captures the immediate attention of anyone fortunate enough to encounter one. It truly stands out compared to other crabs, being so much larger than other land-dwelling cousins. The creature's truly a giant among its kind.
In this regard, though, it follows an evolutionary pattern common among many animals. That's in the fact that it manifests a certain degree of the physiological characterstic of sexual dimorphism. In its case, the trait displays itself in terms of sex-based size variations.
As a general principle, males of the unique species attain greater overall measurements than their female counterparts. Yet the difference typically remains comparatively minor. Visually distinguishing the genders can therefore be difficult for the untrained observer.
Taken globally, examples of the Arthropod generally grow to a body length of as much as 16 in (40 cm). Its legspan also impresses, averaging approximately 3 ft (0.91 m). Weights further measure a mean of about 9 lb (4.1 kg). Though rare, exceptional specimens occur.
The Coconut Crab evolved 10 legs, with each pair having evolved to serve a specific purpose. Its first pair is the large, powerful pincers which serve for combat and acquiring food. The next two pairs are for climbing and walking, while the fourth pair remains smaller.
The next pair, though, the young typically use to retain the protective shell they acquire. In adults, however, these assist in walking. The last pair it commonly keeps inside the shell. Males utilize them in mating, while females use them to care for their eggs.
In appearance, the color patterns differ significantly between individuals. Gender seems to play no role in this. In most parts of its range, blue serves as the predominant shade. Yet in other parts of its range, some show backgrounds of reddish or even purple shades.
Kingdom: Animalia
Phylum: Arthropoda
Class: Malocostraca
Order: Decapoda
Family: Coenobitidae
Genus: Birgus
Species: B. latro
Coconut Crab Distribution, Habitat, and Ecology
The Coconut Crab evolved as native to a moderately broad expanse of the earth's marine waters. Sadly, though, within that greater range, its population confines itself to only certain, smaller concentrations. The creature lives in the Indian and central Pacific Oceans.
Given that the adults cannot swim, they remain restricted to various land regions inside this zone of habitation. Christmas Island hosts the largest single grouping. Evidence indicates that it once inhabited the mainlands of both Madagascar and Australia.
The animal also displays decidedly strong preferences regarding its choice of habitat. In fact, the species is considered as one of the most land-adapted of all decapods. Individuals mainly live in crevices and rock burrows. It tends to remain concealed during the day.
Specimens live almost exclusively on the land. Most enter the sea only to release their eggs. Otherwise, the stay on land, where most dig into the loose sand for concealment. The majority of individuals also choose to reside in close proximity to the shore.
The marvelous Coconut Crab evolved as omnivorous in nature. It principally consumes large quantities of nuts, seeds, fruits, and the stems of fallen trees. Despite the name, the animal rarely actively seeks out coconuts to eat, though it does so if it comes across them.
It does climb trees, including coconut trees, though it does so to escape predators. Due to its size and native environment, adults of the amazing Arthropod has no natural predators, though humans often hunt it. Juveniles, however, often fall victim to lizards and wild pigs.
Species Sharing Its Range
Fossa Seychelles Sheath-Tailed Bat Rosy Periwinkle
Check out our other articles on 4 Supremely Stunning Squirrels, Australian Painted Lady, Gobi Desert, Moose, Southern Darwin's Frog, Alligator Snapping Turtle