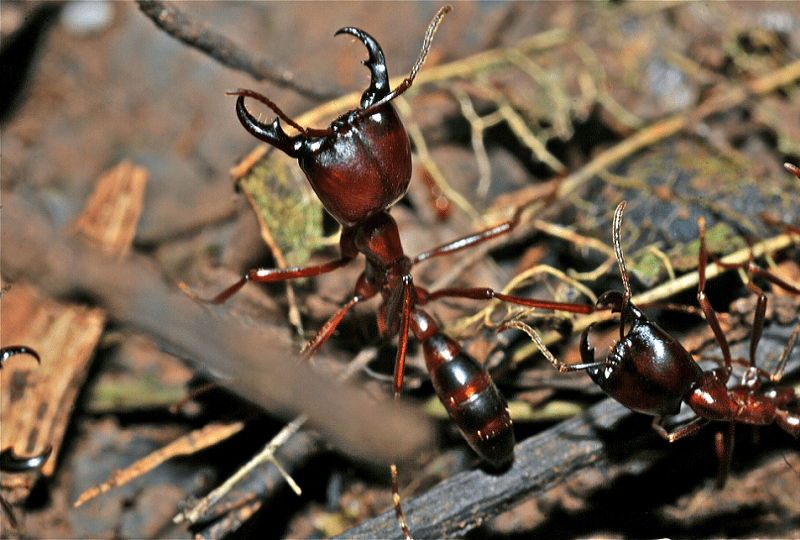 Driver Ant Facts
Firstly, Driver Ant serves as the name of a rather extensive genus of army ants. Further, the majority of the species of this genus reside in extremely arid regions.
Unlike the majority of ants, however, it does not reside in permanent ant hills. It does form them, but these structures typically get used for three months at most, usually far less.
Also, each colony often contains in excess of 20 million individuals. It remains fully capable of stinging but rarely does so because it usually relies on its incredibly powerful jaws to defend itself.
Related Articles
Bullet Ant Asian Weaver Ant Argentine Ant
Driver Ant Physical Description
Given that the term Driver Ant applies to multiple species, physical variations quite naturally occur among the various types.
However, certain attributes remain consistent overall. Firstly, the majority of them present combinations of dark reddish-brown shades.
Also, members of the soldier class grow to a significantly larger size, develop much larger heads, and powerful mandibles.
Kingdom: Animalia
Phylum: Arthropoda
Class: Insecta
Order: Hymenoptera
Family: Formicidae
Genus: Dorylus
Driver Ant Distribution, Habitat, and Ecology
The various forms of Driver Ant inhabit different areas, yet the greatest percentage of these inhabit either eastern or central Africa.
However, in smaller numbers, this powerful and often dangerous insect also occurs throughout a range extending to tropical portions of Asia.
The impressive Driver Ant also remains well-known for the enormous marching columns it sometimes forms. This occurs seasonally when food supplies begin to dwindle.
In addition, these enormous columns occasionally contain as many as 50 million individuals. Though these columns remain extremely dangerous, one can easily avoid them because the column progresses at no more than 65 ft (20 m) per hour.
The ants will also fiercely defend the column against an attacker of any size. The bite has incredible power and generates great pain. Once it bites, it will not release, even if torn in two.
Yet interestingly, local indigenous peoples often use a Driver Ant as a natural suture, getting the ant to bite on both sides of a wound. The body then gets torn off, leaving the jaws holding the wound closed. This will actually hold for several days, allowing the wound to begin to heal.
Species Sharing Its Range
Scythian Lamb African Bush Pig King Cobra
Check out our other articles on Ascension Island Parsley Fern, Blue Shark, Haukadalur Geothermal Area, Dwarf Sperm Whale