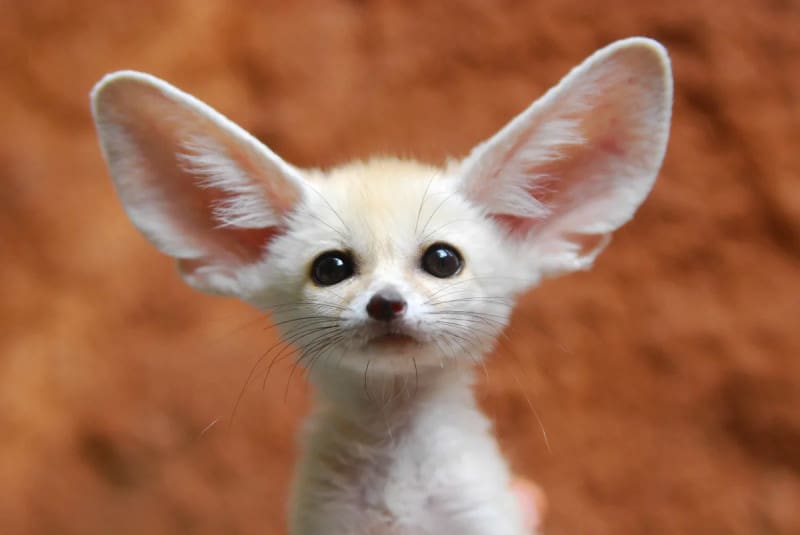 Fennec Fox Facts
The amazingly distinctive looking Fennec Fox represents a small variety of fox that evolved as endemic to a moderately restricted, and rather harsh, environment.
Its most distinctive feature remains its remarkable oversized ears. In addition to providing it with excellent hearing, these also serve as a means of dissipating heat.
It also constitutes the smallest known form of canid, the family that includes domestic dogs, coyotes, wolves, foxes, jackals, and related species.
Sadly, the fur of this animal continues to remain highly prized by many Indigenous Peoples inhabiting its native range.
The small mammal has also become rather popular as an exotic pet in some parts of the world.
Fortunately, its numbers in the wild remain stable. For this reason, the IUCN currently classifies it as a Species of Least Concern.
Related Articles
Red Wolf Tibetan Sand Fox Dingo
Fennec Fox Physical Description
Despite its rather fascinating nature, the Fennec Fox remains a diminutive mammal. Adults rarely attain a weight of more than 3.5 lb (1.6 kg).
Body length rarely exceeds 16 in (41cm). However, the tail often grows to a length of as much 8 in (20 cm) by itself, which is quite long compared to body length, among foxes.
The coat of this remarkable animal typically presents a blending of creamy tan and white. In addition, the fur has a rather fluffy nature, serving to help keep it warm at night.
Its eye-catching ears grow to the greatest length of any type of fox, relative to body size. These provide it with hearing so keen that it can often hear prey burrowing underground.
The soles of its rather tiny feet have thick pads of fur, which serve to protect its sensitive feet from the blistering heat of desert sands.
Kingdom: Animalia
Phylum: Chordata
Class: Mammalia
Order: Carnivora
Family: Canidae
Genus: Vulpes
Species: V. zerda
Fennec Fox Distribution, Habitat, and Ecology
The fabulous Fennec Fox inhabits portions of the Sahara in Africa, the Sinai Peninsula, in Asia, and also limited portions of Israel.
As a desert creature, this rather beautiful animal has a primarily nocturnal nature. It spends its days in its den, usually dug in the sand and located near patches of vegetation.
Its dens also remain highly organized, measuring as much as 1,291 sq ft (120 sq m), and often possess as many as 15 entrances and exits.
The Fennec Fox feeds as an omnivore. Its diet principally consists of insects, rodents, eggs, and occasionally rabbits. It typically hunts by pouncing on its prey, leaping from a stationary position.
Its own principal predator remains various types of owls. However, other animals also hunt it, including jackals and sometimes hyenas.
Species Sharing Its Range
Giant Atlas Moth Icicle Mushroom Black Rain Frog
Check out our other articles on Naked Man Orchid, 7 Truly Astounding Geological Wonders, Lycaste Orchid, 7 Astounding Polar Creatures