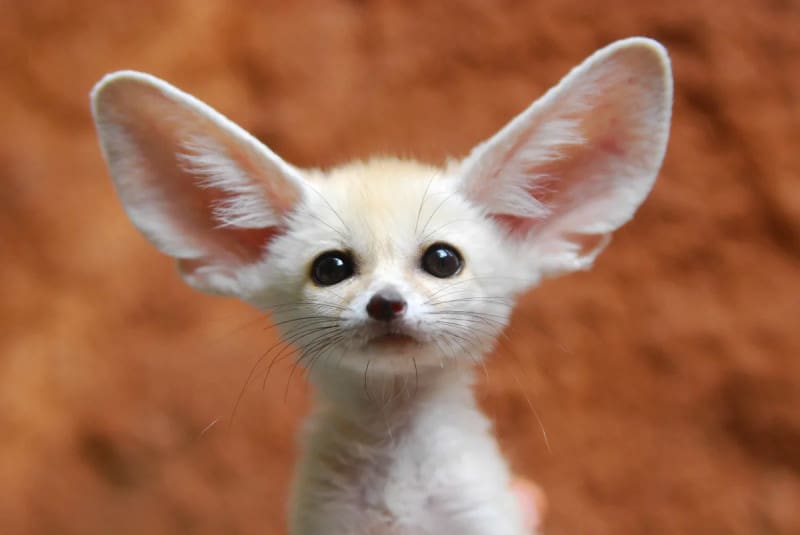 Fennec Fox Facts
This remarkable mammal most frequently goes by the deceptively simple common name of the Fennec Fox. That term derives from the Arabic word fanak. For the moment, this small wonder of evolution has no other accepted general name.
In scientific circles, though, it's typically better known by its formal moniker. Fortunately for the layperso, that's a term more easily pronounced than many. That's because this intriguing wild canine bears the official name of the Vulpes zerda.
The animal received that title due to the efforts of the respected German zoologist, Eberhardt August Wilhelm von Zimmermann. He accomplished the first recognition of it as a separate and distinct species. This important event occurred in 1780.
Fortunately, the amazing Fennec Fox appears to be maintaing a populatio base that's both sufficient and stable. This pleasant trend also seems to hold true throughout the entirety of its known range. The IUCN currently classifies the animal as Least Concern.
Nevertheless, this fascinating creature faces several threats to its continued existence. In its native range, wild specimens are commonly trapped either for sale to toursits or for exhibition. It also now faces the same threat of climate change as all species.
Related Articles
Red Wolf Tibetan Sand Fox Dingo
Fennec Fox Physical Description
The gorgeous Fennec Fox easily captivates most people fortunate enough to encounter it. Unlike some species, however, this occurs more due to its appearance than sheer size. That's due to the fact that it represents the smallest of all known species of wild canines.
It does share a common trait with its many relatives, though. That's true given the fact that it displays a certain degree of the physiological characteristic of sexual dimorphism. In its specific case, this trait manifests itself purely in terms of physical measurements.
More precisely, males attain a larger average size than their female counterparts. The difference remains relatively minor, though. With the exception of this trait, the two genders are virtually indistinguishable to the untrained eye. This often complicates identification.
The females of the visually impressive species reach an average head and body length of approximately 13.6 – 15.6 in (34.5 – 39.5 cm). Male specimens, meanwhile, grow to an average measurement equaling 15.4 – 15.6 in (39 – 39.5 cm) for the same physical structure.
Weights vary accordingly between the different sexes as well. Females typically weigh between 2.2 – 4.2 lb (1.0 – 1.9 kg). The males, however, tend to attain a slightly greater mass. The tail for both genders of the natural wonder averages roughly 9.1 – 9.8 in (23 – 25 cm).
The coat of the Fennec Fox typically presents a blending of creamy tan and white. The fur also has a fluffy nature, serving to help keep it warm at night. The ears represent its most recognizable feature. In ratio to body size, they're the largest of all known wild canines.
Kingdom: Animalia
Phylum: Chordata
Class: Mammalia
Order: Carnivora
Family: Canidae
Genus: Vulpes
Species: V. zerda
Fennec Fox Distribution, Habitat, and Ecology
The visual wonder that's the Fennec Fox evolved as native to a respectable range of the globe. The location of that range, though, might surprise some people. That true since it remains endemic to portions of Africa, as well as a part of the Middle East.
In Africa, the lovely creature principally appears in portions of the Sahara. That extends from Mauritania to Morocco. From there, its range extends through Egypt. It even appears in sections of the Sanai Peninsula. Some specimens also live in the country of Israel.
Nature guided this animal through a very precise evolutionary path. It developed decidedly unexpected preferences in terms of its habitat. The animal primarily inhabits areas that most mammals, especially smaller ones, would scrupulously avoid at all costs.
It's mainly a desert environment species. The mammal typically makes its home in small sands. Some, however, also live in various vast, treeless sandy areas with sparse vegetation. That flora generally consists of various species of sedges, grasses, and small shrubs.
The beautiful Fennec Fox developed a primarily nocturnal nature. It spends its days in its den, usually dug in the sand and located near patches of vegetation.The dens also appear highly organized, measuring as much as 1,291 sq ft (120 sq m), with up to 15 entrances and exits.
It also evolved as an omnivorous creature. Its diet principally consists of insects, rodents, eggs, and occasionally rabbits. It typically hunts by pouncing on its prey, leaping from a stationary position. Its own main predators consists of owls, jackals, and sometimes hyenas.
Species Sharing Its Range
Giant Atlas Moth Icicle Mushroom Black Rain Frog
Check out our other articles on Naked Man Orchid, 7 Truly Astounding Geological Wonders, Lycaste Orchid, 7 Astounding Polar Creatures, Axolotl