Giant Huntsman Spider Facts
Most notably, the astounding Giant Huntsman Spider truly lives up to the common name. That's because this gigantic arachnid remains one of the two largest spiders on earth, in terms of legspan. Only the Goliath Birdeater equals it.
The impressive invertebrate was first described in 2001, by P. Jäger. Rather fortunately for those who suffer from arachnophobia, it has a highly restricted habitat range. However, for the species, this poses severe problems.
Given the limited extent of its range, and nature of its habitat, climate change poses a threat to its existence. However, for the moment, the IUCN does not yet have a listing for this particular species.
Related Articles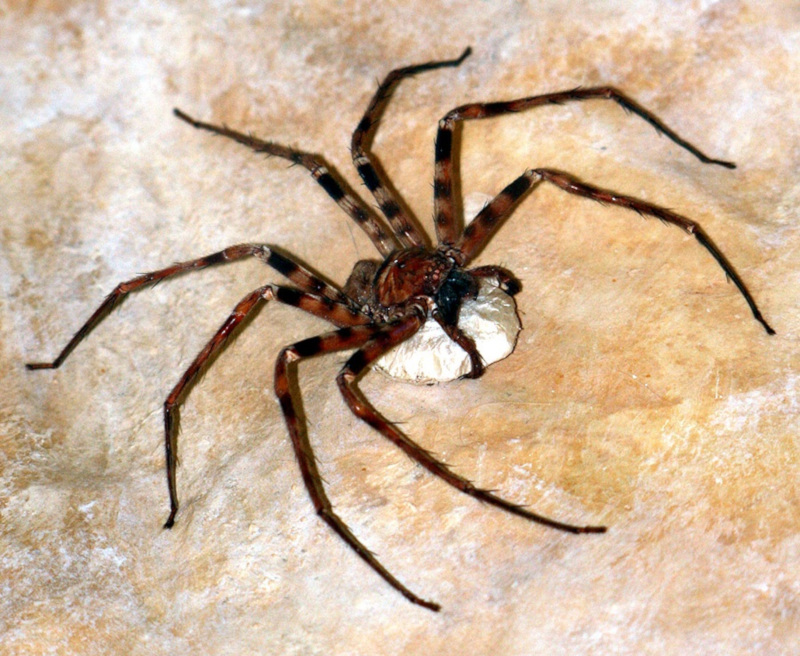 Giant Huntsman Spider Physical Description
First of all, the remarkable Giant Huntsman Spider truly stands out from other arachnids. That's because adult specimens can attain a staggering 12 in (30 cm legspan). A few related species come close, but none quite equal it.
However, despite its great size, it remains comparatively quite light in weight. That's because the body of the invertebrate itself actually stays rather small. This averages about 1.8 in (4.6 cm) in length.
Further, it displays only a slight degree of sexual dimorphism. Males have longer legs, while females have larger bodies. Also, the coloring of individuals most commonly consists of a yellowish-brown base.
Yet, irregularly spaced dark spots usually appear on the back half of the body of the enormous spider. Additionally, before the first bend of all legs, the legs display distinct, dark bands.
Kingdom: Animalia
Phylum: Arthropoda
Class: Arachnida
Order: Araneae
Family: Sparassidae
Genus: Heteropoda
Species: H. maxima
Giant Huntsman Spider Distribution, Habitat, and Ecology
Quite unfortunately for it, the fascinating Giant Huntsman Spider has an extremely limited known range. Furthermore, it also appears to have an extremely selective habitat preference. This makes the outlook for its future rather tenuous.
To date, the only known habitat of the enormous spider consists of specific portions of the country of Laos, in Asia. To be more precise, it appears to live only in certain caves. Experts believe it lives near the entrances, since its eyes show no sign of atrophy.
Also, like other varieties of Huntsman spiders, it does not spin a web. This arachnid, like its close relatives, prefers to actively hunt its prey. Further, it appears to be capable of moving comparatively rapidly when doing so.
Also, the prey itself most commonly consists of a wide variety of native insects, and even other spiders. However, one more thing sets it apart. Ye, its own predators, such as birds and small reptiles, sometimes become its prey.
Finally, other than these limited facts, researchers presently know very little about the life of this arachnid. This primarily holds true due to relative inaccessibility of its native environment.
Species Sharing Its Range
Check out our other articles on 9 Bewildering African Plants, Mary River Turtle, Nyiragongo Volcano, Christmas Cactus, Great Hammerhead Shark, Lord Howe Island Stick Insect