Lord Howe Island Stick Insect Facts
Perhaps most notably, the amazing Lord Howe Island Stick Insect represents a true marvel to researchers. It's also often known by the alternate, and somewhat appropriate, common name of the tree lobster. However, its true scientific name, used among entomologists, is Dryococelus australis.
The reason many researchers consider the species to be a legitimate marvel is an understandable one. This state of amazement occurs due to the fact that the amazing invertebrate was thought to be extinct for more than 80 years. In point of fact, its accidental rediscovery occurred in the year 2001.
Furthermore, this incredible marvel of Nature currently ranks as the rarest known insect on earth. That holds true due to the fact that only 24 known individual specimens still exist in the wild. However, several thousand individuals have now been bred in captivity, to aid in preserving the species.
Rather understandably, the IUCN currently lists this remarkable creature as Critically Endangered. Lastly, the Lord Howe Island Stick Insect exists in only one small known location. Therefore, its primary threats naturally consist of habitat loss and the ongoing effects of climate change.
Related Articles
Lord Howe Island Stick Insect Physical Description
The breathtaking Lord Howe Stick Insect also stands out from related species for its sheer size. That's because the marvelous arthropod has the ability to grow to a maximum known length of about 8 in (20 cm). However, the remarkable species also displays a moderate degree of sexual dimorphism. In the case of this impressive insect, this displays itself in the fact that females average about 20% smaller than males.
Individual specimens of the Lord Howe Island Stick Insect have a rather elongated, sturdy shape. The larger males also tend to have thicker thighs than females. Unlike most related species, however, this creature possesses no wings but does have the ability to run rather quickly along the ground. Colors also vary between individuals, without regard to gender. Most notably, these include various shades of black, brown, and reddish.
Kingdom: Animals
Phylum: Arthropoda
Class: Insecta
Order: Phasmatodea
Family: Phasmatidae
Genus: Dryococelus
Species: D. australis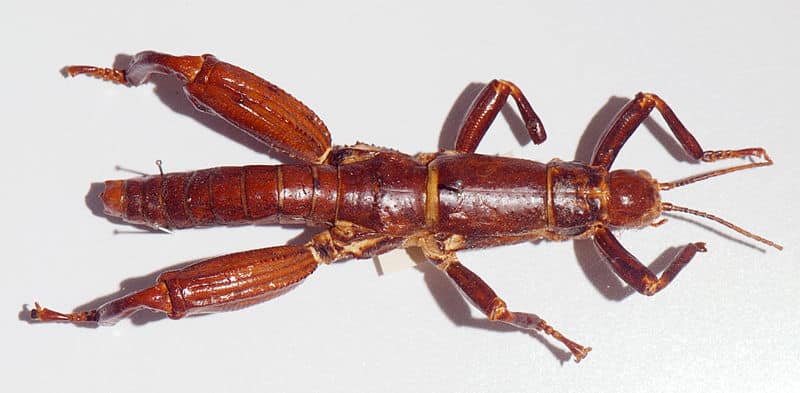 Lord Howe Island Stick Insect Distribution, Habitat, and Ecology
Most notably, the truly mesmerizing Lord Howe Island Stick Insect currently only lives in the wild in one tiny spot in the entire world. In point of fact, the only known wild population of the invertebrate appears on just one small island. That location is the tiny chunk of rock named Ball's Pyramid.
Furthermore, this extraordinarily inhospitable location lies roughly between the continent of Australia and the island of New Zealand. This location actually consists of little more than steep volcanic rock. In addition, it's inhabited by only a few very small shrubs, and one tiny colony of this insect.
As a result, the entire surviving population of the Lord Howe Island Stick Insect literally lives under one such small bush. But, it also holds one more secret to amaze researchers. Uniquely, and perhaps fortuitously, the females also have the ability to reproduce through the process of parthenogenesis.
Species Sharing Its Range
Check out our other articles on 6 Startling Evolutionary Adaptations, Jaguarundi, Happy Alien, Indian Bullfrog, Loggerhead Sea Turtle, Tasmanian Giant Freshwater Crayfish