Goliath Beetle Facts
Most notably, the truly phenomenal Goliath Beetle truly earns its attention-grabbing common name. That's because this fabulous arthropod easily ranks as one of the largest and heaviest insects currently known to man. However, the highly descriptive term applies to a total of five separate, but quite similar, species contained in the genus Goliathus.
Yet surprisingly, scientists continue to remain uncertain about certain aspects of its life in the wild. These aspects, such as the activity of enormous larvae, have been observed in captivity, but infrequently in the wild. Therefore, researchers cannot reliably state that the same pattern of behavior remains the same for the larval form in both conditions.
The various species in the genus also distinguish themselves from other related species in another manner. That's because, unlike many similar creatures, all known forms of the Goliath Beetle appear to be maintaining relatively stable population bases. Therefore, for the moment, at least, the IUCN has no listing for any member of the genus. But, ongoing climate change could potentially threaten it, like all species.
Related Articles
Tansy Beetle Goldsmith Beetle Titan Beetle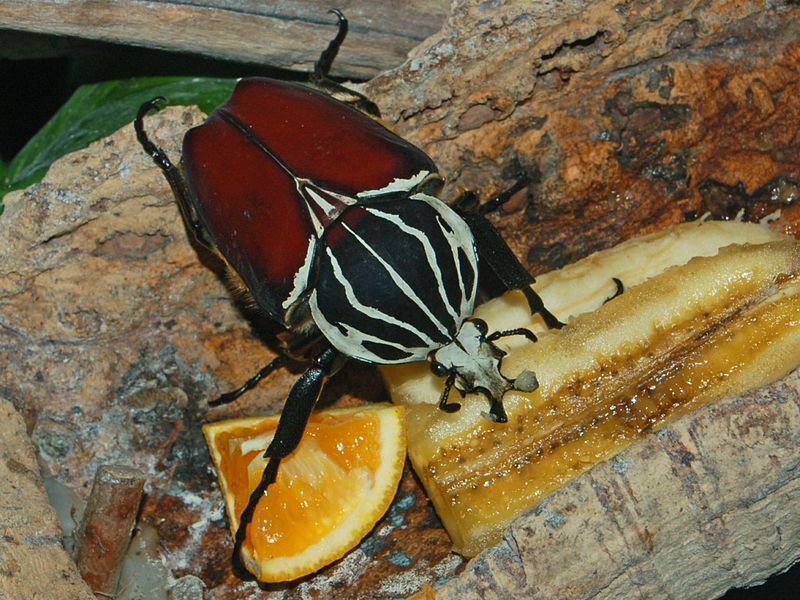 Goliath Beetle Physical Description
Like most beetles, the Goliath Beetle possesses a reinforced first pair of wings. These serve as protective covers for its secondary pair of wings and abdomen. The second pair of wings is membranous and quite large. Only that pair remains useful for flying. When not in use, it keeps these folded beneath the first pair of wings.
In addition, each of the legs of the mammoth insect ends in a pair of sharp claws. These growths provide it with a strong grip for climbing on tree trunks and branches. These also provide another manner of self-defense against potential predators.
The species also displays a form of sexual dimorphism. The males have a large, Y-shaped horn on the head that serves principally as a pry bar in battles. It often uses these against other males over feeding sites or when vying for potential mates.
Meanwhile, the females remain hornless in this species. Instead of a horn, Nature provided this gender with the presence of a wedge-shaped head. This evolutionary development provides assistance in burrowing when laying their eggs.
The Goliath Beetle attains a length of as much as 4.3 in (10.9 cm), for males. Females of the species develop slightly smaller and can reach weights of up to 3.5 oz (99.2 gr) in their larval stage. As adults, however, individuals only reach about half this weight.
Kingdom: Animalia
Phylum: Arthropoda
Class: Insecta
Order: Coleoptera
Family: Scarabaeidae
Genus: Goliathus
Goliath Beetle Distribution, Habitat, and Ecology
Perhaps it will come as no surprise to learn that all the species that form types of the Goliath Beetle evolved as native to the continent of Africa. There, the various members of the genus appear in many countries and regions across the continent.
However, it shows a decided preference for certain types of habitat and environment. That's because the great majority of both species and individuals inhabit regions of tropical forest. It does appear in other habitats, but only infrequently.
This enormous invertebrate evolved as strictly herbivorous in nature. As a result, it feeds primarily on the fruits of various trees endemic to its particular region. However, it also enjoys feeding on the sap of the same trees.
The larvae of this group remain rather unusual among beetles. That's because it possesses a greater need for high protein foods than most other genera. This holds true due to the enormous size of the larva. These may reach a length of as much as 9.8 in (25 cm). Sadly, the adults rarely live more than a single year.
Species Sharing Its Range
Cheetah Hydnora africana African Penguin
Check out our other articles on 8 South American Geological Marvels, Tasselled Wobbegong, Mount Erebus, Fringed Gentian, Gambian Spotted-Eye Flower Mantis, Viscacha