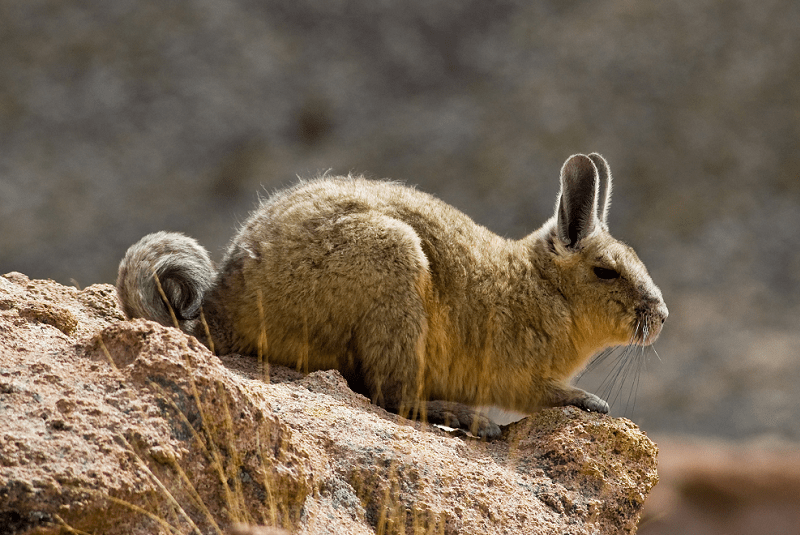 Source: https://bit.ly/2PD5srK
Photographer: Alexandre Buisse
CC License: https://bit.ly/1p2b8Ke
Viscacha Facts
The Viscacha represents one of the four extant species in two genera. Though it also bears a resemblance to rabbits, these animals have a closer relationship to the chinchilla.
This rather amazing small creature inhabits a particularly restricted, and surprising, habitat range, where few other creatures live.
Ancient Indigenous Peoples also once hunted the animal for its fur, much as the modern man now raises its relatives for the same purpose.
The Viscacha also remains well-known by local inhabitants for being rather timid and non-aggressive, even when encountered in the wild.
Related Articles
Volcano Rabbit Chinchilla Pygmy Rabbit
Source: https://bit.ly/2BOgtDG
Photographer: Peter van der Sluijs
Creative Commons License: https://bit.ly/24dGLTK
Viscacha Habitat Physical Description
The rather adorable Viscacha ranks as a comparatively large rodent, weighing an average of 6.6 lb (3 kg). However, larger individuals have been spotted in the wild.
Naturally, appearances also vary between the four distinct species. Yet, similarities remain. In addition, individual coloring typically shows dark gray or brown on top and white, yellow, or gray on the underside.
The fur also grows moderately thick and quite soft. The forelimbs grow short, while the hindlimbs grow rather long. Its tail develops relatively long and quite bushy.
Kingdom: Animalia
Phylum: Chordata
Class: Mammalia
Order: Rodentia
Family: Chinchillidae
Viscacha Distribution, Habitat, and Ecology
Firstly, three of the four species of Viscacha reside in the Andes mountains, ranging from central Peru to Chile, and Argentina, in South America.
However, most individuals generally inhabit altitudes ranging from about 13,000-16,000 ft (4,000-5,000 m).
Also, the Viscacha species endemic to the plains usually live on rather sparse grasslands in Argentina, Paraguay, and southeastern Bolivia.
There, most reside at altitudes of up to roughly 3,800 ft (3,000 m).
Most members of all four varieties usually remain rather active by day and sleep at night, and feed on grasses, mosses, and lichens.
Typically, an individual also lives in large colonies, separated into family units.
Species Sharing Its Range
Christmas Cactus Goliath Birdeater Bald Uakari