Titan Beetle Facts
Living up to its name, the astonishing Titan Beetle ranks as the largest known variety of beetle on earth. Though many people believe it resembles a large cockroach, it remains a true beetle.
This amazing invertebrate has a mysterious side to it, as well. Its life cycle remains undetermined, as no larvae for it have ever been found.
While not overtly aggressive by nature, its powerful mandibles can snap pencils, and even pierce human flesh rather painfully.
As holds true for many tropical species, this remarkable, and mysterious creature, now faces the threats of habitat loss and deforestation.
Titan Beetle Physical Characteristics
The adult Titan Beetle attains a body length of as much as 6.5 in (16.7 cm). Only the Hercules Beetle grows longer. However, much of its length is comprised of its large horn.
This impressive insect also appears reclusive and pacifistic in nature, yet it remains capable of inflicting a dangerous bite if handled.
Its coloring generally consists of a dark, reddish-brown.
Its short, curved mandibles grow extremely powerful. in its native environment, this aids both in self-defense and its feeding.
Boreholes found under fallen trees suggest, however, that the larva may attain a length of as much as 12 in (30 cm).
Kingdom: Animalia
Phylum: Arthropoda
Class: Insecta
Order: Coleoptera
Family: Cerambycidae
Genus: Titanus
Species: T. giganteus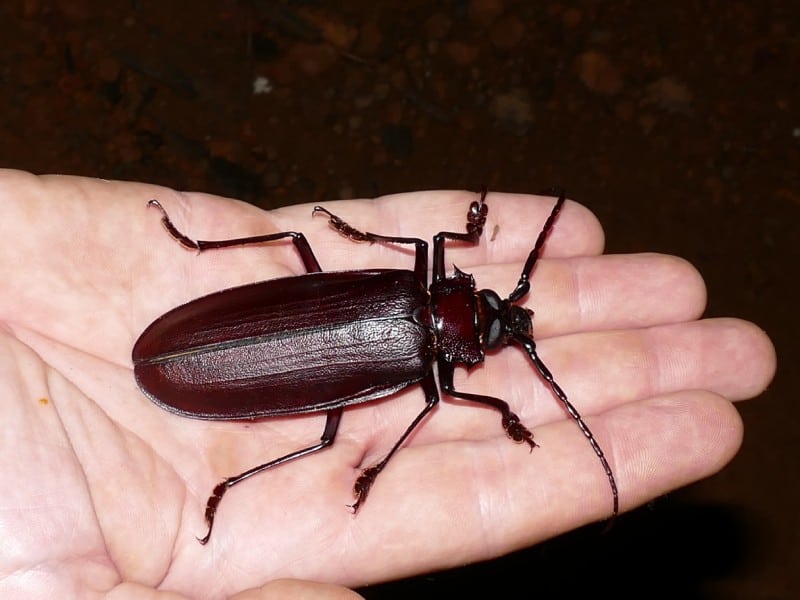 Titan Beetle Distribution, Habitat, and Ecology
The amazing Titan Beetle represents the only species in the genus Titanus. This enormous insect also appears to only be endemic to areas of tropical rainforest in South America.
Entomologists believe that the larvae stay underground and feed on decaying wood. The adults emerge, mate, and live for only a few weeks.
Yet despite its rather great size, it still remains capable of short flights. While it lives, the adult remains entirely nocturnal in nature.
Defensive strategies include biting with the powerful jaws. Most commonly, this action is also preceded by loud hissing noises.
Check out our other articles on Mountain Pine Beetle, Scarab Beetle, Frog Legged Beetle