Honeysuckle Facts
Firstly, the term Honeysuckle actually names an entire Family of stunningly beautiful plants placed in the Caprifoliaceae family. Secondly, each of these remarkable species develops as either arching shrubs or twining vines. Furthermore, a surprising total of roughly 180 recognized species of the plant exist at this time. However, several other species remain under consideration for inclusion in the group at this time.
In addition, all of the acknowledged members of this truly impressive Family of plants share yet another characteristic. This particular one, however, has nothing to do with biology. That's because all known varieties of this extremely sweet-smelling and brilliant plant evolved as native to the Northern Hemisphere. This geographical restriction also applies to those species presently being considered for inclusion in group.
As of now, roughly 100 of the recognized Honeysuckle forms remain endemic to the country of China, in Asia. Further, the continents of Europe and North America, along with the country of India, each serve as home to 20 of the member species. The remaining forms of this marvelous Family appear scattered throughout various locations in the continents of Australia and Africa.
Related Articles
Jade Vine Bleeding Heart Vine American Wisteria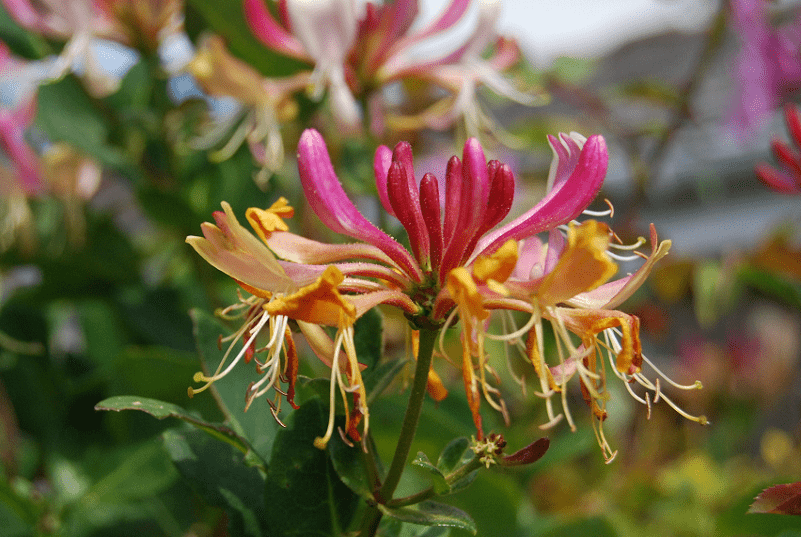 Honeysuckle Physical Description
Most notably, the majority of the numerous types of Honeysuckle evolved as strong twining climbers. Further, on all of these, the leaves grow opposite, and develop as simple ovals. This foliage also averages about 4.5 in (10 cm) in length. Although most varieties evolved as deciduous, some develop as evergreens.
In addition, many of the individual species produce strongly sweetly-scented flowers. These blooms also produce small quantities of sweet, edible nectar. Most of the flowers also develop in clusters of two. Both shrubby and vining sorts have strongly fibrous stems which are suitable for binding and textiles.
However, like many beautiful plants, the Honeysuckle has a somewhat dark secret. That's because the fruit of the Angiosperms actually possess low level of poisonous compounds. In appearance, these possess either a spherical or elongated shape. Furthermore, the mos common colors of the fruit include red, blue, and black.
Kingdom: Plantae
Phylum: Angiosperms
Class: Eudicots
Order: Dipsacales
Family: Caprifoliaceae
Genus: Lonicera
Honeysuckle Invasiveness
Most notably, while the fruit of many varieties of Honeysuckle evolved to be toxic, this does have some uses. That holds true due to the fact that, in a few cases, the fruit of the Angiosperm, while quite tiny, can be consumed and even used for commerce.
In addition, this part of the plants also has other natural uses. This remains true because the berries of most forms also remain attractive to numerous forms of wildlife. For example, a wide variety of butterflies and hummingbirds love them.
Quite unfortunately, however, several species within this remarkable Family have become invasive. This occurred when they were introduced outside their native range. This remains particularly true in both New Zealand and the United States.
Honeysuckle Popularity
Due to its many marvelous qualities, the Honeysuckle has now become widely popular in many regions of the world. Further, this most commonly manifests itself in using it as a garden decoration. Many people use it both because it smells beautiful, and can cover unsightly walls and outbuildings.
In addition, this gorgeous and colorful plant has also become quite popular for its sheer pleasure to the different senses. In point of fact, a great number of people find it pleasant to use for the numerous blooms it produces in the summer. These form as quite beautiful and highly aromatic.
Finally, the hardy climbing types of the magnificent Honeysuckle do have certain specific needs. That's because most forms need the roots in shade but the flowering tops prefer sunlight or very light shade. Finally, the varieties one uses also need to be chosen with care because most grow prolifically.
Species Sharing Its Range
Indian Bullfrog Black Widow Florida Panther
Check out our other articles on 5 Rare Mind-Blowing Cloud Types, Great White Shark, Rosy Maple Moth, Pearl Shoal Waterfall, Silvery Lutung, Indian Giant Squirrel